🗓️
August 3, 2021
By ✍️
Jaysukh patel
Best speaker dock for iPod Touch 5th generation and iPod Touch 6th Generation. Best sold and more star rated Speaker dock collection for iPod touch. See beneath branded Speaker Dock for iPod touch 5 and other iPod touch. Philips, Sony, Jensen, iLuv, Home, and more.
Below listed Docks are in two categories for the USA users and the UK users, it's for fast shipping and free delivery in a particular country. In more, you can get here the best speaker dock for iPod touch 6 and 7th gen.
Best Speaker docks for iPod Touch 5th Generation and iPod Touch 6th Generation
#1. Logitech UE Air Speaker for iPod touch, iPhone
Play your iPod music on this Logitech brand dock and charge with plays. Wi-Fi Speaker with Apple Pay and easily expandable Speaker dock.
Bluetooth speaker up to 50 ft. Wireless range
Rechargeable battery
Custom –Tuned speaker drivers
#2. Editors Choice: Philips 8 pin/ 30 pin docking station for iPod 5, iPod 4
This #1 docking station with speaker perfect or Old (30 – pins) and new (8 Pins) device. High sound quality, an Extra audio 3.5mm port for other smart devices. Play and charge iPod/ iPhone/ iPad at once from the appropriate lighting connector. Built-in digital clock and the Physical button for sound control and on/ off.
30 Pin: iPhone 4/ 4S, iPod Touch 4th
8 Pin: iPhone 5S and later, iPod Touch 6 and an

Extra USB charging port.
#3. SONY Speaker Dock for iPod Touch
Genuine Product is never nervous to us, right. The same thing relates to features available in the Sony Speaker dock. Best speaker dock for iPod Touch 5th generation.
Digital AM/FM Radio
Backup Manager
Rich, Clear Sound
Dock for Apple devices with Lightning connector
#4. Jensen Docking Station Digital Music System for iPod Touch
This dock is the rotational base adjustable dock for horizontal and vertical viewing. In addition, the dock has an inbuilt Dual alarm clock with snooze and Sleep.
Digital Volume control
High/ Low Dimmer control
Lithium Battery
#5. iLuv MobiRock– iPod Touch Bluetooth Speaker Dock
This Dock gives you both streaming Music and Wireless Charging, Which is a good point of this Bluetooth speaker of iPod Touch 5th Generation & 6th Generation nano iPod.
NFC- enabled for effortless Bluetooth pairing
Touch-sensitive control
Functional & Beautiful Dock
jAura Technology for high-quality fidelity acoustics
#6. iHome iP46 Portable 30-Pin iPod Touch Speaker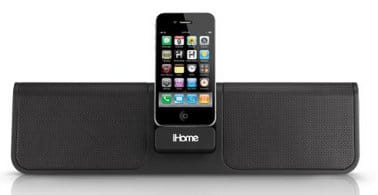 The Dock is Compatible with all iPod models and iPhones. Dock has a rechargeable battery and folding stand for portability. Best Speaker Dock for Apple iPod Touch.
Sleek Look and attractive design
Ready anytime for rock
External Audio Sources connect the facility
Get here the best speaker dock with a lighting pin connector for iPod touch 6 and 7th gen.
Which Best Speaker dock for iPod Touch 5/ 6th gen would you like much? Leave your reply in the below-given comment box.