🗓️
September 28, 2023
By ✍️
Jaysukh patel
Carrying a wallet, cards, keys, and other stuff can be hectic because there is always a fear of missing out on something. That's where the best wallet case comes into play. It's more than just a phone case; it's your pocket-sized organizer, protecting your phone and holding your essentials together. From credit cards to cash, these wallet cases are the ultimate multitaskers. If you've got the shiny new iPhone 15 Pro Max in your pocket, you'll want to keep it safe and stylish. In this article, we have researched in depth and made a list of some top picks for the best wallet case for iPhone 15 Pro Max and explained how they can simplify your life while keeping your phone looking sharp.
1. ESR – Pocket Friendly
Pros of using ESR – Pocket Friendly:
It has a built-in dynamic spring to securely hold 3 cards
Manufactured from high-quality, animal-friendly vegan leather
Secure grip and strong lock
Price = $14.99
The ESR Magnetic Wallet is your ultimate solution for enhanced convenience and security on the go. With a 250% stronger magnetic lock than the official magnetic wallet, your essentials stay securely attached to your phone. The all-in-one pocket seamlessly attaches to the back of your iPhone, accommodating 1-3 cards with the dynamic tension spring inside, ensuring they stay snugly in place. It also offers a secure grip with a built-in finger loop that doubles as a handy stand for hands-free landscape viewing. The bottom cutout design allows instant card access without detaching the wallet. Upgrade your mobile experience with the ESR Magnetic Wallet – the smart and stylish way to carry your essentials.
2. Onetop – All round Shockproof
Pros of using Onetop – All round Shockproof:
Multiple slots to carry cards and cash hassle-free
Secure and comfortable
RFID Block Technology to protect from theft
Price = starts from $15.99 – $19.99
If you want an iPhone Wallet Case with an excellent combination of functionality and style, get your hands on The Onetop Wallet Case. This case has 4 card slots for your ID, credit cards, or cash, allowing you to leave your bulky purse behind and travel light. The 360° Rotation Ring Stand is a game-changer, offering versatile support and a secure grip, making it easy to enjoy hands-free viewing or take steady selfies. RFID Block Technology shields your sensitive information from electronic pickpocketing, ensuring your privacy. Crafted with precision, this case is shockproof and provides all-around protection against drops. It is designed with perfect cutouts for speakers, charging ports, and buttons, plus the added convenience of ring holders. Experience the perfect balance of style and protection with the Onetop Wallet Case for iPhone 15 Pro Max.
Pros of using Bocasal – Hidden 4 slots:
Manufactured using premium leather
It has 4 hidden card slots
Shockproof and offers comprehensive protection
Price = starts from $19.99 – $22.99
The Bocasal Detachable Wallet Case is your all-in-one solution for on-the-go convenience and protection. This iPhone cover with card holder is designed to accommodate your cash and cards, including credit cards and IDs. The removable wallet section sets it apart, instantly transforming it into a slim leather case or a magnetic card holder at your convenience. Thanks to the RFID-blocking technology that shields your cards from unwanted radio signal theft, your privacy is guaranteed. Plus, the built-in kickstand elevates your multimedia experience, leaving your hands free for reading or movie-watching. The detachable wristlet adds a stylish touch and practicality, allowing you to hang your phone as desired. Rounded corners ensure a comfortable grip, while premium PU leather offers a smooth texture.
4. Spigen-Slim Armor CS Designed
Pros of using Spigen – Slim Armor CS Designed:
Simple and decent look
2 exterior card slots
Shock-absorbing exterior cover
Price = $19.99 – $20.99
The Spigen Slim Armor CS is crafted from durable Thermoplastic Polyurethane; it offers absolute protection through its dual-layer design and Air Cushion Technology, ensuring your iPhone remains safe from accidental drops and other impacts. Convenience meets protection with its exterior card slot, holding up to 2 cards, making it an ideal choice for those on the go. The shock-absorbing TPU interior and robust polycarbonate exterior provide a sturdy shield. Please note that this case isn't compatible with wireless charging. The Spigen Slim Armor CS is tailor-made for the iPhone 15 Pro Max, delivering style, security, and functionality in one sleek package.
5. Dockem – Integrated Metal Plate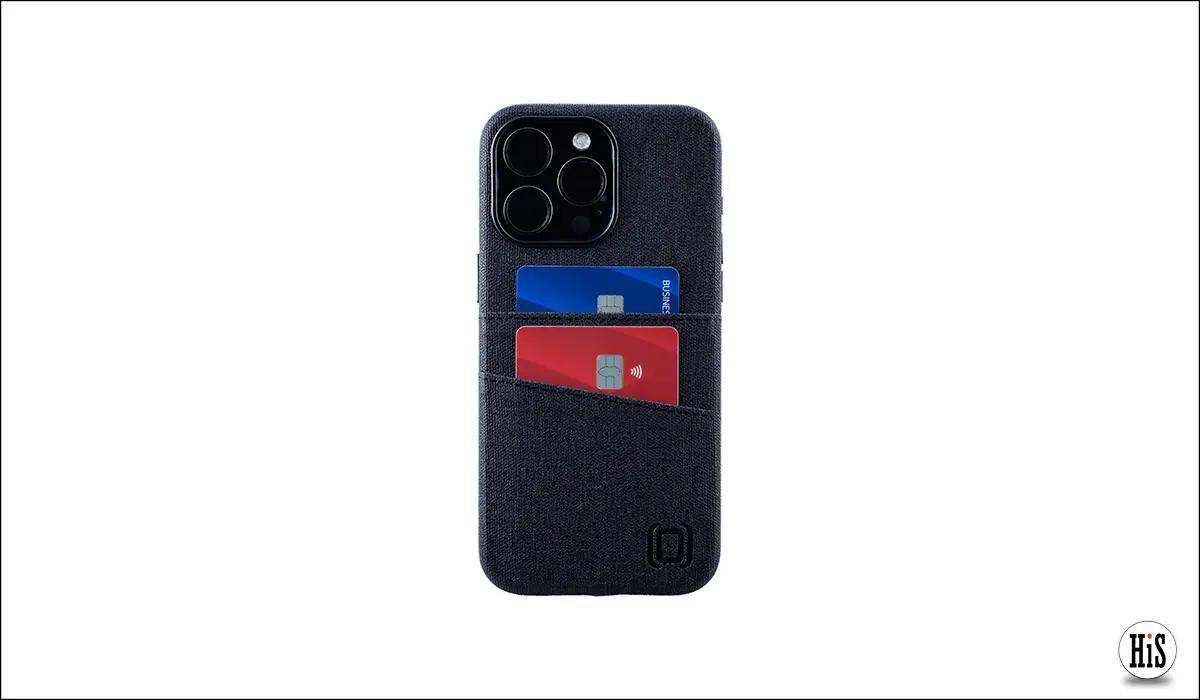 Pros of using Dockem – Integrated Metal Plate:
Slim and stylish look
2 high-quality cardholders
It has a hidden integrated metal plate for effective mounting
Price = $19.99
The Dockem Card Case—is a harmonious blend of functionality and style. It is made from premium twill canvas-style synthetic leather while offering a comfortable grip. The tactile feel of this case is complemented by its slim, sleek design, measuring just 14 mm thick, even with two cards inserted. With two dedicated card slots, this case ensures you always have your most essential cards on hand. It's more than just a wallet case; it's a lifestyle companion that lets you go wallet-less when needed. What sets Dockem apart is the built-in plate for magnetic mounting, allowing seamless compatibility with Dockem's v3 Series Magno Mounts. Easy snap-on shell installation and precise cutouts for ports and buttons make it a breeze to use.
6. SHIELDON – 2-in-1 detachable case wallet
Pros of using SHIELDON – 2-in-1 detachable case wallet:
RFID BLOCKING TECHNOLOGY for extra protection
Precise cutouts and multi-functional
It offers a lifetime warranty
Price = $30.99
The SHIELDON leather case is the best choice as it is manufactured from top-layer cowhide leather; it's not just a case; it's a statement of quality and character. With the use, it develops a unique patina, reflecting your lifestyle. A soft full-body interior shell with shockproof edges defends your phone against scratches, drops, and bumps, while raised lips shield your camera. This case combines wallet and phone functions with 3 card slots, a full-length pocket, and RFID-blocking technology for security. The magnetic cover secures your valuables, and the folding stand offers landscape viewing. With precise cutouts and a carry-all design, it's perfect for everyday life and business trips. Plus, you can enjoy a lifetime replacement warranty for peace of mind.
7. Smartish – Slim and Protective
Pros of using Smartish – Slim and Protective:
Fine grips for easy access
Perfectly secure up to 3 cards and cash too
Tested for 6ft drop test on concrete
Price = $24.99
The Smartish Wallet Case perfectly blends style, protection, and convenience. Its grippy sides and smooth back offer a secure grip and pocket-friendly design. This case features three card slots to keep your money and cards secure without the annoying jiggle. Smartish doesn't compromise on safety; it is tested for drop-testing with 50 drops at 6FT onto concrete. Easy access to ports ensures hassle-free cable charging. Plus, no more flap fumbling with this design. It's available in various attractive prints, allowing you to customize your unique look. Upgrade your iPhone 15 Pro Max with Smartish—a smarter choice for your device.
8. Ghostek – Magnetic Credit Card Holder
Pros of using Ghostek – Magnetic Credit Card Holder:
It stores up to 3 credit cards and is easy to detach
It has raised edges for extra screen protection
Shockproof and offers drop protection
Price = $39.98
The Ghostek Exec Wallet Case is the best iPhone Wallet Case, where cutting-edge design meets ultimate functionality. It is made from a blend of metal, polycarbonate, and thermoplastic polyurethane to offer robust protection and advanced support for Apple MagSafe accessories. With raised perimeter edges safeguarding the OLED screen display and camera lens, your iPhone stays protected from everyday wear and tear. The magnetic MagSafe card holder is a game-changer, effortlessly detaching to hold up to 3 credit cards and doubling as a kickstand for convenient media viewing. Ghostek doesn't compromise on durability, with R7x shockproof drop protection built-in, capable of withstanding drops from an impressive 12FT.
9. VRS – All in one modern case
Pros of using VRS – All in one modern case:
Convenient and modern case
Can resist all shocks and damages
Separate 3 to 4 compartments for secure card holding
Price = $34.99
The VRS DESIGN Wallet Case is a great wallet case for iPhone for modern protection and luxury. Crafted from high-quality polycarbonate material, it seamlessly blends protection, convenience, and opulence into one trend-setting tech case. Experience the redefined luxury of the Damda Glide Ultimate technology, which stands up to daily shocks and damages with ease. The wallet feature is a game-changer, offering a compartment that can hold 3-4 cards, streamlining your essentials for on-the-go convenience. It is specifically for iPhone 15 Pro Max and offers a perfect fit and all-around protection.
Final words
In wrapping up our exploration of the best wallet case for iPhones, it's clear that these cases are more than just accessories; they're your daily companions. If you are seeking protection, convenience, and style in one sleek package, then you must try the best iPhone 15 pro max Wallet cases from the above list. I am sure it won't disappoint you. Whether you're a minimalist or someone who likes to carry a bit of everything, there's a wallet case for you. With easy access to your essentials and the assurance that your phone is safe, these cases are a must-have investment for any iPhone 15 Pro Max owner. It's a fashionable and functional win-win!
Which wallet case do you like the most from the above list? Do comment with your thoughts and other suggestions in the comment box.
Frequently Asked Questions (FAQ):
Q1. Why you should use a wallet phone case?
A wallet phone case provides both security and convenience. It protects your phone from injury and has a built-in wallet for cards and cash. This eliminates the need for carrying a wallet everywhere, making it a useful and space-saving item for individuals who like simplicity and functionality.
Q2. Is a phone wallet safe?
When used carefully, phone wallets are generally safe. They are useful for keeping cards and cash, but you should use protections such as a lock screen and tracking software. Consider the possibility of loss or theft, just as you would with a traditional wallet. Proper security measures can help keep your data safe.
Q3. What is the strongest magnetic wallet for an iPhone?
The "MagSafe" wallet is one of the iPhone's most powerful magnetic wallets. It is designed by Apple and uses a strong array of magnets to securely attach to the back of the iPhone, ensuring your cards and cash stay firmly in place. It's a dependable and convenient option for iPhone users.
Q4. Do I need a screen protector if I use a wallet case?
A wallet case provides additional protection but may not protect your screen from damage. It is recommended to use a screen protector to offer total protection for your phone's display. This extra layer of defense guards against scratches, cracks, and other potential damage.