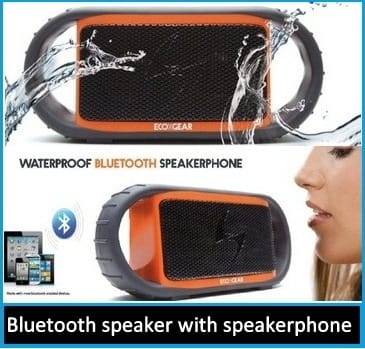 Last Updated on Nov 10, 2020
Standard quality and best of best waterproof Bluetooth Speakers for iPhone here. Without any cable, you can play your favorite song, music, and audio clip. Because these all are the Bluetooth speakers, it's working on Bluetooth 4.0 compatible device. These waterproof speakers are portable so you can quickly move anywhere you go. Suitable for the longtime journey with family or friend circle trip at wonder getaway.  Take with you any place like on the beach, to the office, to home or anywhere in between.
we are happy to help you, submit this Form, if your solution is not covered in this article.
Moreover, not only enough for your iPhone but all speakers are capable of works with a laptop, computer, other smartphones, and tablet or Mp4 player anyway. We give you good ratings and reviews the best waterproof Bluetooth speakers for iPhone below.
Best waterproof Bluetooth speakers for iPhone 2018: Wireless, Rugged, Dustproof, Portable
Compatible with Apple's all iPhone models like iPhone 11 Pro Max, iPhone XR, X, iPhone 8 (Plus), iPhone 7 (Plus), iPhone 6S (+), iPhone 6 Plus, 6 Plus, iPhone SE/5S, 5/5C.
1. W-KING Wireless Bluetooth Speaker
This High definition bass, durable waterproof Bluetooth speaker is made from silicon materials. So it gives protection layer against dust, shock, water. This excellent sound quality waterproof Bluetooth speaker is available at Amazon in three colors likely Bright green, Brilliant Blue, and Smack black.
This exclusive and universal cause it's working well with iPhones, iPods, iPods, other smartphones and tablets, and Mp3 and Mp4 players. Unusual features including hands-free music streaming, speakerphone, and useful volume control (high, low, play, pause, On/off, and forward/backward) built-in functions. Buy now this rechargeable battery (500mAh) speaker with offers price and save your money.
Check W-King Speaker Price on Amazon
2. EcoxGear offers Bluetooth speaker with speakerphone
Superb and incredible waterproof Bluetooth speaker so we recommend your Bluetooth enabled devices. Speaker gives you a built-in waterproof microphone since that you can enjoy a hands-free call anywhere in your car, office, home, and an outdoor weekend adventure.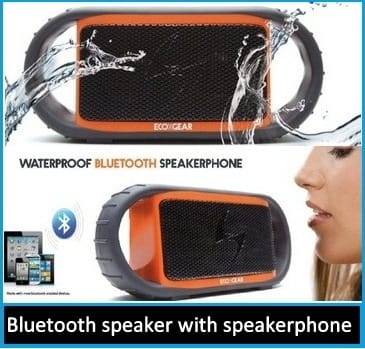 This waterproof Bluetooth speaker for iPhone is a little expensive than other but 100 % waterproof, rugged, and mobile-friendly design. You can pair iPhone, Android device, Kindle Fire, or laptop with Bluetooth speaker and enjoy significant Music sound quality in the range of 33feet/ 10m. The best waterproof Bluetooth speaker for iPhone.
Available in three bonny colors Black, Orange and red. The battery life of this stereo speaker is 10+ hours, and its mounting options provide to hold standard camera screw mount.
Check Ecoxgear Speaker Price on Amazon
3. Outdoor or Shower Bluetooth Speaker for iPhone
These two colors in this wireless Bluetooth speaker Army Green and orange. Outstanding connection range of up to 10m/ 33 feet. Built-in NFC technology is an attractive feature of this waterproof Bluetooth speaker for iPhone.
This waterproof Bluetooth Speakers for iPhone is also compatible with Android devices.
Check AYL Bluetooth Speaker Price on Amazon
Which best waterproof Bluetooth speakers for iPhone you like? And want to but please share with us your thought.
Don't Miss- Best Waterproof Cases for iPhone X