Standard quality and best of best waterproof Bluetooth Speakers for iPhone here. Without any cable, you can play your favorite song, music, and audio clip. Because these all are Bluetooth speakers, it's working on Bluetooth 4.0 compatible device. These waterproof speakers are portable so you can quickly move anywhere you go. Suitable for the longtime journey with family or friend circle trip at wonder getaway. Take with you any place like on the beach, to the office, to home or anywhere in between.
Moreover, not only enough for your iPhone but all speakers are capable of works with a laptop, computer, other smartphones, and tablet or Mp4 player anyway. We give you good ratings and reviews of the best waterproof Bluetooth speakers for iPhone below.
Best waterproof Bluetooth speakers for iPhone: Wireless, Rugged, Dustproof, Portable
Compatible with Apple's all iPhone models like iPhone 13 Pro Max, iPhone 12 Pro Max/ 12 Mini/ 11 Pro Max, iPhone XR, X, iPhone 8 (Plus), iPhone 7 (Plus), iPhone 6S (+), iPhone 6 Plus, 6 Plus, iPhone SE/5S, 5/5C.
1. W-KING Wireless Bluetooth Speaker
This High definition bass, durable waterproof Bluetooth speaker is made from silicon materials. So it gives a protection layer against dust, shock, water. This excellent sound quality waterproof Bluetooth speaker is available at Amazon in three colors likely Bright green, Brilliant Blue, and Smack black.
This exclusive and universal cause it's working well with iPhones, iPods, iPods, other smartphones and tablets, and Mp3 and Mp4 players. Unusual features including hands-free music streaming, speakerphone, and useful volume control (high, low, play, pause, On/off, and forward/backward) built-in functions. Buy now this rechargeable battery (500mAh) speaker with offers price and save your money.
Check W-King Speaker Price on Amazon
2. EcoxGear offers Bluetooth speaker with speakerphone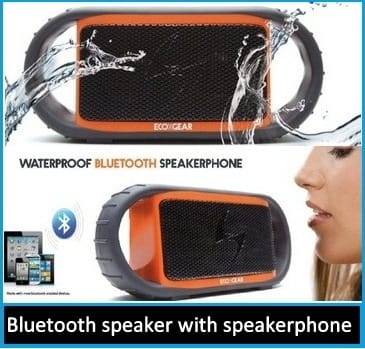 Superb and incredible waterproof Bluetooth speaker so we recommend your Bluetooth-enabled devices. Speaker gives you a built-in waterproof microphone since that you can enjoy a hands-free call anywhere in your car, office, home, and outdoor weekend adventure.
This waterproof Bluetooth speaker for iPhone is a little expensive than others but 100 % waterproof, rugged, and mobile-friendly design. You can pair iPhone, Android device, Kindle Fire, or laptop with a Bluetooth speaker and enjoy significant Music sound quality in the range of 33feet/ 10m. The best waterproof Bluetooth speaker for iPhone.
Available in three bonny colors Black, Orange and red. The battery life of this stereo speaker is 10+ hours, and its mounting options provide to hold a standard camera screw mount.
Check Ecoxgear Speaker Price on Amazon
3. Outdoor or Shower Bluetooth Speaker for iPhone
These two colors in this wireless Bluetooth speaker Army Green and orange. Outstanding connection range of up to 10m/ 33 feet. Built-in NFC technology is an attractive feature of this waterproof Bluetooth speaker for iPhone.
This waterproof Bluetooth Speakers for iPhone is also compatible with Android devices.
Check AYL Bluetooth Speaker Price on Amazon
4. Ultimate Ears WONDERBOOM 2 Bluetooth Speaker
This Waterproof speaker by Ultimate Ears is a terrific product featuring amazing sound, and it comes with Knox Gear Protective Case to safeguard the speaker. It lets you pair two devices at the same time wirelessly, however, it won't compromise the Stereo effect while doing so. Adjust volume, skip songs, play/pause tracks all these functionalities can be done by using the quick buttons placed on the speaker. You can take this speaker anywhere as it is dustproof and waterproof.
Check Ultimate Ears Price on Amazon
5. JBL Flip 5 Portable Bluetooth Speaker
If you rather believe in spending money on branded and iconic speakers, JBL is a great option. With over 12 hours of battery life on a single full charge, you can play music endlessly wherever you go without worrying about the charging point. JBL Flip 5 is the perfect choice for outdoor entertainment, pool parties, beach bash, and anywhere. Available in 11 various color options, BoostPartyBoost lets you pair two other JBL BoostPartyBoost compatible speakers to enhance the sounding.
Check JBL Flip 5 Price on Amazon
6. Anker Soundcore Motion Boom
Anker Soundcore Outdoor Speaker has a massive battery backup of around 24 hours, perfectly designed for Camping, Boating, In-house parties, and adventurous outdoor activities. Besides, it has a built-in handle which makes it easy to carry in hands. Download the Soundcore App on your phone to personalize the EQ settings or select from four different presets such as Soundcore Signature, Balanced, Boost, or Treble Boost. Plus it has the latest Bluetooth 5.0 for easy, fast, and reliable connections across any Bluetooth device.
Check Anker Soundcore Price on Amazon
7. JBL Charge 4
JBL Charge 4 is a little costlier than JBL Flip 5, the fact is, every single penny you spend on JBL is worth it. You can connect over 100 JBL connect plus enabled speakers to amplify the sound and take the party to another level without investing in big-budget speakers. It offers 20 hours of playtime on a full single charge and comes with a built-in rechargeable battery of 7800mAh. Use the USB cable to charge the speaker.
Check JBL Charge 4 Price on Amazon
8. Ultimate Ears Portable Wi-Fi and Bluetooth Speaker
Pricing around $250, Ultimate Ears Portable Wi-Fi and Bluetooth Speaker is one of the best smart speakers that offer great bass and tuning to create an entertaining environment. Integrated Amazon Alexa voice control gives you hands-free access to anything like Spotify, iHeart Radio, TuneIn, Prime Music, Ask Questions, and much more. With all these features, it is IP67 rated and can survive inside the water up to 1m for 30 minutes. Download the Ultimate Ears app to customize the speaker and its related functions on the go.
Check Ultimate Ears Price on Amazon
9. Tribit MaxSound Plus Portable Speaker
Tribit MaxSound is a mid-range portable Bluetooth speaker to stream movies and plays songs, for casual listeners. However, the small size doesn't mean, the speaker won't play Bass, it still has the advanced tech, large drivers, and super powerful amplifier, to deliver surround sound at any volume. Plus, the IPX7 waterproof rating is enough to give you confidence for carrying the speaker in any weather condition to enjoy your favorite weather with music. The playtime is 20 hours on a full single charge.
Check Tribit MaxSound Price on Amazon
10. Braven STRYDE 360
If you're looking for a cheaper option, then go with Braven. It is only $31.99, but Waterproof and Bluetooth compatible to deliver crystal clear sound. The speaker's dimension and size are made to fit in any small place, like Car Cupholder, in the Backpack, or anywhere you can adjust. Available in three different color options, Black, Gray/Red, and Silver/Green.
Check Braven Speaker Price on Amazon
Which best waterproof Bluetooth speakers for iPhone do you like? And want to but please share with us your thought.
Don't Miss- Best Waterproof Cases for iPhone X