🗓️
October 27, 2023
By ✍️
Jaysukh patel
A strong and dependable Wi-Fi connection is necessary for seamless communication and online activities in our increasingly linked society. Knowing the strength of your Wi-Fi signal can significantly improve your online experience, whether you're at home, at work, or on the move. Fortunately, there are numerous Wi-Fi Signal Strength Apps available for the iPhone that can assist users in determining the ideal areas for connectivity and troubleshooting any network issues. 
In this article, we'll examine the top iPhone Wi-Fi signal strength meter applications, giving you the tools to improve your wireless network and maintain a steady connection.
#1. SpeedSmart – Internet Speed Test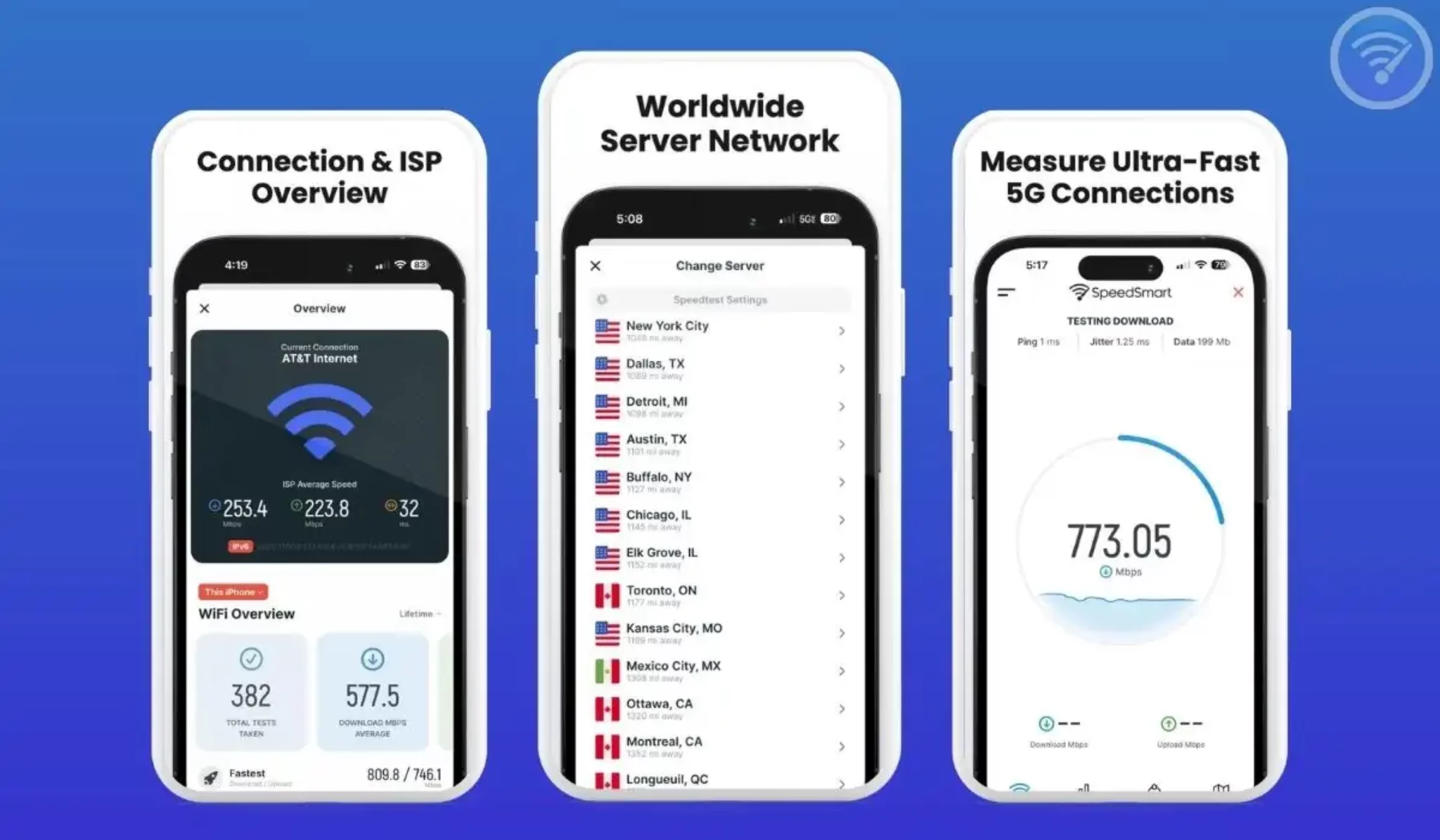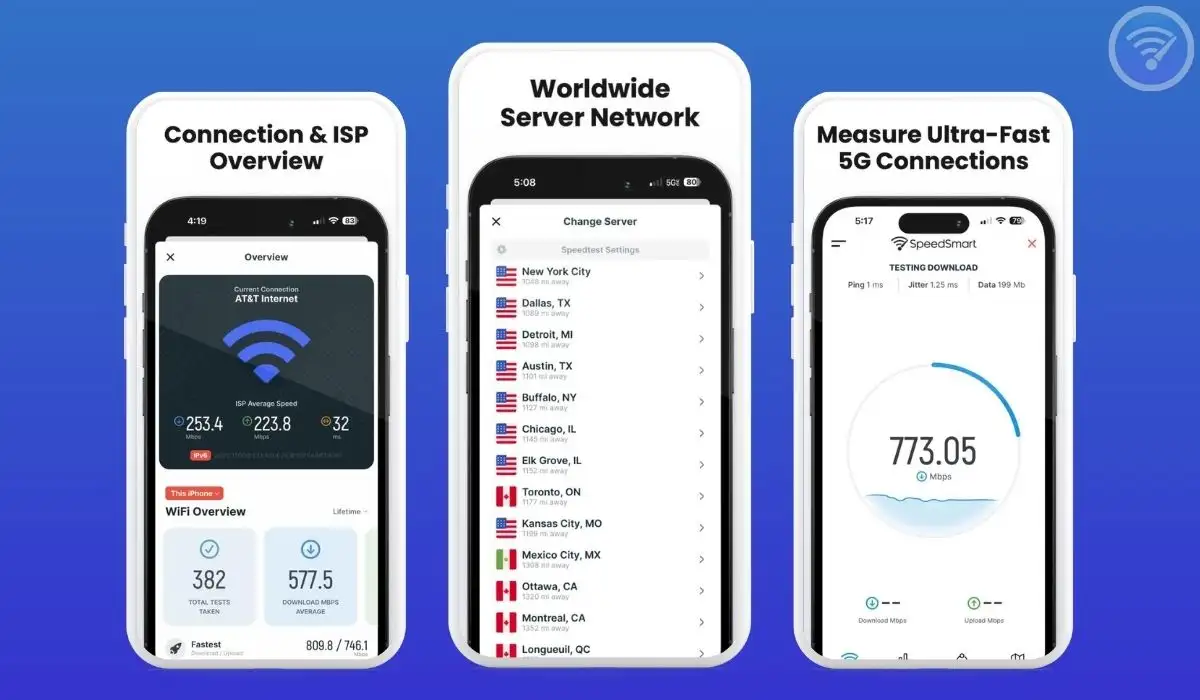 Pros of using SpeedSmart – Internet Speed Test:
It offers detailed results and graphs
It measures ultra-fast 5 G connections and has worldwide server
Effective troubleshooting and speed verification
Price = In-App Purchases start from $1.99 – $11.99
SpeedSmart Speed Test is the best WiFi signal strength app for iPhone and iPad users looking to assess their internet connection quality. This free app offers comprehensive features to gauge your WiFi and mobile network performance. With a single tap, you can test your download and upload speed, as well as measure network ping and jitter. It provides real-time connection graphs, enabling you to monitor your network's stability and speed fluctuations. Additionally, this app keeps a detailed history of all your previous speed test results, complete with charts and averages, allowing you to track your network performance over time. Furthermore, you can add private notes to your speed test results, making it easy to keep track of any specific network issues or improvements. The built-in Bandwidth Calculator lets you estimate transfer times based on your connection speed.
#2. Fing – Network Scanner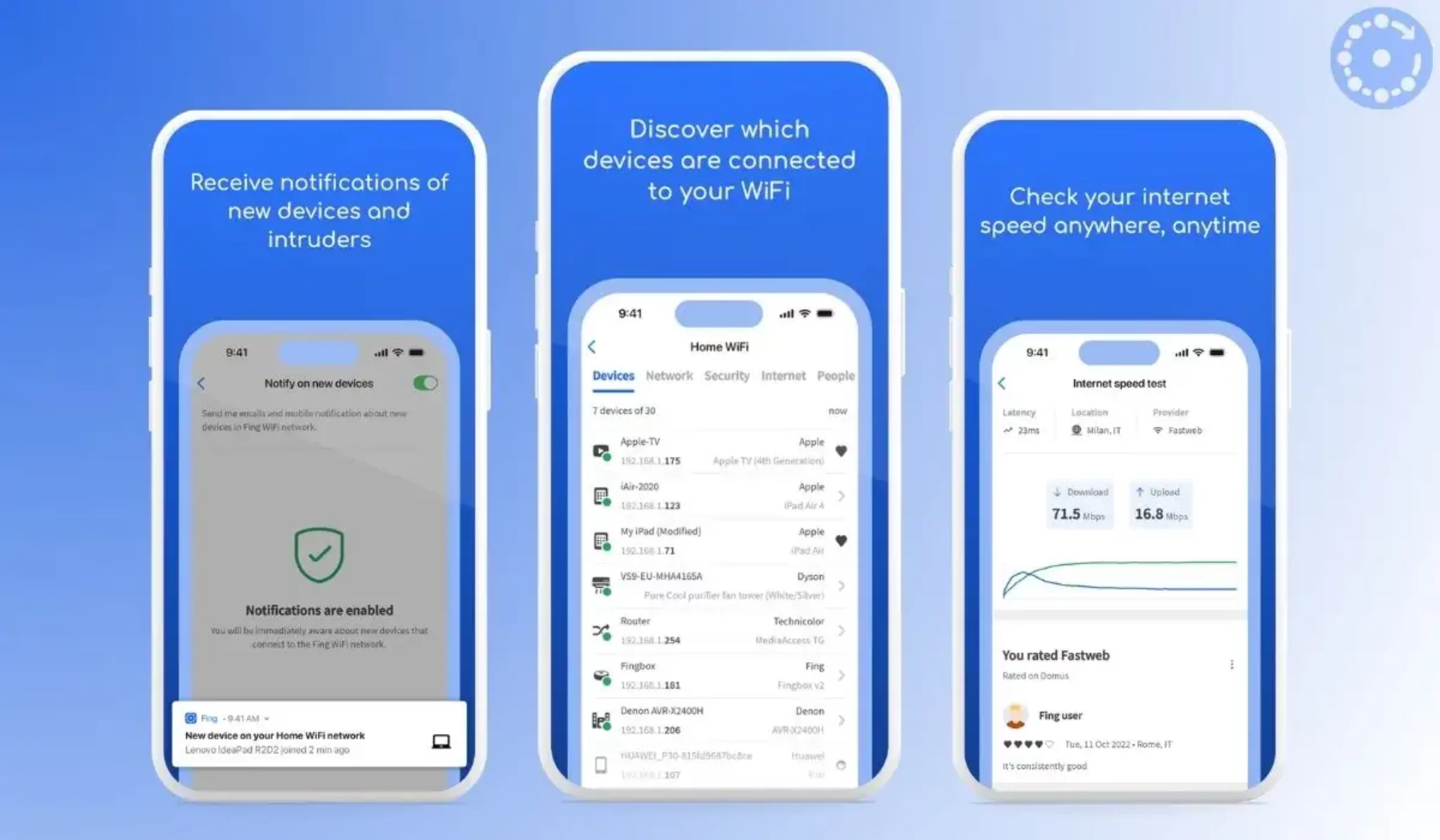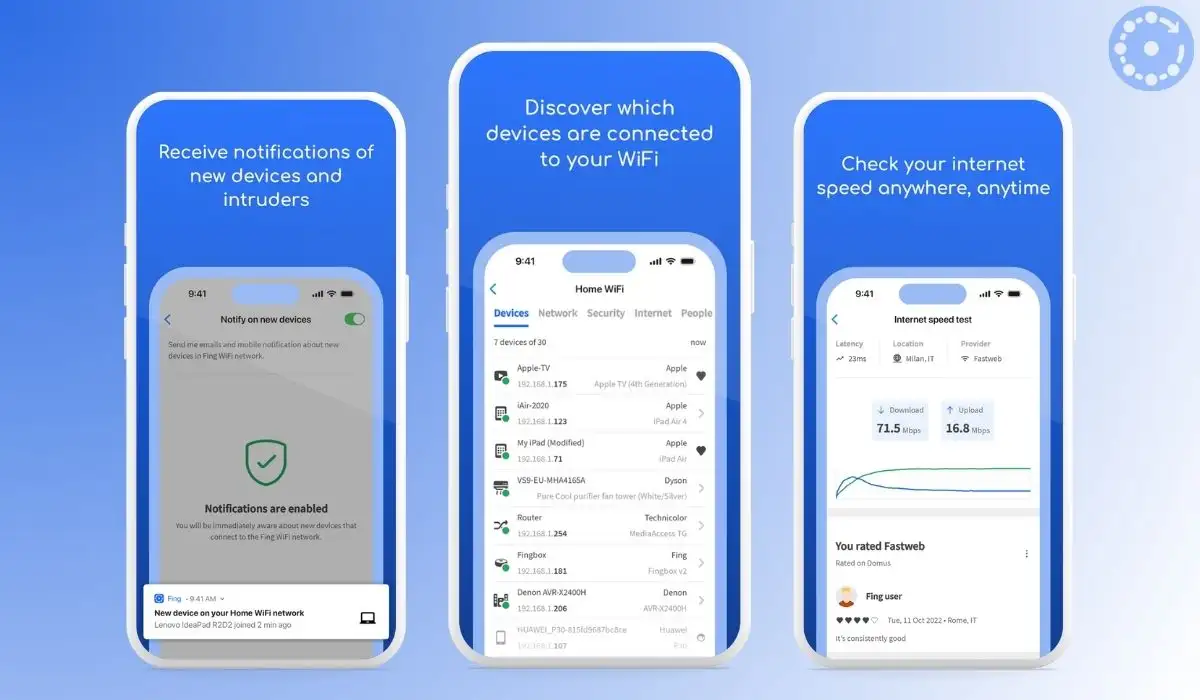 Pros of using Fing – Network Scanner app:
Keeps your network secure from intrusion attacks
It discovers hidden cameras and connected devices
You receive a notification when the new device enters your network
Price = In-App Purchases start from $0.99 – $59.99
Fing – Network Scanner effortlessly scans Wi-Fi and LAN networks to discover all connected devices, gaining detailed insights like IP and MAC addresses, device names, models, vendors, and manufacturers. This app helps you to assess network performance and conduct accurate speed tests for both Wi-Fi and cellular connections with thorough download upload speed analysis and latency checks. You can always stay informed about internet outages in your area and access ISP ratings, reviews, and speed statistics. You can receive real-time alerts via phone and email, block intruders and unknown devices, and schedule screen time and internet access controls for parental peace of mind. It also helps to monitor bandwidth usage by device, identify Wi-Fi dead zones, and automate network speed tests with comprehensive reports. You can secure your network by detecting opened ports and performing network vulnerability analysis.
#3. Speed Test & Wifi Analyzer + – Internet Network SpeedTest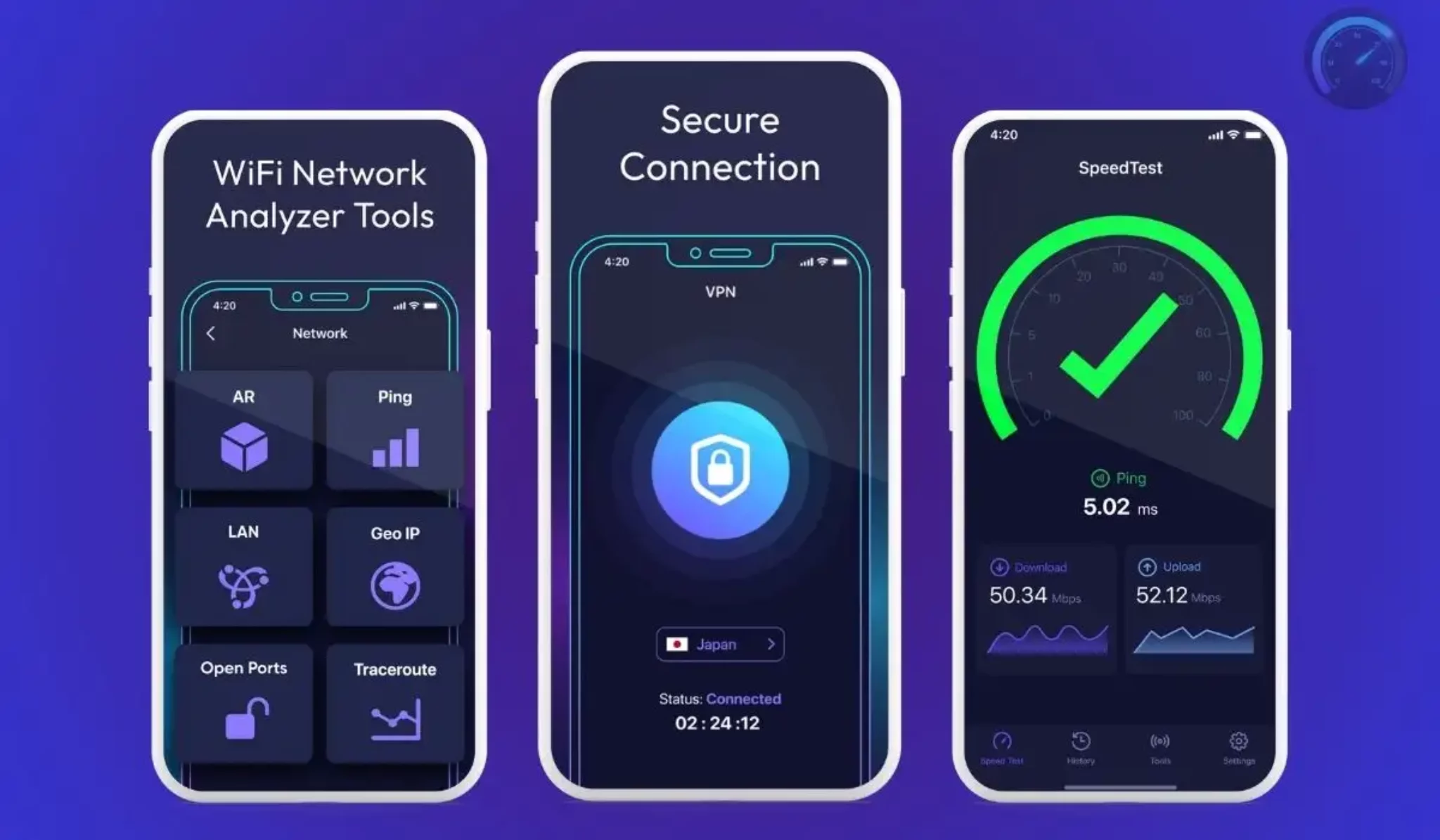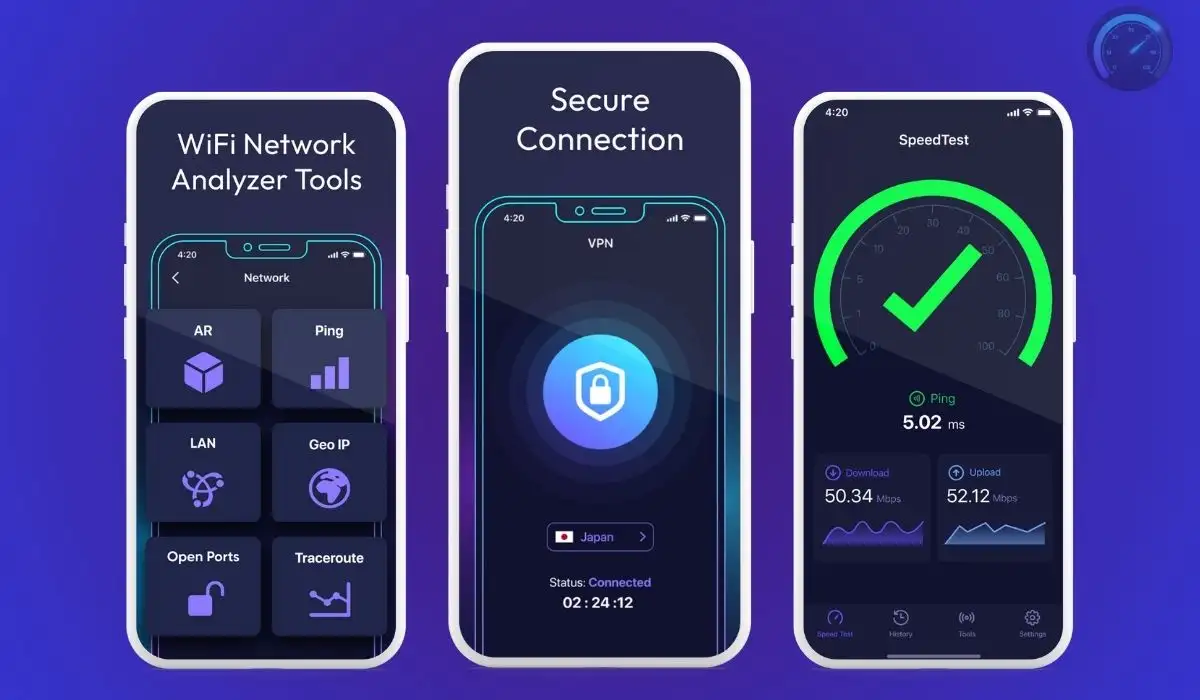 Pros of using Speed Test & Wifi Analyzer app:
It measures 3G,4G, AND 5G connections
Gives detailed statistics and historical results
You can search Wi-Fi connections and open ports
Price = In-App Purchases start from $9.99 – $49.99
Speed Test & Wifi Analyzer + is a versatile network diagnostic app that offers a comprehensive suite of tools for users looking to optimize their internet and Wi-Fi connections. You can effortlessly identify and troubleshoot issues with your internet connection and Wi-Fi setup, including unauthorized connections. The app provides a range of powerful features, such as IP geolocation, open port scanning, traceroute, and VPN capabilities. The AR Mode is an exciting addition, enabling you to visualize delay data between your router and smartphone, while the LAN Scanner quickly identifies all network devices with IP addresses and provider names. Its open port scanning feature helps you discover which ports are open on your device and their functions. Lastly, the VPN feature ensures secure and anonymous internet connections through a proxy server, enhancing your online privacy.
#4. Network Analyzer Pro -Net scanner and wifi info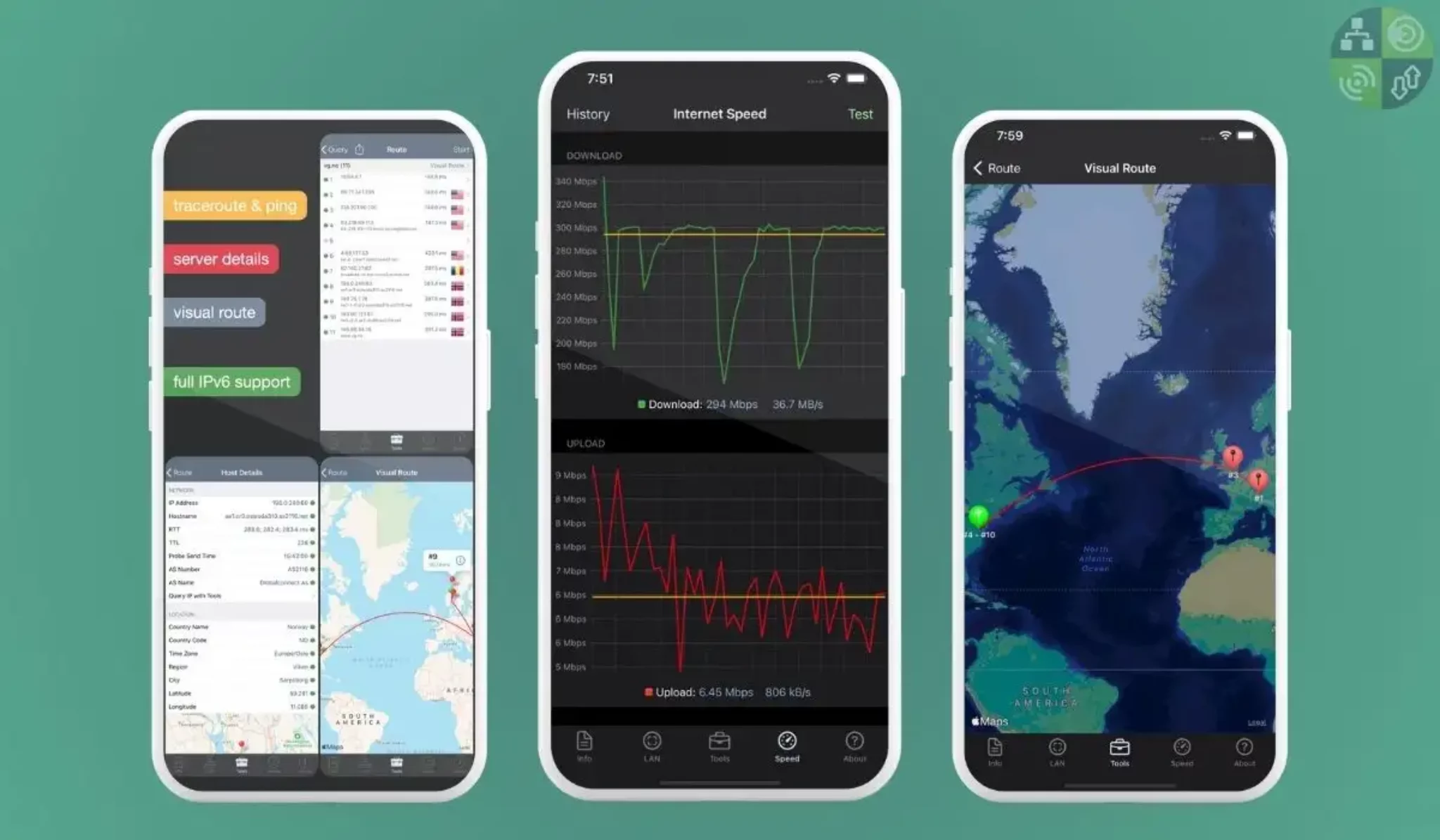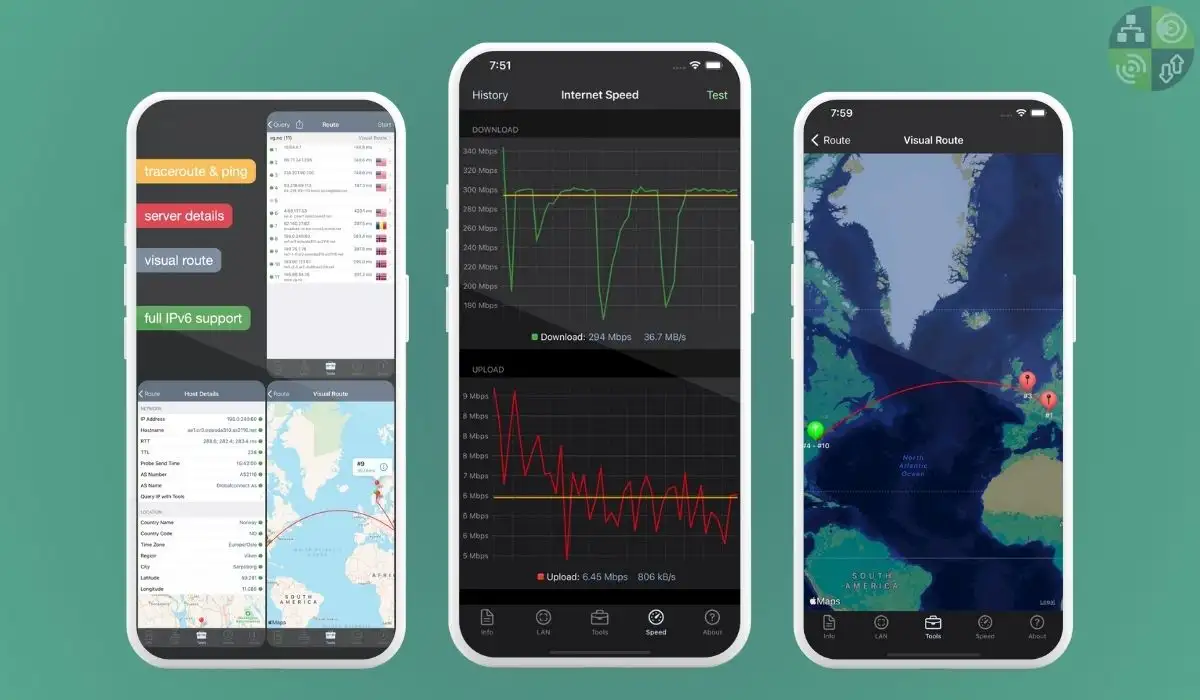 Pros of using Network Analyzer Pro:
Detects Wi-Fi connection and VPN
Scans and filters IP addresses
Gives details about upload and download speed
Price = $3.99
Network Analyzer Pro is an indispensable app for diagnosing and optimizing your network setup. With a wide array of tools, it helps identify issues in your Wi-Fi network, Internet connectivity, and remote servers. You can discover all connected devices, including those on VPN, and access detailed information such as IP addresses, NetBIOS, mDNS, LLMNR, and DNS names. This app offers a suite of capabilities, including ping ability tests, IPv6 availability checks, Wake on LAN (WOL) functionality, custom IP range scanning, advanced filtering options, and much more. More than this, it also provides geolocation data, port scanning, speed tests, and comprehensive network information, including default gateways, external IPs, DNS servers, and more.
#5. Speedtest by Ookla -Billion tests and counting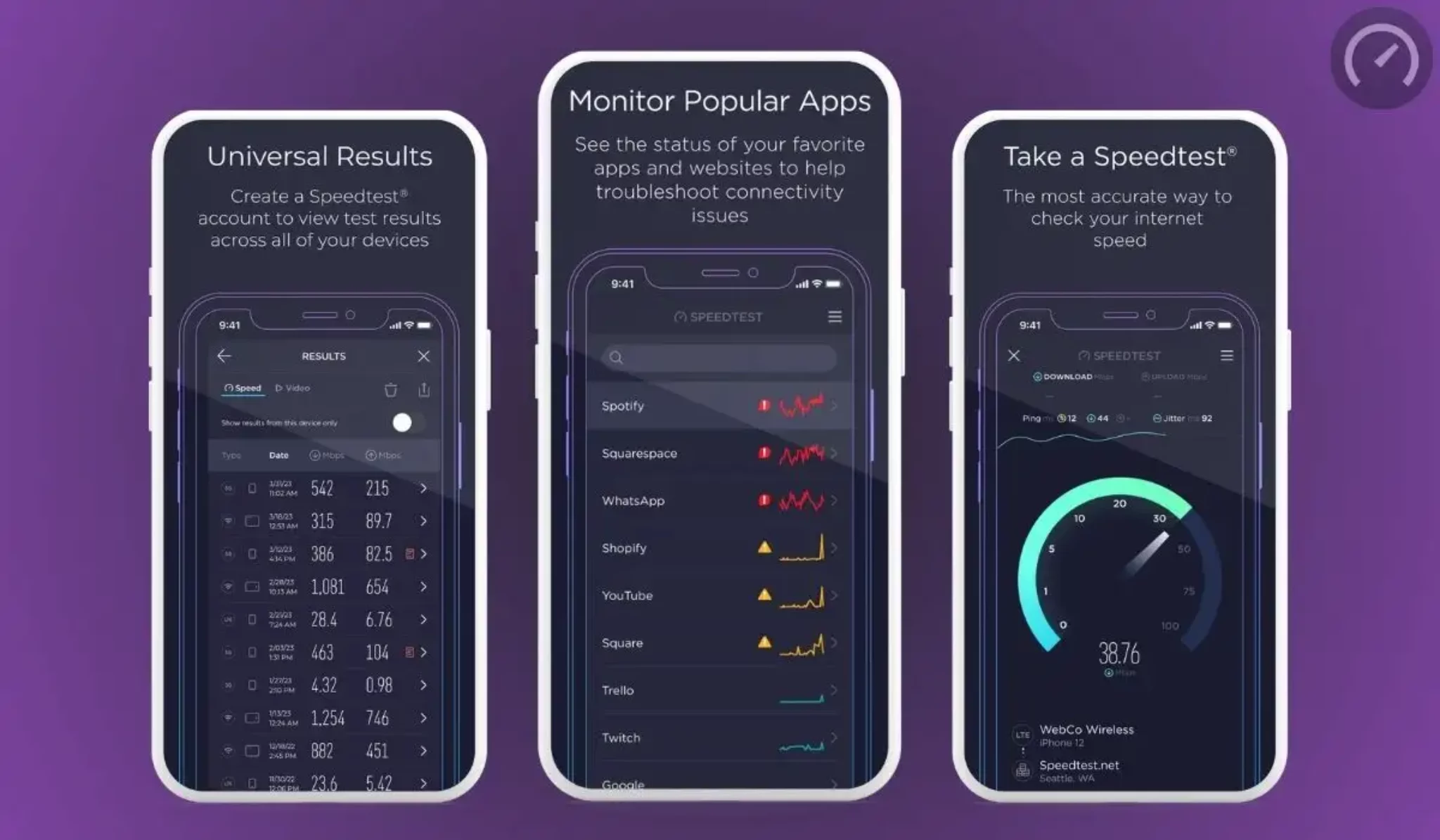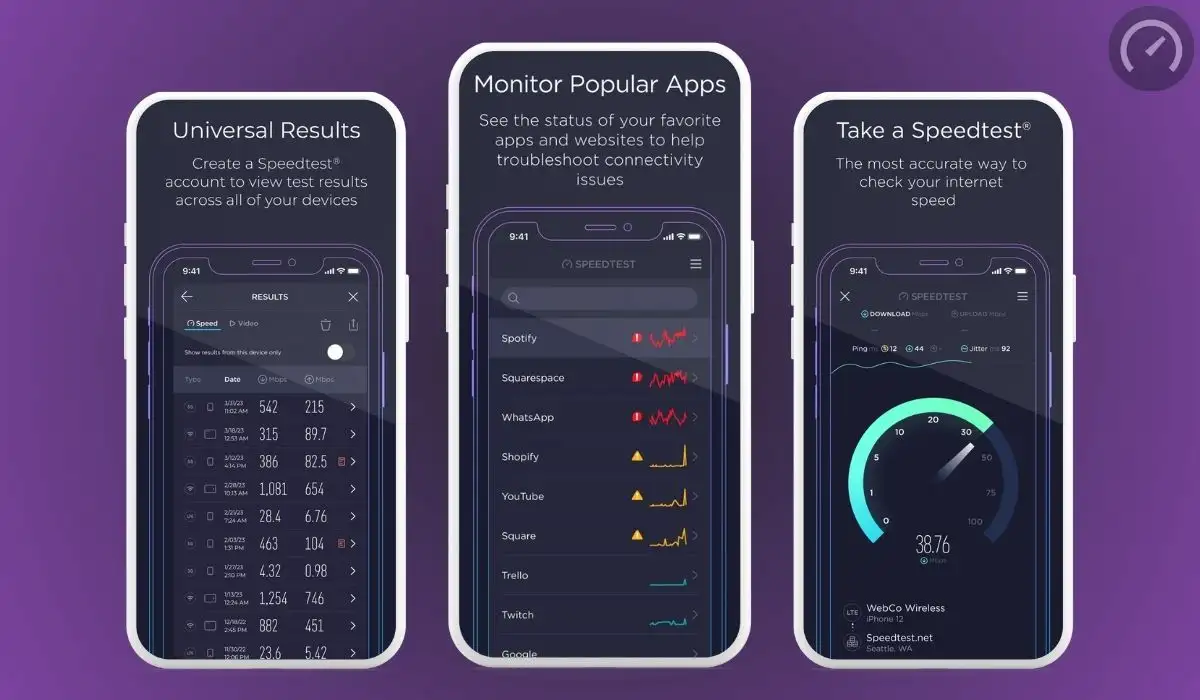 Pros of using Speedtest by Ookla:
You can test your video speed, buffer time, and load time
It helps to stay safe and private
It provides real-time graphs and helps in troubleshooting
Price = In-App Purchases start from $0.99 – $4.99
Speedtest by Ookla is your go-to app for comprehensive network performance insights and real-time updates on website and application status through Downdetector. Conducting an internet speed test has never been easier, with one-tap accuracy anywhere, thanks to a global server network. It allows us to measure download, upload speeds, and jitter and assess ping at three stages: idle, download, and upload. Speedtest Maps display mobile carrier coverage, while video tests gauge max resolution, load time, and buffering. Stay secure with the free Speedtest VPN and monitor connection consistency in real-time. Whether you need to troubleshoot or verify promised speeds, this app offers detailed reporting and easy result sharing. You can even go ad-free for $0.99 to enjoy an uninterrupted testing experience.
#6. Ubiquiti WiFiman -Optimize your network setup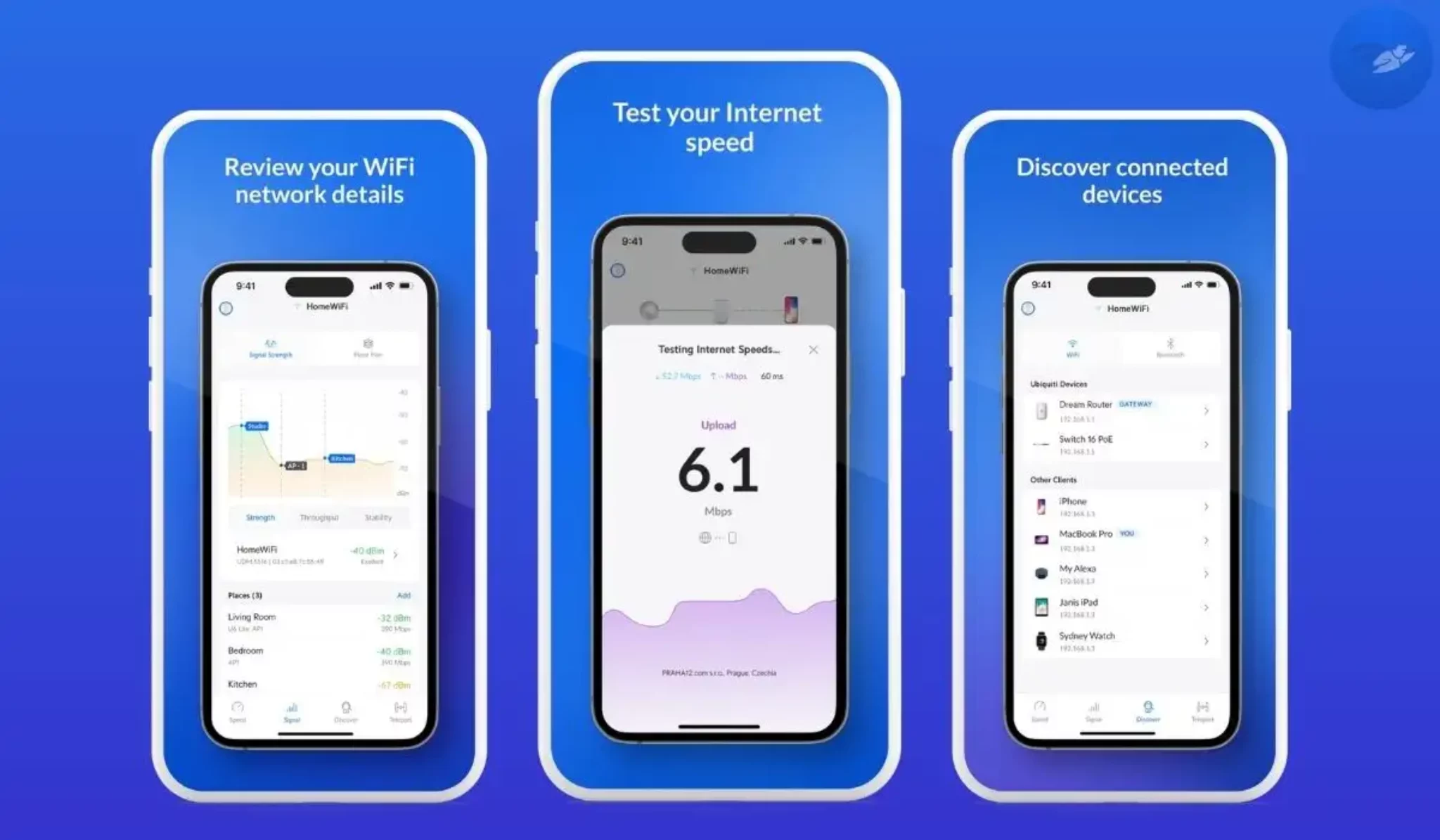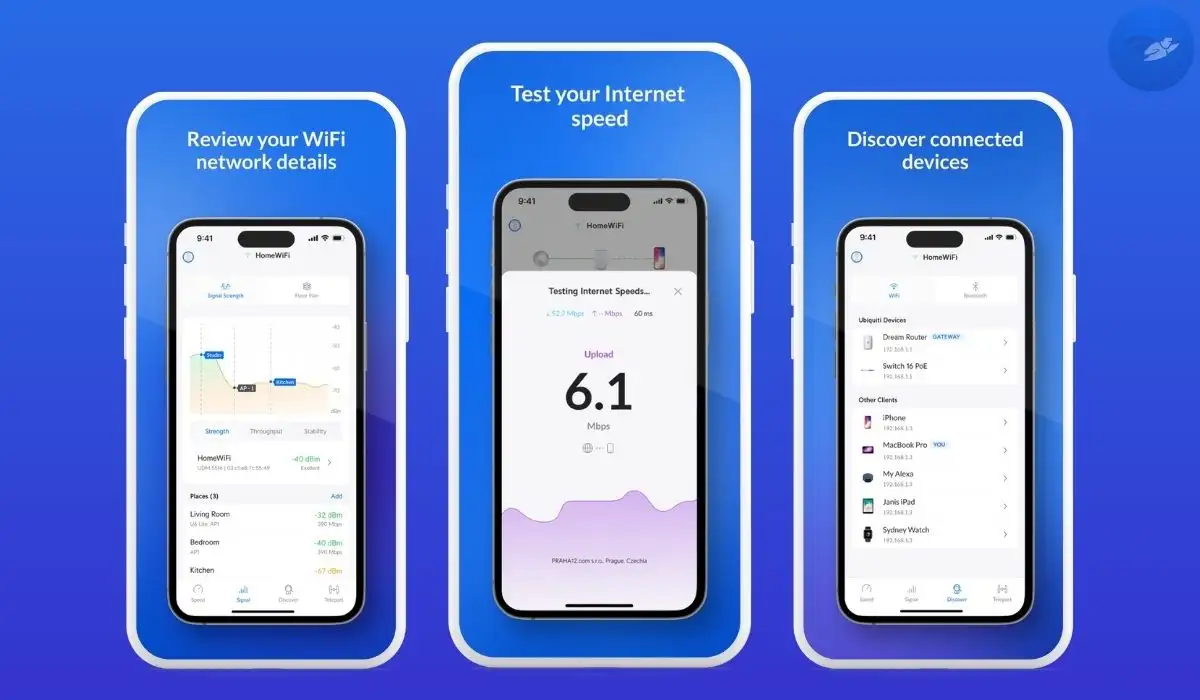 Pros of using Ubiquiti WiFiman:
It monitors your internet health and speed
You can connect to the UniFi network via a VPN
This app allows to review of network details and signal strength
Price = Free
If you are fed up with the slow internet, endless buffering, and jammed data channels -then this free app is a lifesaver. Using this app, you can effortlessly connect to available Wi-Fi networks and devices in a flash. It helps to analyze network details by scanning subnets using Bonjour, SNMP, NetBIOS, and Ubiquiti protocols. You can run download/upload speed tests and save results to compare performance. It helps to boost your signal strength and declutter traffic by relocating access points to smarter channels.
#7. Wi-Fi SweetSpots – Observe Wi-Fi connection speed fluctuates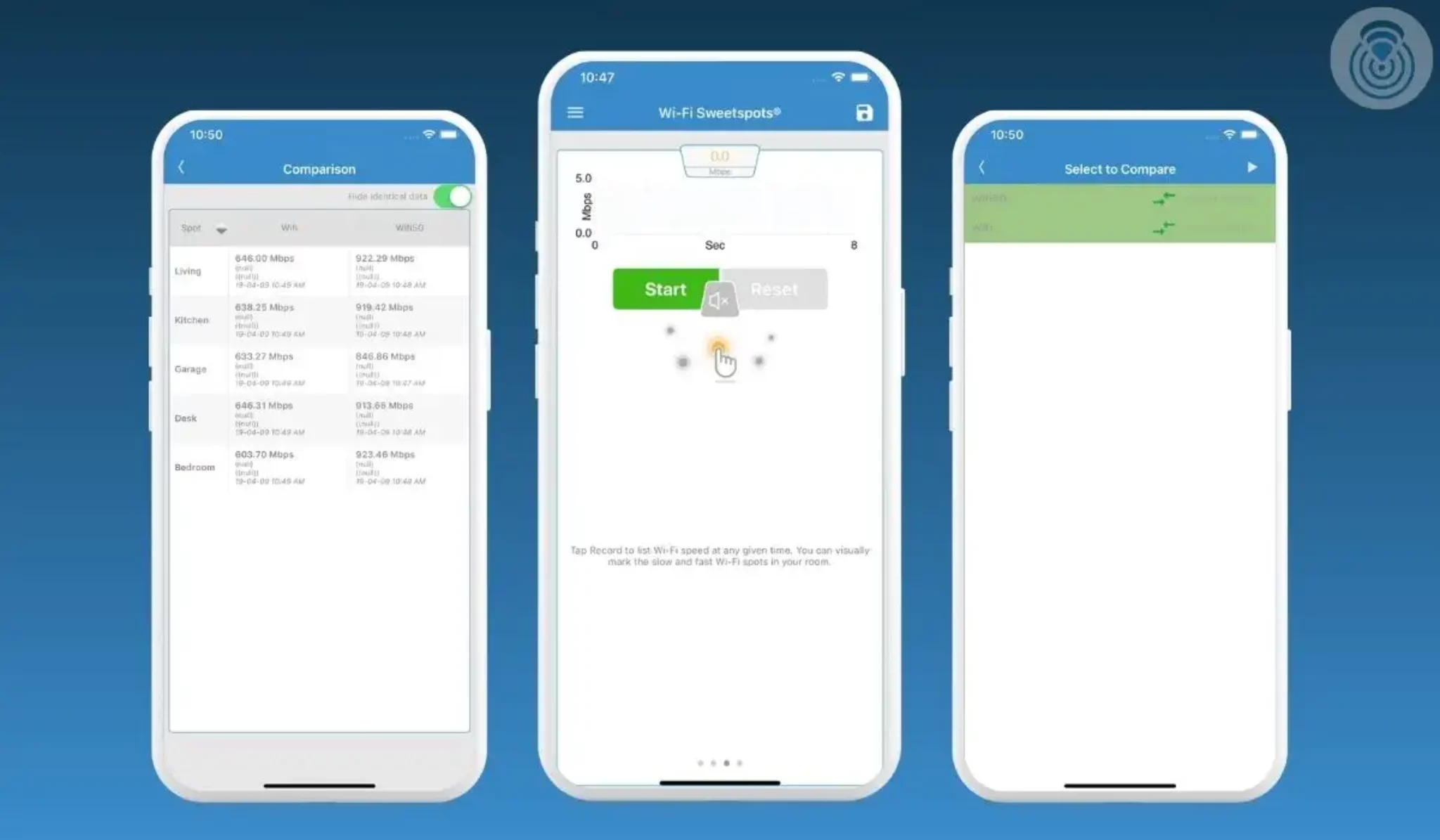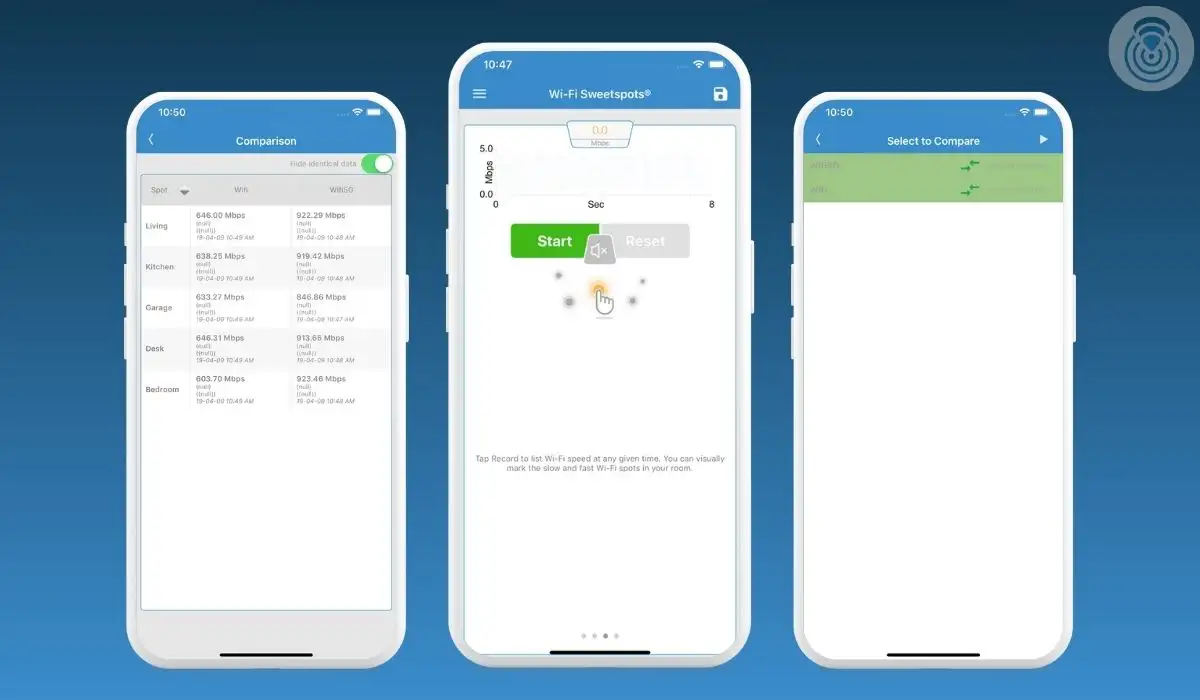 Pros of using Wi-Fi SweetSpots:
Simple and easy app
Helps to find suitable wifi-router and access points
Select and compare internet speed in your home
Price = $1.99
Wi-Fi SweetSpots is your ultimate tool for tracking Wi-Fi connection speed fluctuations that allows you to pinpoint the best and worst Wi-Fi zones in your space. Whether you're optimizing your wireless router placement, access point positioning, or gaming console setup, this app has you covered. It is an easy and simple app specifically designed for iPhone users, offering an intuitive interface for effortless monitoring. You can quickly find your perfect Wi-Fi sweet spot to enjoy uninterrupted browsing and streaming. Say goodbye to dead zones and hello to a seamless Wi-Fi experience with Wi-Fi SweetSpots!
#8. iNet – Know Your Network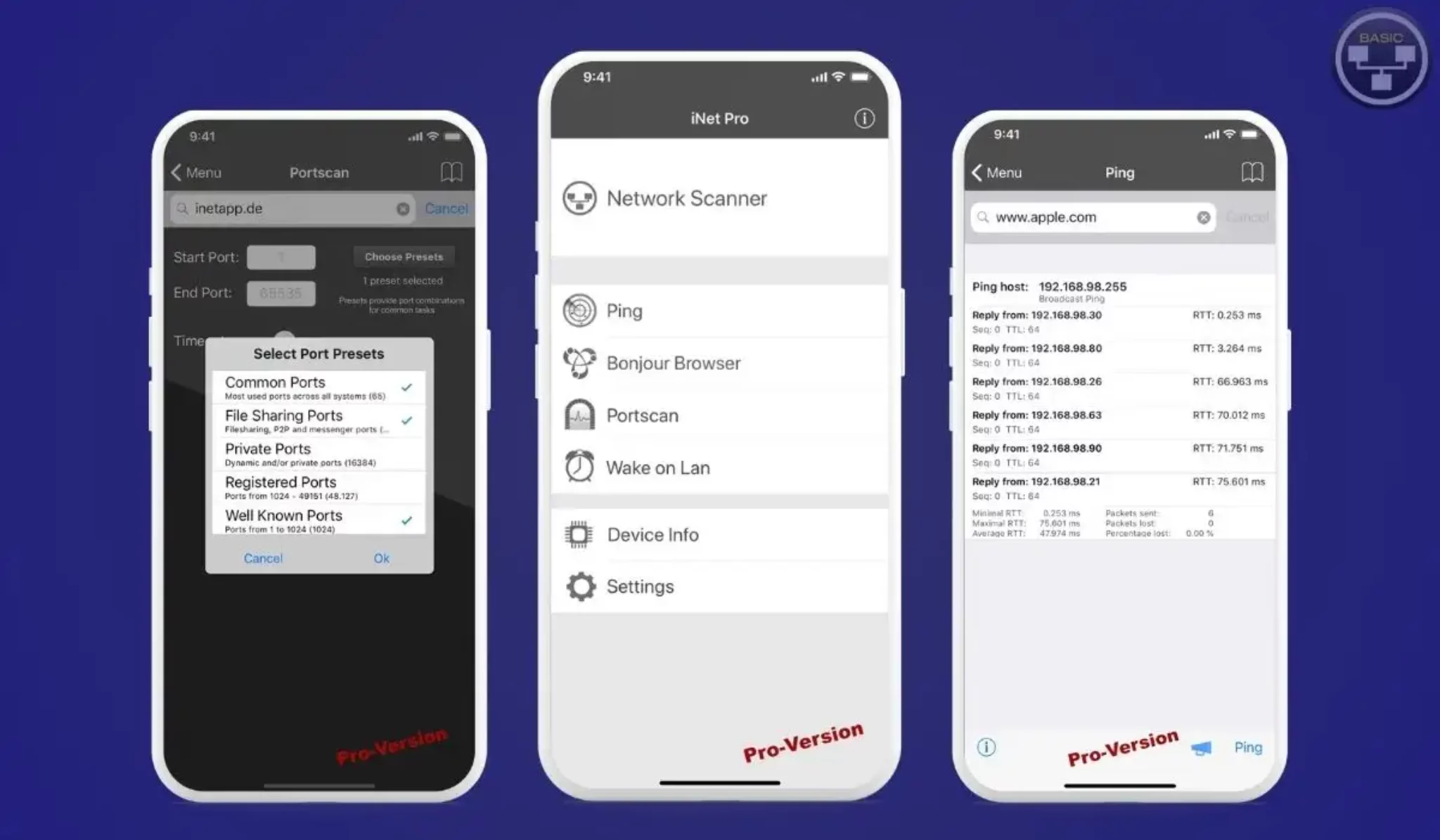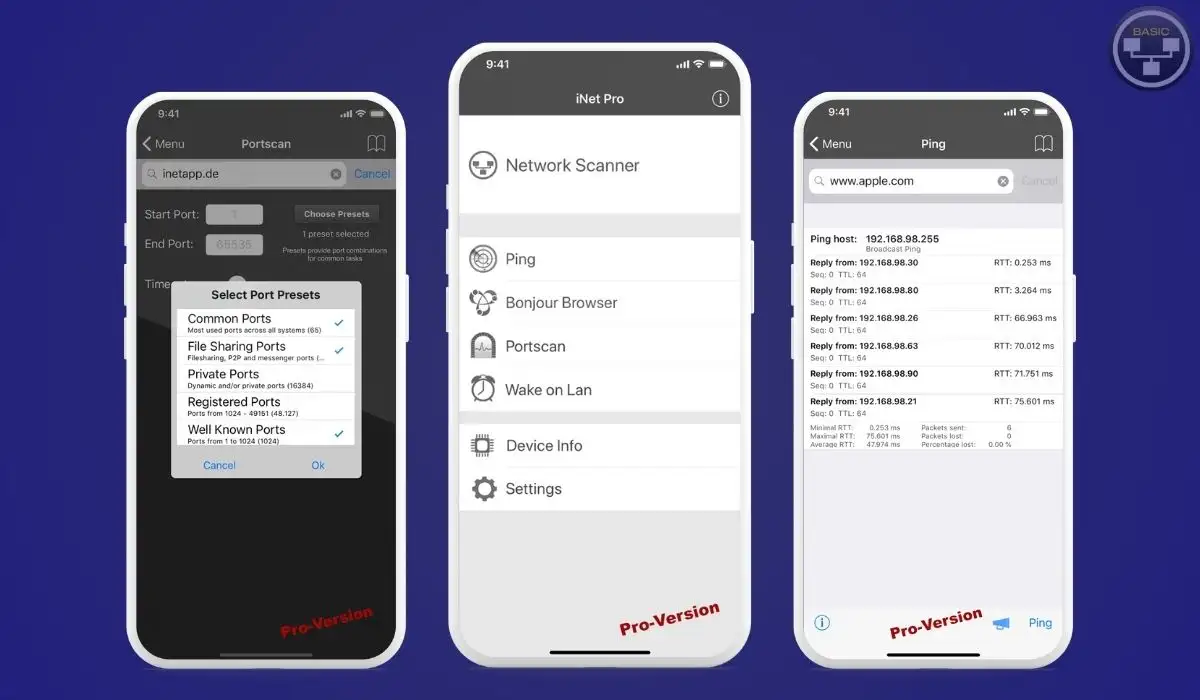 Pros of using the iNet app:
Easy and user-friendly design
Keeps your iPhone data private and safe
Scans and track connected Wi-Fi users
Price = In-App Purchases start from $1.99 – $7.99
If you want to learn important information about the security and activities of your network, then you must check out the Inet network scanner app. iNet is one of the best WiFi analyzer apps for the iPhone, offering a full range of capabilities to precisely track the state of your network. This app is useful in analyzing computer networks, identifying potential security holes, and identifying any unauthorized access. You can also easily identify local network routers, digital cameras, and even hidden devices using it. It allows you to save scan results for comparisons in the future, ensuring that you are aware and alert about the integrity of your network.
Conclusion
In today's connected world, having a strong Wi-Fi signal is essential. iPhone users are fortunate to have access to a variety of top-notch signal strength meter apps. These apps are essential resources for everyone who appreciates a good internet experience, whether they are tech enthusiasts, remote workers, or just regular people.
Hope you found the above article useful to explore the best WiFi Analyzer iOS Apps. Download one of the best WiFi Analyzer for iPhones and let us know your experience in the comment section.
Frequently Asked Questions (FAQ)
Q1. How can I boost the WiFi signal strength on my iPhone?
Try these suggestions to strengthen the WiFi signal on your iPhone:

1. For a stronger connection, move closer to the router.
2. To fix any kinks, reboot your WiFi router.
3. Maintain software updates on your iPhone to get better performance.
4. In the iPhone's settings, reset the network settings.
5. Connect to the 5GHz spectrum to experience higher speeds.
6. Keep your router far from other gadgets and objects to reduce interference.
7. You must update your router to provide better coverage.
Q2. Is Wi-Fi Analyzer safe to use?
In general, WiFi analyzer apps are safe to use. They don't access or change the settings for your network. They basically scan for neighboring Wi-Fi networks and display the information. To prevent potential security threats from rogue programs, be cautious to download only from reliable sources like official app stores.
Q3. How do I check network quality on an iPhone?
To check network quality on an iPhone, follow these steps:

Open "Settings."
Go to "Cellular" or "Wi-Fi," depending on your network.
Look for "Cellular Data Options" or "Wi-Fi Network."
You'll find options to check signal strength, data usage, and other network-related information to assess quality.