🗓️
November 24, 2023
By ✍️
Jaysukh patel
Do many users have a question on Does iPhone SE support Bluetooth? Yes, the iPhone SE comes with Bluetooth the same as other iPhones. And recently iPhone SE handset facing a Bluetooth Audio issue. Some of the customers say that after the latest iOS update, they have trouble at the time of pairing the phone with the Bluetooth-enabled device like headphones or Sefistick, Audio Speaker, Apple Car play, etc. in the short term, perhaps Bluetooth not working on iPhone SE. Even, there is not to be a problem with iPhone SE hardware. But sometimes an issue has occurred due to a little glitch in iPhone software.
In the current era, Bluetooth is a standard short-range wireless interconnection device for cellular phones and Bluetooth-enabled devices. Therefore, without Bluetooth or discoverable Bluetooth devices above half of the device becomes dead. Since to get rid of an iPhone SE Bluetooth issue, we offer here a clear solution so follow carefully; we promise that this would work definitely for you.
Note: If you're new to iOS and want to transfer data to another iPhone, then you could not use Bluetooth, but you should use AirDrop (located on Control Center). Using AirDrop, you can share media files, docs, etc. between iPhone, iPad, iPod, and Mac OS.
Accurate Clues to Fix Bluetooth not working on iPhone SE
We understand, while Bluetooth won't work on iPhone, can't listen to audio music through the wireless headset and so that compulsory required 3.5 mm jack wired Apple's headphones. Let's start bottom clues and get enjoy.
Fix 1: Try Twice Time to Turn On/Turn Off Bluetooth
Settings app → Bluetooth → Turn Bluetooth ON
Now try to pairing between both built-in Bluetooth devices, if it is undiscoverable, do turn off Bluetooth. Now keep continuing to solution 2nd.
Fix 2. See on the Bluetooth Settings screen and erase that all devices
Open the Settings app → Bluetooth → under My Devices → Tap on the (i) icon beside the device name → Tap Forget Device.
Now try to pair again. If your issue persists, go with the below clue.
Fix 3: Reset Network Settings on iPhone SE
Note: Reset networking will delete all network settings, returning them to default factory defaults.
Steps to Reset Network Settings for iOS 15 and later Version
Step #1: Open up "Settings".
Step #2: Open "General" and then tap "Transfer or Reset iPhone".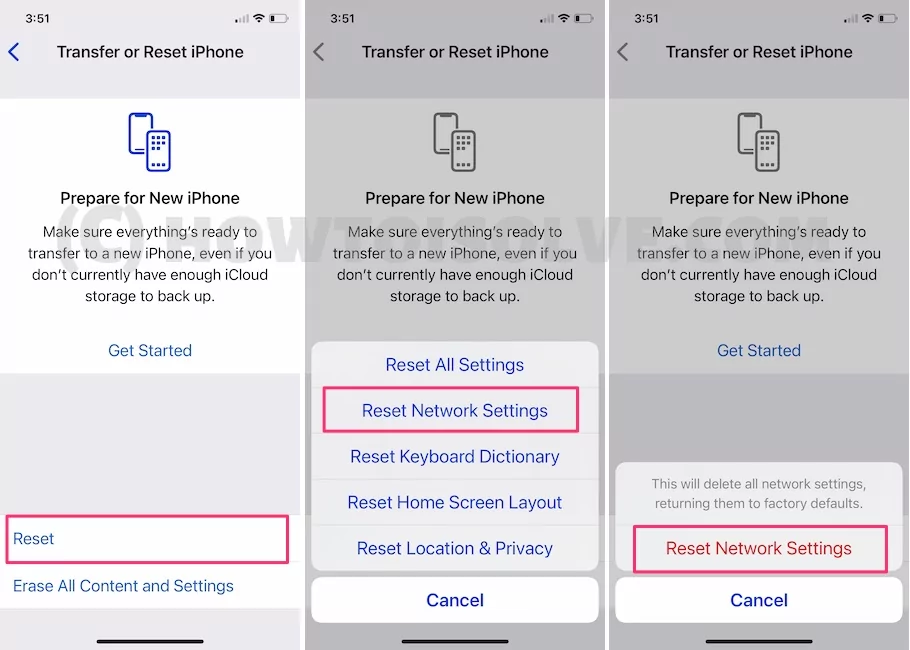 Step #3: Lastly, tap "Reset" > "Reset Network Settings" > Enter your iPhone Lock passcode and Try after Reboot once. This Process won't Erase other important settings, Media, Messages, and more.
Steps to Reset Network Settings for iOS 14 and Earlier Version
Steps – launch Settings App → General → Reset → Reset networking → Enter your iPhone Passcode (if any) → Now Tap on Reset Network Settings.
You're done.
Keep Mind below Bluetooth Troubleshooting also,
Restart or Reboot iPhone or Accessories (Enable Bluetooth mode)

Turn off & Turn on Bluetooth on Accessories

Update iOS or Device Firmware or Software

Keep both devices near to each other

Stop to auto-pair with other devices

Change Configure Accessibility Using iTunes

Unable to connect to Mac: Remove Device on Mac's Bluetooth Preferences

Not connecting to Car Stereo, CarPlay: Restart Car or CarPlay

Check Bluetooth Hardware – Antenna

Contact Apple Helpdesk
Go To – Best 14 Tips: Bluetooth not working
Get more fixes like iPhone SE Wi-fi not working, iPhone SE Apple Pay not working, iPhone SE Touch ID won't work, iPhone SE Siri not working.
Do you find any other tactics to fix iPhone SE Bluetooth that stopped working? Hey, guy/gal share it in the comments.