🗓️
November 22, 2023
By ✍️
Jaysukh patel
Get a direct download MacOS Ventura setup for your Mac and install the new 2023 release macOS Public Beta & Developer Beta software update to your Mac. A direct link is given in this article for personal use. So take care of your Mac, This is developer use, so you will get bugs and missing features, in such case, your Primary software can't run or crash. So take a backup of your Mac before starting the installation.
For Now, We can download macOS Ventura on your Mac without a Developer account, But if you want to download the setup on your Mac from your own Developer account, then you can do it, and you must go with the option.
Follow two alternate methods to download the macOS Ventura DMG file, 1) Direct download macOS 13 link and 2) Use your Developer account given in this article.
Note: Make sure you are installing developer macOS Ventura, If you are finding the final public version of macOS Ventura, then wait for 2 or 3 months. or at least wait for the Stable macOS Ventura Beta version.
Another best option is to install macOS Sonoma on New Partition on the same mac along with macOS Ventura.
Two Methods to Get macOS Ventura DMG file on Mac
Method 1: Direct Download macOS Ventura DMG file on Mac
For privacy reasons, apple can't allow sharing of the direct macOS Ventura DMG file for public users. You can only download it On Supported Macs. follow the below steps,
1. Open this Link on the Mac Safari browser, MacOS Sonoma Download link for mac app store.
2. Click on Get Button to Start downloading on your Mac. and Wait for the download complete.
3. Wait a few seconds, you will get Download Option on System Preferences settings.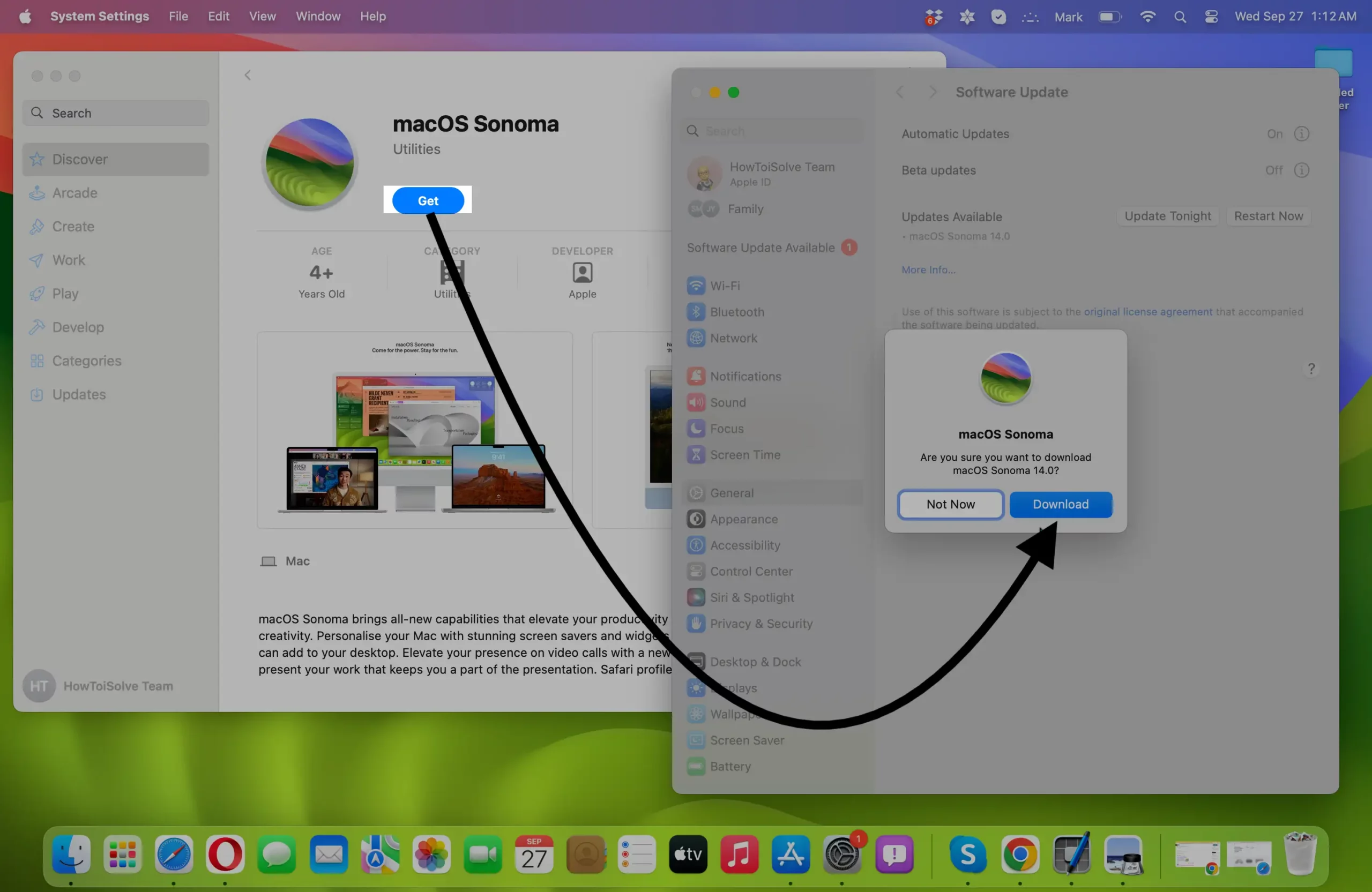 Wait for the Setup to download completely.
Don't run the setup after the download finish. Force Quit the setup, From the top menu install macOS Ventura > Quit install macOS.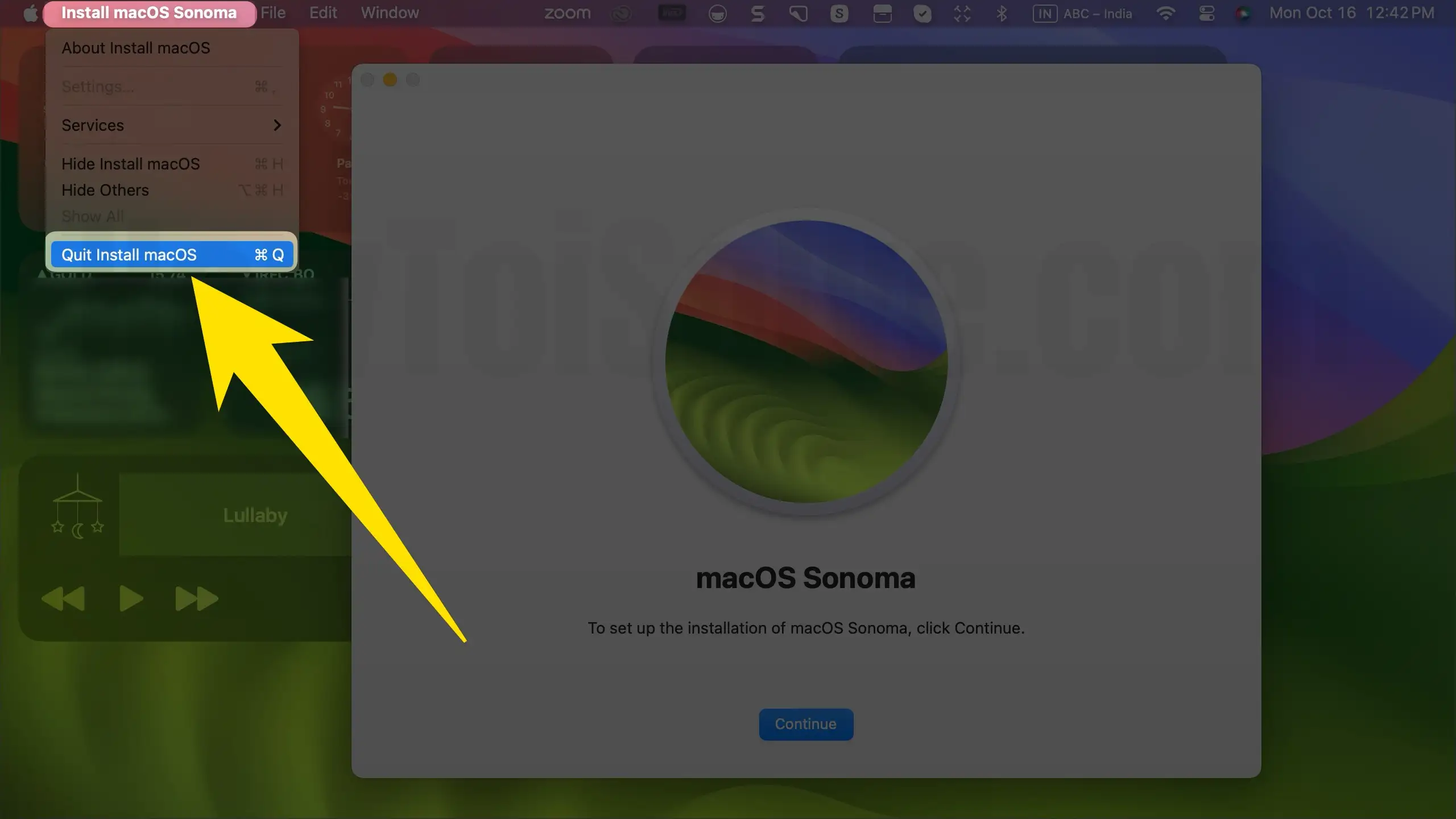 3. Now, Open finder on Mac, from the top finder menu Go > Applications > See Install macOS Ventura Downloaded DMG file.
Now, your Mac is ready to Make a Bootable USB using a DMG file on Mac. See Video Tutorial.
Note: Once you download macOS Ventura, Follow these steps to create bootable drive and Downgrade macOS Ventura to MacOS Monterey.
---
For Beta: To Get MacOS Ventura Beta DMG file,
For macOS Sonoma Public Beta (Watch the Below Video), Go to beta.apple.com, Login with your apple ID and Click on "Enroll Your Devices". Scroll down webpage, and click on "Download the macOS Beta Access Utility". Find and Open MacOS Beta Access Utility and Start downloading and installing macOS Sonoma on Mac (Apple Logo > System Settings > General > Software Update).
For macOS Sonoma Developer Beta, enroll your Mac system in the beta program and Get Download the macOS Sonoma DMG file under the Software Update (Apple Logo > System Settings > General > Software Update > Download and Install). or Download and install macOS Sonoma Developer Beta Installation file.
Open Safari on Mac, Login beta Account with your Apple ID and Password.
Under the Download Menu Section, Download MacOS 13 Ventura Profile on your Mac and install setup, Now, your Mac is enrolled and able to Get the MacOS Ventura Software Update [Apple Logo > System Preferences > Software Update > macOS 13 Ventura Download option it there]- DMG file to your Mac under the applications once you download setup.
That's it., See the below steps where macOS Ventura Beta is Stored.
Note: After that, we can Remove macOS Beta Profile anytime when you want to stop beta updates & switch to the Public macOS version.
it will take minutes or hours depending on internet speed.
Once the Downloading Finish, you will get the Install macOS Ventura popup. Continue to install on your mac. or Close the window "from the top menu, Install macOS 13 Beta > Quit Install macOS". you will get a macOS Ventura dmg file under the applications folder in the finder. or On Launchpad [Search with macOS and See the setup file].
That's it all about the new 2022 macOS 13, Let's share the best feature you like and miss Update in the comment section.
Note: Once you download macOS Ventura, Create Bootable Drive and Downgrade macOS Ventura to MacOS Monterey.
Method 2: Download macOS Ventura Using the Developer account
1→ Open Safari Browser and login to your Developer account on your Mac.
2→ Now, Go to the Download menu and Click on "Install Profile" next to the macOS 13 Beta.
3→ Once macOSDeveloperBetaAccessUtility.dmg is downloaded Open to run Download setup on your Mac.
4→ Run Setup PKG file to Start downloading process.
5→ Follow the on-screen setup.
6→ Start downloading macOS Ventura on your Mac, Click on Upgrade Now.
7→ Wait for Finish Downloading Process on Mac.
8→ The downloaded MacOS Ventura DMG file will save in the Applications folder in the finder. and ready for use to share with others to install macOS Ventura or Make a Bootable drive for macOS Ventura. Go to Finder > Applications > Install macOS 13 Beta DMG Setup file.
This method is helpful for users who have active developer accounts, But if you don't have then find the next method.
macOS Ventura System Requirements
Below iMac, Mac Mini, and MacBook Models can be able to install MacOS Ventura.
iMac 2017 and later
iMac Pro 2017
MacBook Air 2018 and later
MacBook Pro 2017 and later
Mac Pro 2019 and later
Mac mini 2018 and later
MacBook 2017 and later
What is macOS Ventura File Size?
The New macOS Ventura Developer Beta file size is 12.15 Gigabytes. That can be very according to the Mac Model. But not a big difference in size for macOS Ventura setup.
What is macOS Ventura update file location?
Yes downloaded MacOS Ventura we can be located at two places. from that we can easily copy or start the installation at any time on your Mac. also this location help you to delete downloaded macOS Setup file and make big free space around 10 GBs.
First Easy Method is to find in finder: Open finder on Mac, from the top menu, Go > Applications > And see Install macOS 13 Beta final name. You can find this file between apps but press "i" from the keyboard to navigate the file names starting from "i".
The second way to Find the MacOS Ventura file is from launchpad [on the last page],
How Do I Free up Space on My Mac for Ventura?
To download and install macOS Ventura, we need at least 15 GBs of space to download the setup file and Extract it for the installation. So the setup file is around ~13 GBs but the right way to install macOS without any interruption is to make more space.
Is macOS Ventura better than Monterey?
Yes, MacOS Ventura improved in many apps with Features and a Great user experience to switch between different apps window. Mail app, Spotlight, Clock, Safari, Passkey, Messages, Apple Stage Manager.
How much space does macOS Ventura need?
MacOS Ventura Needs 13 Gigabytes of free space to download the setup file. The exact macOS Ventura DMG file size is 12.15 Gigabytes.
macOS Ventura cannot be installed on Macintosh HD
There are too many reasons that prevent you from installing a new macOS Ventura on a supported Mac. that might be Security issues, Disk problems, Internet software, Corrupted MacOS Ventura DMG file, Not Enough Space, or Internet issues. Get more about the solution: macOS Ventura Can't install on Mac.
Get back, we will update you all about new tips and tricks to get the macOS Ventura DMG setup file for all upcoming releases like macOS Ventura Public Beta dmg, and MacOS Ventura Final DNG file.