Last Updated on
Every update of macOS brings new default wallpaper, no matter how much do you like the default wallpaper by Apple, but one day, it will become a pain in the eye, what do you say? Since the macOS update names are always based on some places like Mojave which is a national park, Catalina is an island and so on. But for a change, if you would like to change the wallpaper, on macOS Catalina or macOS Mojave; here's the time for you.
we are happy to help you, submit this Form, if your solution is not covered in this article.
We have collected the best HD Wallpapers for MacBook, Mac that will bring freshness to your desktop and of course to your mind, whenever you will look at it. Hopefully, you know that macOS Catalina or later update has support for dark mode, which means along with light-mode, you have a dark mode. What I want to say is, depending upon your theme color; light-mode or dark-mode, there are different types of wallpapers you must download.
Top 13 Download HD Wallpapers for macOS Catalina, macOS Mojave or earlier
Use Below Download link for Get HD Wallpaper. Here are 13 few HD wallpapers for your Mac and MacBook,
Download MacBook HD Wallpaper 1
Download MacBook HD Wallpaper 2
Download MacBook HD Wallpaper 3
Download MacBook HD Wallpaper 4
Download MacBook HD Wallpaper 5
Download MacBook HD Wallpaper 6
Download MacBook HD Wallpaper 7
Download MacBook HD Wallpaper 8
Download MacBook HD Wallpaper 9
Download MacBook HD Wallpaper 10
Download MacBook HD Wallpaper 11
Download MacBook HD Wallpaper 13
After downloading the wallpaper for your Mac, MacBook, let's check where is the downloaded wallpaper is stored and how to change the desktop wallpaper on Mac.
From the dock, open the Finder folder and look for the Download folder.
Click to open the Download folder and see if there are any wallpapers are available that you have recently downloaded.
How to Change Desktop Wallpaper on your Mac?
If you are changing wallpaper on Mac for the first time, that by default macOS wallpaper must be there. So here's the last step, which will show you how to change the wallpaper of Mac.
Click on Apple Logo () From Top Mac Menu.
Choose the wallpaper that you want to set as a desktop wallpaper.
To Add Downloads Folder, click on + and then from there you can set desktop wallpaper on Mac.
Alternatively, go to the Downloads folder and right-click on the wallpaper and hover to Share and lastly select Set Desktop Picture.

Import Folder for Desktop Background on MacBook

That's it.
Check your Mac's Screen Resolution
To check your Mac's Screen Resolution from "About This Mac", Go to Apple Menu > About This Mac > Display. 
Not only on Mac OS X But you can also change/ Set this macOS wallpaper on Windows PC or Laptop.
Don't take a snapshot from here, Download it by right click on like and save on your drive
Apple gave Two wallpaper EI Capitan and EI Capitan 2, Download From below.
Quickly Set any Picture on Desktop Wallpaper
Locate the picture saved on your Macbook drive or External Drive. Right Click on image and Select
That's it.
How to Set Any Wallpaper image as a background wallpaper?
Step 1: Right-click on desktop > Change Desktop Background.
Step 2: Choose image/ Picture that's you want to set as a desktop background.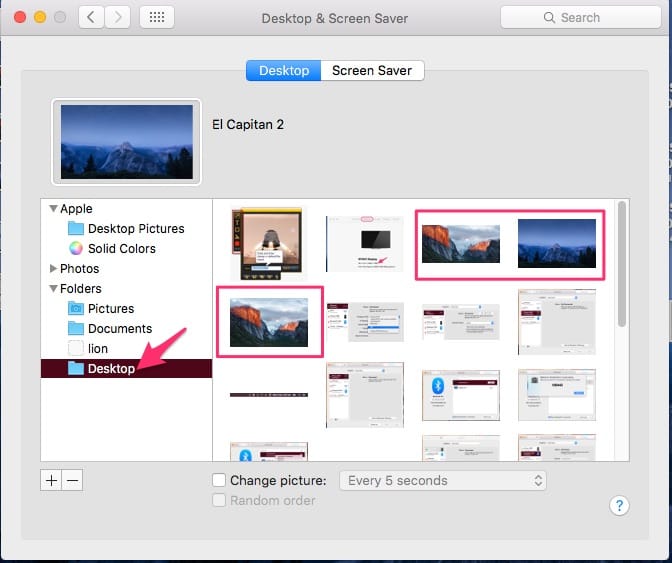 If you don't like or set on your desktop due to the low or high resolution that's you want, You can take a screenshot in HD resolution and then compress into your system's resolution that's you checked at first.
Premium Support is Free Now
We are happy to help you! Follow the next Step if Your Solution is not in this article, Submit this form without Sign Up, We will revert back to you via Personal Mail. In Form, Please Use the Description field to Mention our reference Webpage URL which you visited and Describe your problem in detail if possible. We covered your iPhone 11 Pro, iPhone 11 Pro Max, iPhone 11, iPhone 8(Plus), iPhone 7(Plus), iPhone 6S(Plus), iPhone 6(Plus), iPhone SE, SE 2(2020), iPhone 5S, iPhone 5, iPad All Generation, iPad Pro All Models, MacOS Catalina or Earlier MacOS for iMac, Mac Mini, MacBook Pro, WatchOS 6 & Earlier on Apple Watch 5/4/3/2/1, Apple TV. You can also mention iOS/iPadOS/MacOS. To be Continued...
> Get to Download macOS Mojave Wallpaper
I hope that Apple will serve a more beautiful picture for Mac OS EI Capitan in new updates, Like earlier for OS X Yosemite. You have five options for set Yosemite Wallpapers from five different. Also, share your problem if you have in below comment box. and Happy to enjoy os x EI Capitan wallpaper.
Jaysukh Patel is the founder of howtoisolve. Also self Professional Developer, Techno lover mainly for iPhone, iPad, iPod Touch and iOS, Jaysukh is one of responsible person in his family.
Contact On: [email protected] [OR] [email protected]