Last Updated on Jun 15, 2023
Automatically fill in SMS passcodes on iPhone not working? Where is Autofill Password safari in iOS? How to Enable or Disable Autofill Password? and Autofill Password Not Working after Update or Reset All Settings on iPhone, iPad. Autofill password on your webpage login is an import and time-saving secure feature for all of your logins. This is not shared on other Apple devices. Some software issues are unable to popup a username or password for autofill on Safari Browser. To use auto-sync and update or share passwords on other Apple devices (Mac, iMac, Mac mini) we can use a keychain password. See the new setting and features on iPhone and iPad running in iOS. Turn on or Turn off Autofill password on iPhone and iPad from the quick setting option.
Autofill password on iPhone we can manually Access All Saved, edit, Delete or Add new details (Username and Password for Web page login, Autofill Credit Card Details for entering Payment Details). iCloud Keychain is only available on iOS, iPadOS, macOS, WatchOS devices, But not Available on Cross-platform Like Windows and Android. To use Across Other devices, I recommend using 1Password. This is the Best Password Manager for All Mobile & Desktop platforms.
Steps for Change by Enable or Disable Autofill Password on iPhone, iPad & Autofill Password Troubleshooting
Autofill Password Stopped and Not working on iPhone, iPad: Follow the below steps and Re-enable the toggle for Autofill password under the settings app on iOS/iPadOS.
Change Safari Settings:
Open the Settings app.
Scroll down and tap Password.
Tap Autofill Passwors (AutoFill helps you sign in to apps and websites).
Turn toggle On/Green next to the AutoFill Passwords
That's it.
If your iPhone password saves not working after followed the above troubleshooting, let's go to the next solution.
Enable Autofill Credit Card Details on iPhone, iPad
Why? iCloud Keychain is used to Keeps the passwords and credit card information you saved up to date on the devices you approve. Your information is encrypted and cannot be read by Apple. Enable the Aurofill Credit card and Get all the details of your Credit card for quick payment. Go to the Settings app on iPhone and iPad > Safari > Autofill > Enable Toggle for Credit Cards.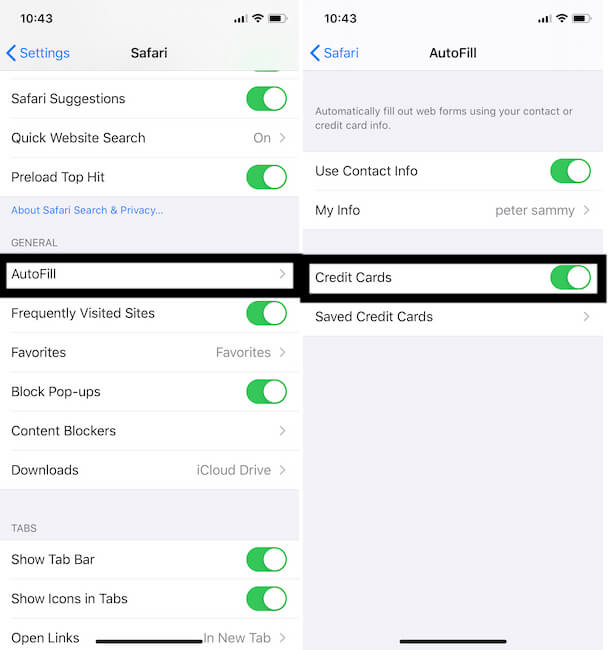 How to Manage Saved iCloud Keychain Passwords on iPhone, iPad: Access, Update, Delete
To manage More Settings for Autofill Password: see just below this option 'Website & App Password'. Here are all Saved Passwords for the different web forms that we used in the safari iPhone and iPad browser. To remove or Delete, Swiple to right on the list name and Tap on Delete to completely from Passwords & Accounts option.
For iOS 14 or later: Settings app > Passwords > There you'll find the list of all passwords.
For iOS 13 or earlier:
Settings app on iPhone/iPad > Passwords & Accounts > Website & App Passwords > See the List of All Passwords.
To make changes in these settings, verify your face id on iPhone X or Later or Touch ID or Passcode on iPhone 8 and earlier.
See all accounts, with URL, Username, and Password.
Add new autofill password webpage login or app
Tap on "+" and Enter the correct login page URL and username and password.
To Delete or remove website password: Tap on edit from the top right corner of the screen. Select web address and tap to delete option. or Swipe to right on a name from the list, Tap on Delete to completely remove.
That's it.
Alternate App for Use Autofill Passwords on iPhone: Best For Android & Windows
Alternatively, we can allow access and use the saved usernames and passwords from a third-party website. The restriction is under the settings app on the iPhone and iPad. Here's the option. and Allow to use from the third-party app directly, That's installed on your iOS and iPadOS. 1Password is the best Alternative of iCloud Keychain to use on Android Mobiles and Windows computers.
For iOS 14 or later: Settings app > Passwords.
Settings app on iPhone/iPad >Passwords & Accounts > Autofill Passwords > under the Allow Filling From choosing
App name, here's 1Password. Keep this option selected.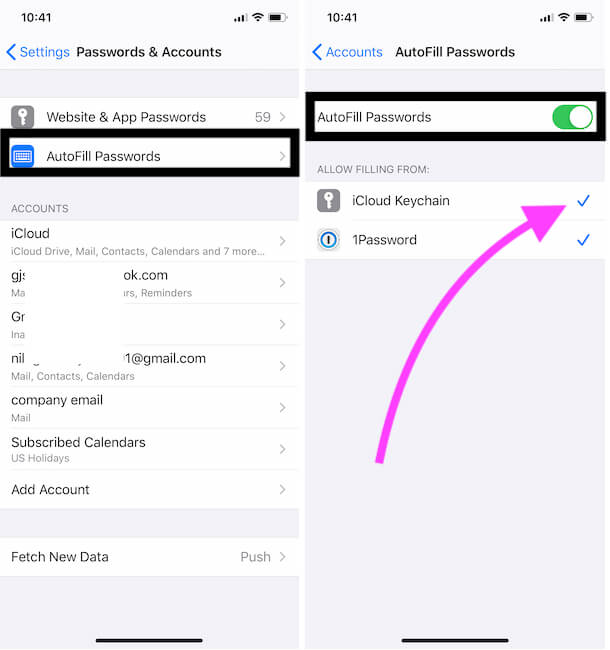 That's it.
Enable iCloud Keychain on MacBook Mac, Aufill Password Not Working on Mac
iCloud Keychain stores username and password directly in your iCloud account. That can be accessible on all Apple Devices that signed into the same apple account or Apple ID. Here's my mac also using the same Apple ID so I can get all saved iCloud Keychain Username and Password on Mac Safari browser. Let's check how to use and Sync iCloud Keychain username and password details of all websites on Mac, iPhone, and iPad.
macOS Ventura:-
Go to the Apple Logo from the top menu > System Settings.
Next, Passwords > Enter your Mac login password.
Now, Click on Password Options.
And Now, Enable "iCloud keychain" and "Autofill Passwords".
That's it.
macOS Monterey:-
Go to Top Mac Menu and Click on Apple Logo.
Next, click on the System Preferences option.
Now, Click on Apple ID.
Then, From the Side panel select iCloud and Enable option "Keychain" with a checked box.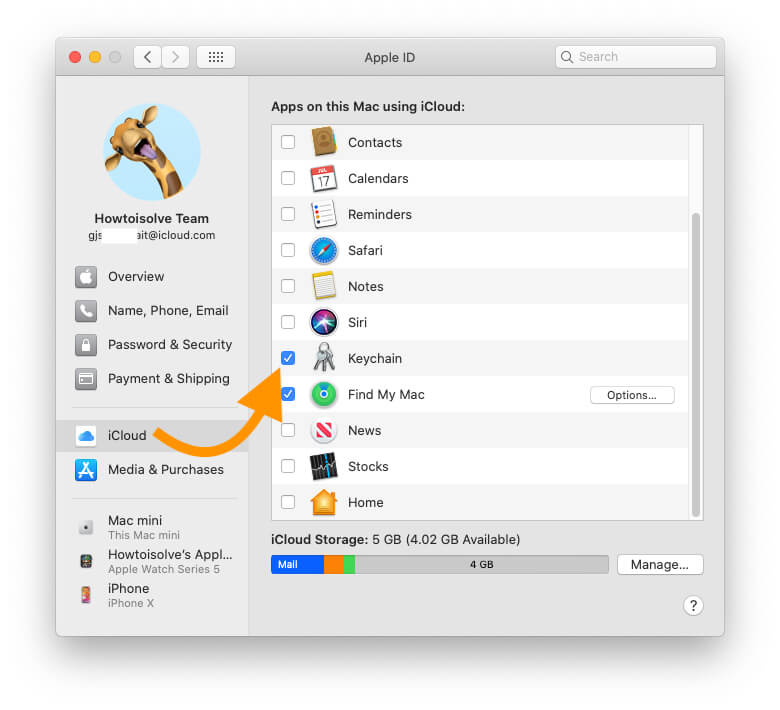 That's it
Enable Autofill Option under the Safari on macOS: User Names and Password, Credit Cards
Here are the other important settings that we can restrict from save a new or use Saved Login details and Credit card details under the safari preferences.
Open Safari on MacBook, Mac.
From the top menu, Safari > Preferences. [On MacOS Ventura: Safari > Settings]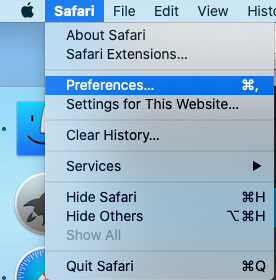 Click on Autofill tab option and Select checkbox for User Names and password, Credit Cards as well. More customizations we can go with the Edit option given next to the options.

That's it.
I hope you get a new settings tip on autofill password on iPhone and iPad, Mac Computer.