🗓️
September 24, 2021
By ✍️
Jaysukh patel
Get all about how to reply to messages on the lock screen on your iPhone. For the Privacy concern we can manage all incoming messages on lock screen notification, In that instant message Previews, Stop/ Disable lock screen notification, Notification sound, and Previews types we can change from iPhone/ iPad settings.
Quick reply on the lock screen for iMessage/ Text message after review it is a fantastic option for save a lot of time and compress finger tap counts on screen. Some users keep Disable Quick Reply on the Lock Screen that we will see here in alternate Ways.
Enable/ Stop or Disable Quick Reply on the Lock Screen: iPhone, iPad
in iOS 15 later version iPhone users, Here are Steps to send a message from the lock screen on iPhone using quick reply on notifications center without unlocking your Phone.
Take your Phone on hand
Now

swipe the screen by tap finger on the middle

of the screen so all available notifications will appear.
Now on

tap and hold on to any message notification

so that a text reply option allows with your iPhone keywbord screen.
next text your message and tap send to quick reply.
That's it. I hope, this trick found helpful.
Disable for iPhone/ iPad Message App
#1: Go to the Settings App on iPhone/ iPad.
#2: Next, Tap on Touch ID & Passcode.
For iPhone XS Max, XS, XR, and iPhone X user- tap on Face ID and Passcode
#3: Disable Reply with message toggle,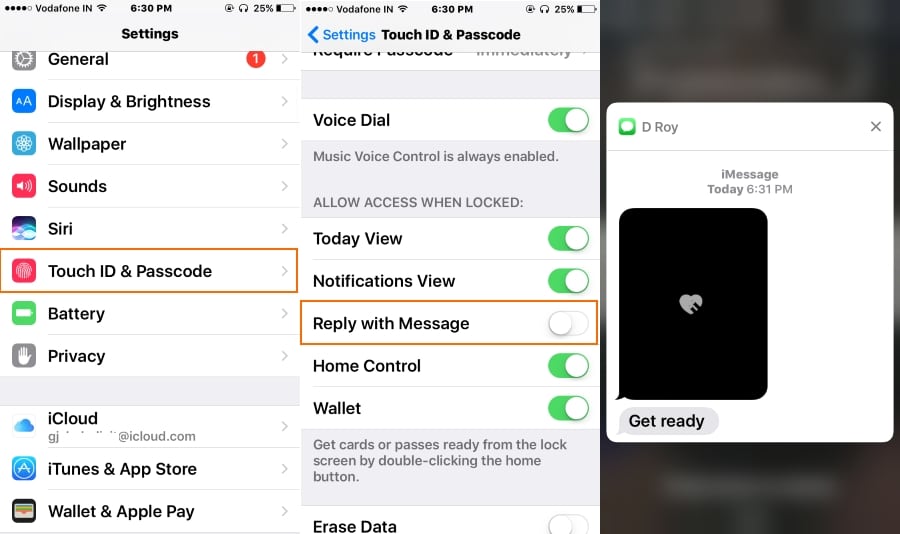 Now see my lock screen message, we can see it by slide left the notification > View. But don't make an instant Reply with Message. (Wants to stop view/ read message on unlocked screen follow the below guide).
Know More – How to turn off lock screen Widgets on iPhone
Turn off Quick Reply on Lock Screen for Third-Party Text apps: WhatsApp, Messenger, Snapchat, Kick, Hike
For the list of other third-party apps, we can also Manage Incoming Text Notification on Lock Screen.
#1: Go to the Settings App on iPhone/ iPad.
#2: Find "Notification," Here we find a list of all installed app and take action for an individual App.
#3: Tap on Messages > Under messages Options > Show Previews > Off
Now, you can't read the text body sent in new iMessage or Text Message.
For Stop/ Disable app notification on new Message, Find it in list Disable "Allow Notification" Completely Off.
Other Useful Settings related,
Show in Notification Center
Sounds
Badge App icon
Show on the Lock Screen
Here's troubleshoot Fix Quick Reply not working on iPhone
Share your iPhone's settings with others, Also explain and why to set that.
More suggestion on Turn off a reply to messages on lock screen comment on the comments.
Also Read: Turn off Control Center on Lock Screen in iOS.