Last Updated on Nov 10, 2020
Hopefully, iPhone user more likes this feature on the smart iOS device – iPhone, iPod Touch, but there are limitations on Device version. Personally, I am also impressed with customizing by Enable/ Disable Raise to Wake feature just like Apple watch on the wrist. Raise to Wake solely depends on hardware configuration, M9 Motion processor only able to transfer this features on screen, Otherwise not. So check which Device configured in M9 Motion Processor in iPhone 6S/ 6S Plus or Prior and Embedded M10 motion coprocessor in iPhone 7/ iPhone 7 Plus, iPhone 8, iPhone 8, iPhone 8 Plus, iPhone X, iPhone XS Max, iPhone XS, iPhone XR and Raise to Wake compatible iPhone.
Behalf of the story there are many pros and cons, this guide is very handy on time for Enable/ Disable Raise to Wake on iPhone, in just easy steps.
Steps for Enable/ Disable Raise to Wake in iOS 12, iOS 11, iOS 10: iPhone
Step 1: Go to the Settings  > Display & Brightness > Enable Raise to Wake on iPhone/ iPad/ iPod Touch running on iOS 10.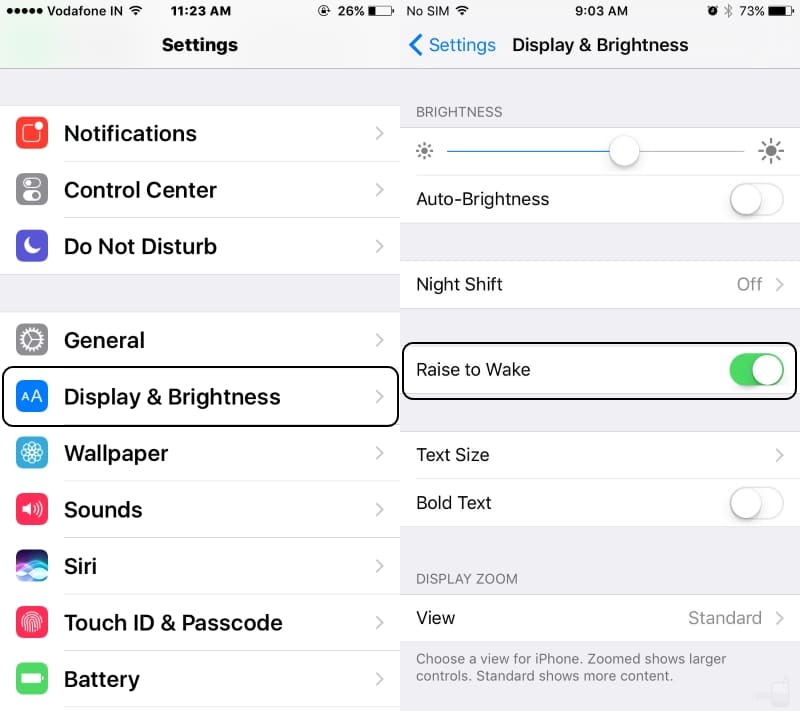 Step 2: Below, Night Shift option Disable Raise to Wake.
Now you iPhone normal like before, you must Press home or Sleep/ Wake button for see the screen.
For the technical reason, people agree to disable it, for the cases are iPhone in the armband or any moving object, Exercise. So battery problem might occur on constant wake up the screen.
Try at the same time by lift up iPhone in your hand. Any problems or Not working correctly then restart or reboot once. or Double check about Settings option is enabled or not?
Cons: Anyone can view notifications and Today's view panel by lift up your device. If you want only you can see notification when you want alone (Not after lift up from desk or table)
M10 Motion Processor: M10 Motion Processor works like sensor and also gift stunning whole iOS process super fast.
Personal Recommendation: Might be you felt By enabling this feature, Battery Drained very fast compare to your expectation.
Also share your feedback on what should be the right decision before Enable or Disable Raise to Wake, Auto wake up the screen.