🗓️
October 17, 2023
By ✍️
Jaysukh patel
So far, we were using the QuickTime player, other third-party iOS screen recorders, or jailbreak Cydia tweak to record the iPhone display. In more, it was not possible without a Mac or computer. But after update iOS 11, to record the iPhone screen, you do not need to work hard because of iOS 11/iPadOS or later packed by a built-in screen recording tool. But, unfortunately, the helpful screen recording feature is not available in the form of a visible App icon. So defiantly, you won't appear on the home screen of your iPhone, iPad, and iPod touch. Hence, if you want to use display recording with sound, you will first have to unhide it to Enable Screen Recording in iOS/iPadOS. I know that you have a question in your mind; where is the screen recorder icon located on iPhone?
To become a master of screen recorder, you should know about customizing the Control Center on iPhone. The reason is that the screen recorder button is located in the default customize Swiping Menus settings. So first read carefully on how to Add Screen Recorder shortcut icon on Control Center then turn on screen recorder.
Guide to Add Screen Recorder Button and Enable Screen Recording in iOS on iPhone, iPad
Step #1. Go to the Settings App from your iPhone/ iPad Home screen.
Step #2. Find and tap Control Center that appears between Notifications and Do Not Disturb.
Step #3. Tap Customize Controls.
Step #4. Next, you will have to scroll down the screen to find Screen Recording.
Step #5. Tap on a red button with a minus sign left to the Screen Recording to add as a shortcut on the Control Center.
Now Shortcut is Added on your iPhone Control center,

Swipe Down on your iPhone top right corner of the screen on iPhone X or later model.
Swipe up the finger from the bottom edge to top on the iPhone 8/8 Plus & Earlier model.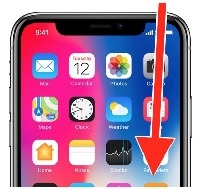 Tap on Screen Recording Button, You have a time about 3 seconds to start recording your screen after Tap on Start recording option.
That's it!
Now, go to the home screen and launch the control center by swipe up the bottom of the screen. So now, you get a Screen recording icon that looks like a tiny solid inner circle with a large outer circle. Tapping and holding on to it (for easy to understand, you can see the picture) to start the screen video recording session.
The on-screen microphone is optional so you can capture screen recording with your voice, or you can do mute if you want to tap on. in more, turn off- disable screen recorder is straightforward to tap on the upper blue color bar with the timing, tap on it to get stop recording option. So here's in deep – how to record iPhone screen.
Note: if you launch the control center from the lock screen to display recording, you must enter the passcode or Fingerprint thumb.
Can I Record Screen of the Online streaming/ Apps/ Social Media in iOS?
Yes, Let's enjoy entertainment full and Funny online videos that you before unable to download that. Now you can Facebook Video, Instagram Video, Facetime Video calls with Sound, and even more Snapchat messages.
But I think you will have to trim the video of begging and the end of the screen recorded video. Your edited video will save as a new Clip into the camera roll. You can delete the screen recording as we remove the regular video.
Unable to save screen recording video to the camera roll on your iPhone? Check out your iPhone storage space (it might be due to insufficient storage space), and a feasible solution is to restart your iPhone.
Let's now talk about some problems that come when you will be recording the iPhone screen. At all, it is easy to add a screen recorder tool on the Control Center, start-stop screen recording, and save it to camera roll, too. Even though a chief problem occurs whenever we are recording screens in iOS that are the Apps notifications, yes, Notification is annoying, so you should close it. Otherwise, it will show up in the screen-recorded video. You can turn off the app notifications in the Settings App looks like a gear icon on the home screen.
Get Here: Fix iPhone Screen recording not working.
Screen recording is not working after the new iOS update, then restart your iPhone without the Power button. We have tested and tried on many of the websites on Safari to recording screen videos. But unfortunately, screen recording happens to stop and showing a black screen instead of video streaming. So, of course, those times, the mind becomes nervous.
This tactic is useful and applicable to all iOS 11 compatible devices. Okay, guys, thanks for reading us; if you have any screen recording problems, please share your feedback in the comments.