Apple news app is a really great digital tool to gain state, national, and international level news at a single place. In short, it gives fresh news at every refresh. Furthermore, it makes readers morning even more fresh, also useful while you're traveling, sitting at backyard, anywhere around the country but you're a lucky people to get live update. All things about news app is in your favor but an issue is Apple News app not working on iPhone. We already experienced that while we searching news app in Siri suggestion search bar at time title was showing perfect, but while I try to tap on it didn't get response and I mean totally news app stuck. So I followed below suggested troubleshooting to make live it.
Please note here given clues can help you in the cases of –
News App icon missing on iPhone home screen.
News App icon Stuck and unresponsive.
News app not appears in Siri Suggestion Search bar.
Fixes Apple News App not Working on iPhone, iPad Air, iPad Mini, iPad Pro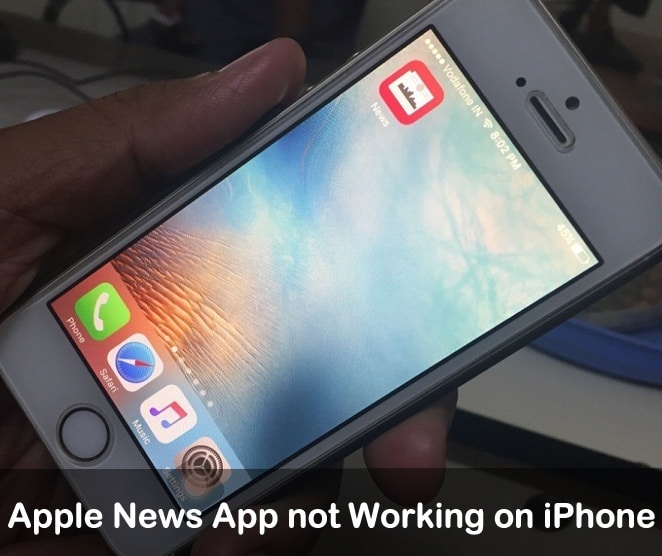 Clue 1. Make sure News app Restrictions is turned off (white slider).
To check out it follow given steps.
Step 1. Launch Settings App on your iPhone home screen.
Step 2. Go to General.
Step 3. Tap on Restrictions. You will be prompted enter your 4-digit Restriction passcode.
If you forget it, reset restriction passcode with this post.
Step 4. Now scroll down the screen and make Turn News ON. You can see in below given picture.
That's it.
Now try to open news app on iPhone home screen. if you're a user – News app already enabled in restrictions. Then keep continue for the next clue. Hope this would be help you nice.
Clue 2. Restart your iPhone, iPad or iPod Touch
To restart iOS devices – go with restart iPhone topic.
Clue 3. Reset Home Screen layout of your iPhone
Go to Settings → General → scroll down the screen tap on Reset → Reset Home screen Layout → you will be prompted (This will reset your entire home screen layout to factory defaults.) it may be affected on your folders. So if you're agree then tap again Reset Home screen. you're done.
Please don't forget to share your feedback regarding which clue help you to fix your problem about Apple News app not working on iPhone.