iOS 13 News app is now more peaceful because it's supported in Official System-wide Dark mode. we have a great tutorial on how to enable dark mode on iPhone and iPad. Also find some troubleshooting tips on Apple News App Not working and Facing issues on subscribing/ Cancel Apple New+ Subscription, Read or Helpful News App custom settings.
Apple News app is a really great digital tool to gain state, national, and international level news at a single place. In short, App gives fresh news at every refresh. Furthermore, it makes readers morning even fresher, also useful while you're traveling, sitting in the backyard, anywhere around the country but you're a lucky people to get the live update. All things about a news app are your favorite but an issue is the Apple News app not working on iPhone. We already experienced that while we searching news apps in Siri's suggestion search bar at the time title was showing perfect, but while I try to tap on it didn't get a response and I mean totally news app stuck on iOS 13/ iOS 12. So I followed below suggested troubleshooting to make live it.
we are happy to help you, submit this Form, if your solution is not covered in this article.
---
in case, you are facing an error about the Apple news app and its solution is not covered on this page. kindly let's send email us on [email protected]
we will review your error message of the Apple News app and will reply to you soon! thanks in advance for spending your time.
---
[Compalte Guide: How to use News App on Mac: macOS Catalina, Mojave or Later- Problems & Fixes]
Fixes Apple News App not Working on iPhone, iPad Air, iPad Mini, iPad Pro
---
Clue 0: No News App, News App Missing on iPhone and iPad
Apple official News App is available in some countries only, You can get by change region of your account from your iPhone.
Go to the "Settings" app that looks like a gear icon on your phone home screen. you can also find with spotlight search.
Tap "General"
Hit on "Language & Region"
Now See Region "and Set to the United State.
Save by change to English (United States).
Then Reboot your iPhone. after that check your iPhone's home screen.
---
Clue 1. Make sure News app Restrictions is turned off (white slider).
To check out it follow given steps.
Step 1. Launch the Settings App on your iPhone home screen.
---
Update for iOS 12 and later: Settings App – Tap Screen Time– Enter passcode if ask- Tap Content & Privacy Restrictions – Turn toggle On Content & privacy Restrictions – Tap Allowed Apps – Find News App on the screen – Now turn

toggle green

next to the News App.
---
Step 2. Tap General.
Step 3. Tap on Restrictions. You will be prompted to enter your 4-digit Restriction passcode.
If you forget it, reset restriction passcode iOS with this post.
Step 4. Now scroll down the screen and make Turn News ON. You can see in the below-given picture.
That's it.
Now try to open the news app on the iPhone home screen. if you're a user – News app already enabled in restrictions. You should keep continuing for the next clue. I hope this would help you nice.
---
Fix "Sorry, Apple News isn't available right now. Please try again later"
Follow the Bottom Steps:
Step #1: Go to Settings App
Step #2. Tap on [your name] Apple ID Profile
Step #3. Tap iCloud
Step #4. Next turn toggle off News. [a screen will be prompted – what would you like to do with the previously synced iCloud News data on your iPhone?
Choose to Keep on My iPhone.]
After this, Restart your Apple iPhone. Now your Phone will turn on automatically,
Follow the above same steps further and then toggle News back on. [What would you like to do with existing local news data on your iPhone? Tap on Merge.]
I hope this instruction will be fixed Sorry, Apple News isn't available right now. Please try again later".
in more, try logging out of Apple iCloud by going to Settings App > [your name] Apple ID Profile> Tap Sign Out > your phone will ask you Apple ID Password Enter the Apple ID password for (XYZ at com) to turn off Find My Phone. Then Tap Turn Off. Now follow the same steps and tap Sign iCloud in.
---
Clue 2. Restart your iPhone, iPad or iPod Touch
To restart iOS devices – go with restart iPhone topic.
Tips: Restart iPhone without the Home or Side button.
---
Clue 3. Reset Home Screen layout of your iPhone 
News app is installed but Disappeared on the home screen,
Go to Settings
Tap General
Scroll down the screen tap Reset
Tap Reset Home Screen Layout
You will be prompted (This will reset your entire home screen layout to factory defaults.)
it may be affected on your folders. So if you agree, tap again Reset Home screen. you're done.
---
Where is news app in iOS 10, iOS 11, iOS 12, iOS 13 or Later?
Apple's news app is geographically limited access, So iPhone installed iOS 10 or later users can download and Install/ Update from USA/ UK/Australia and app store, Only.
Apple NEWS app countries where officially Available in USA, UK, Canada – Download in other countries change app store region or Use Apple ID created for the USA.
---
Apple news widget missing
Local screen widget uses to reading your favorite news title at a glance. Apple News won't load stories on lock screen (If locked), Otherwise, we can directly read selected full stories in the News app.
Unlock iPhone/ iPad, Go to Widget screen under notification centre > Scroll down to bottom > Tap on Edit
Find News under More Widget Section > Add News > Done. Now widget auto-update from new stories.
---
Apple News App Not Updating
Check available storage from iPhone/ iPad Settings > Tap General > Tap About > Available. (Free up storage on iPhone, Check Network connectivity)
Answer:
The "For You" section of the older Apple News App, on older iPads, running iOS 11, is not showing updated content, BUT, if you go to the Favorites option, the contents in your Favorites should be up to date.

The "For You" section, for some unknown reason, is no longer updating/showing recent content.

Using the Favorites category, ALL Favorites content are giving updated content and any new content you add is still being updated, as well.
Source – Apple
Or Get help from our tutorial on Unable to update iOS app.
---
Can't Receive news App Notification – Breaking News
Enable notification for news app from iPhone/ iPad settings.
Go to the Settings > Scroll down and Find News > Notifications > Enable required settings.
Also, check notification styles when unlocked.
---
Apple News App Crash or Doesn't Work
App crashing on iPhone is a common problem, we can fix it by update app, Remove/ Re-install from the app store, Restart or Reboot iPhone (Restart iPhone/ iPhone 7/ 7 Plus – Press Sleep/ Wake + Volume down button until you see apple logo)
iPhone 6S and Earlier: Use the Sleep/Wake + Home button until you see the Apple logo on the screen.
iPhone 11 Pro Max, XS Max, iPhone XS, iPhone XR, iPhone 8/8 Plus: 
1: Press and Quickly Release Volume Up button,
2: Press and Quickly Release Volume Down Button,
3: Press and Hold Side Button until you see the Apple logo on Screen.
To Start the iPhone, Again press the Side button until the startup apple logo on the screen.
Unable to Fetch new Updates in News App
News App has millions of Webpage that officially crawled by Apple. Apple News and News+ Both Deliver the perfect magazines from the suggestion in New App Notifications. If this will not work and failed to get in the background. You show check these settings on the iPhone and iPad.
Common Settings for All apps:
Settings App
Tap General
choose Background App Refresh
Tap Background App Refresh
Next Select WiFi or WiFi & Cellular Data. Enable it for the problem you have.
Some users have a specific issue while connecting on Mobile data. so they can select WiFi & Cellular Data.
Background App Refresh Toggle Grayed out? Unable to Enable
News App Settings showing Background App Refresh Grayed out, Follow the above steps and enable it. After that move to News App settings.
Open Settings App
Tap News
hit Background App Refresh.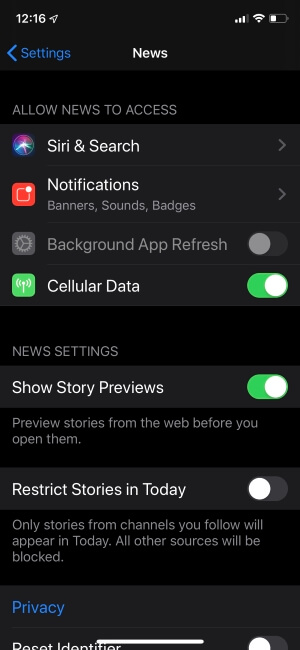 ---
We can do Reset All Settings!
if the problem is really hard to fix because of unknown settings done by you or not working after making something change on the iPhone. I recommend resetting all settings only. this will not affect the data, Contacts, Messages, Mails Account and more.
Go to the Settings app
Tap General
Hit on Reset
Tap Reset All Settings [Enter the Passcode] and that's it.
mine be your iPhone will reboot for a long time but don't interrupt the process and wait for complete itself.
---
A new feature in News App
Always Show "Next Up": Easy to jump another title by a single tap on the Net up label on The News app screen.
Show Story Previews: This option helps in saving your data from the auto-open full web page in the news app. Tap on News Title > See a few paragraphs & pictures, The interested user can tap on "Read Full story" at beneath.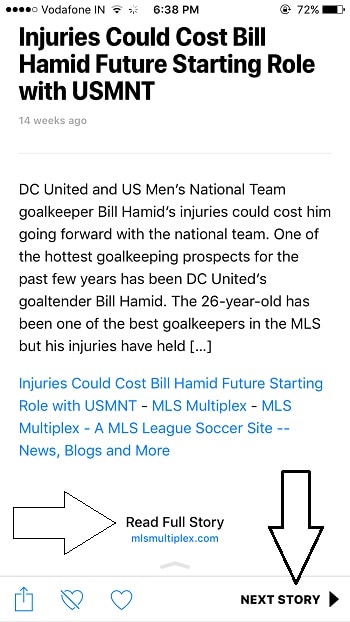 Do you have any other problem relates news App which is not mentioned above? Please share in below comment box. We will try to give you a correct answer ASAP.
Their many news readers wanted to get back fresh news App on its iPhone/ iPad in favor of to delete unwanted or all favorites channels at once. Unfortunately Still, to Reset Apple news App option not available. We hope, the apple will add in its next upgrade.
Please don't forget to share your feedback regarding which clue helps you to fix your problem with the Apple News app not working on iPhone.
Updates [Apple News+]
Apple announced a big update for apple newsreaders that make you a premium experience. But how? Apple included new apple news app subscriptions that people can activate anytime monthly basis.
Right now top 300 popular magazines are added and some another area in the ques that will be added in short of time. The also remarkable point is that this service is only available in the US and Canada.
Apple said: "All Apple News users in the US, Canada, UK, and Australia can continue to enjoy the free news experience within the app on iPhone, iPad, and Mac, including access to Top Stories, Trending Stories and a personalized feed of articles."
Pricing: for the US is $9.99 and for Canada is $12.99 a month.
Right now you can sign up for a month trial. After that plan automatically renew after a trial ends.
Requirements: Minimum iOS 12.2 and macOS 10.14.4 (Released on 25th March)
Also, We can use this Apple News+ up to Six family members just like Apple Music. First Activate Family sharing (Add new member in Family sharing from iOS and Mac settings) and Enable Apple News+ for your family member as an admin.
Also, Apple New+ Will be available in the UK and Australi later this year.
Apple News+ Troubleshooting issues
Force Close your App and Re-launch.
Check your Geolocation (Only in the US and Canada)
iOS Version 12.2 or later and macOS Mojave 10.14.4 or later
Valid Payment or Payment method is required (Outside the US and Canada) user "NONE" payment method is not valid.
To Use Apple New+, You must require Free trial. After canceling the free trial. We can't use. To beware, Add Reminder after 29 days or Before renewal date.
Does the "Change Region" trick still work to get the News Plus (Apple News+) app? = No.
Share your problem with news+ in the comment box.
Can't Download New+ Magazines on iPhone and iPad, these issues appear to many users but they have to wait for 30 days to automatically deleted downloaded Magazine over WiFi connection if you have enough storage.
What should you do? if News App not showing on Spotlight Search Suggestion. When we search trending news stories or articles on spotlight search, Apple News App gives suggestions from the channel that you subscribed to. But this will take care of the Settings app > News > Siri & Search > Under the In Search Section, Disable the toggle "Show in Search" and that's it. Now you will not disturb on spotlight search.
Please note here given clues can help you in the cases of –
→ In iOS 10 or later, the News App icon missing on the iPhone home screen.
→ Apple News App icon Stuck and unresponsive.
→ Apple Official News app does not appear in Siri Suggestion Search bar.
→  AR Content in News App in iOS 12
Into the Apple march 2019 event, there is a special service released for News App called Apple News plus, for this users will have to sign up because it is a subscription-based service. After iOS 12.2 update, some changes in Apple News App won't work from a couple of hours that I've reported in our email inbox. But don't worry, guys if you noticing Apple news app issue then follow this article troubleshooting and hope will help you to fix your Apple News App problem running iOS 12.2 or later.
If you did not find an answer that you are looking for then you should downgrade your iOS version or will have to wait for the next update. Thanks for reading us! For more information email us on [email protected] with the subject of the iOS 12.2 Apple news App issue.
Premium Support is Free Now
We are happy to help you! Follow the next Step if Your Solution is not in this article, Submit this form without Sign Up, We will revert back to you via Personal Mail. In Form, Please Use the Description field to Mention our reference Webpage URL which you visited and Describe your problem in detail if possible. We covered your iPhone 11 Pro, iPhone 11 Pro Max, iPhone 11, iPhone 8(Plus), iPhone 7(Plus), iPhone 6S(Plus), iPhone 6(Plus), iPhone SE, iPhone 5S, iPhone 5, iPad All Generation, iPad Pro All Models, MacOS Catalina or Earlier MacOS for iMac, Mac Mini, MacBook Pro, WatchOS 6 & Earlier on Apple Watch 5/4/3/2/1, Apple TV. You can also mention iOS/iPadOS/MacOS. To be Continued...
Any other idea to share with us over iPhone 7 Plus, iPhone 8/ 8 Plus, iPhone XS, iPhone XS Max, iPhone XR, iPhone X, 11 Pro Max news app not working well.
---
in case, you are facing an error about the Apple news app and its solution is not covered on this page. kindly let's send email us on [email protected]
we will review your error message of the Apple news app and will reply to you soon! thanks in advance for spending your time.
---
Jaysukh Patel is the founder of howtoisolve. Also self Professional Developer, Techno lover mainly for iPhone, iPad, iPod Touch and iOS, Jaysukh is one of responsible person in his family.
Contact On: [email protected] [OR] [email protected]