🗓️
September 18, 2023
By ✍️
Jaysukh patel
iPhone can't connect to bluetooth is a common issue nowadays. If you are set up a bluetooth connection in the right way then you will successfully connect in anyhow. In case you failed to connect bluetooth from iPhone 14 Pro, Follow the below tips and get fixed as soon as possible. Most common people are getting Bluetooth problems on iPhone with Car Play, Car Stereo, or Home device.
Like AirDrop and Wi-Fi Bluetooth is very helpful in sharing data and in playing music too. But these functions sometimes irritate by showing multiple errors while sharing data or connecting to any other device. In order to get rid of Bluetooth not working in the iPhone permanently, you have to read this article accurately.
All the troubleshoots are tried before by me, and eventually, it worked for me. Therefore I am sharing with you to fix the iPhone Bluetooth issues.
First, know your iPhone name, after that you are connecting and requesting your iPhone. Because most of the iPhone devices keep the default name (iPhone). Otherwise, change the iPhone name first and re-scan to connect your iPhone only.
5 Fixes for iPhone cannot connect to Bluetooth accessories
---
Way 1: Make sure that iPhone and Bluetooth device is close
Connection unsuccessful Popup after a long wait,
Check, Bluetooth device is turned off
A device is far away from you
A device is already paired with other iOS or Smartphone
Also, Check-in iOS 15 or later Devices, Turn/ Turn off USB accessories restricted mode for the security.
Bluetooth not working iPhone? Then the problem might be with the distance. If you have put the Bluetooth device far from the iPhone, then Bluetooth won't pair with iPhone. So bring close the iPhone as well as the Bluetooth device and then try to connect them.
Bluetooth device already connected with other smartphones or Desktops.
iPhone's Bluetooth not showing in Carplay, Recommend restarting your iPhone. (Press and Hold side button + Volume up button until you see a slide to power off) and turn on using the side button only.
---
Way 2: Toggle Off/On the Bluetooth
If the Bluetooth device and iPhone are close enough and still Bluetooth won't pair? Don't worry, try this quick trick to fix the Bluetooth issue on My iPhone. To restart Bluetooth in another device you can power it off for a minute and then turn that device on. Else unplug the power connection and plug it again. For Example, iPhone 12 Pro Max,
Step #1: Launch "Settings".
Step #2: Tap "Bluetooth".
Step #3: Toggle the switch off next to Bluetooth.
After force closing the Settings app, again follow the same steps to turn the Bluetooth on. Also, We can remotely turn off/Turn on Bluetooth On iPhone and Pair Bluetooth connection if something is stuck and unable to pair with your iPhone. Mostly Your Car Bluetooth not connecting.
Wake up Siri and Say, Hey Siri, Turn on Bluetooth. Your iPhone will turn on bluetooth if it's turned on already then Turn off first and Turn on. Your iPhone will join the bluetooth device after a second. – See Below Phone screen,
That's very easy and helpful. If you are unable to join the bluetooth of your iPhone with Other Accessories.
---
Way 3: Unpair & Pair the Bluetooth accessory with iPhone
Before re-pairing the Bluetooth device you have to unpair the device from iPhone. To do so,
Step #1: Navigate to the "Settings" app.
Step #2: Tap "Bluetooth".
Step #3: Select "My Devices".
Step #4: On the list tap on the (i) next to the device that you want to unpair.
Step #5: Tap "Forget This Device".
---
Way 4: Reset Network Settings – Without Erase Your iPhone Data
When I was finding the solutions to fix Bluetooth not working in iPhone, one unexpected trick has come to my screen. It was all about that you can fix the Bluetooth won't pair iPhone by resetting network settings. So I would like to share it with you too. If you are performing Reset Network Settings on iPhone, all the VPNs, APNs, Wi-Fi passwords will be removed, take note of this.
Step #1: Go to "Settings".
Step #2: Tap "General".
Step #3: Next, select "Reset".
Step #4: Lastly, tap "Reset Network Settings".
Step #5: A prompt will ask you to enter the passcode of your device, enter it.
Steps to Reset Network Settings in OS 15 or later version
Step #1: Open up "Settings".
Step #2: Open "General" and then tap "Transfer or Reset iPhone".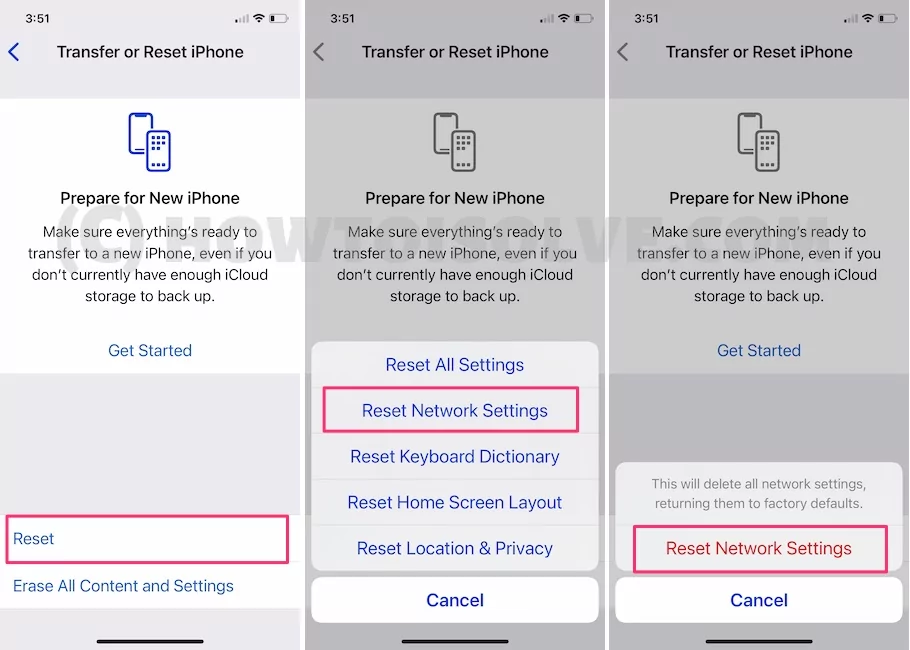 Step #3: Lastly, tap "Reset" > "Reset Network Settings" > Enter your iPhone Lock passcode and Try after Reboot once. This Process won't erase other important settings, Media, Messages, and more.
---
Way 5: Force Reboot iPhone and Bluetooth device
Now give your iPhone a fresh restart by closing all the applications and system processors. The load from the processor will be taken away once you restart iPhone as all the temporary files will be deleted after a restart. The same is applicable to Bluetooth devices.
To force the restart of iPhone,
Step #1: Quickly press and release the Volume Up button.
Step #2: Quickly press and release the Volume Down button.
Step #3: Press and hold down the Side button until the Apple logo appears on the screen.
Get more about Force Restart iPhone Learn with pictures and videos.
To force restart Bluetooth device
Simply unplug the Bluetooth accessory or press the Power button to restart the device. Else you can refer to the manual of that Bluetooth device to know how to force restart it.
---
Way 6: Restore iPhone and set up as new
Backup your iPhone in iTunes and Restore after erasing your iPhone to factory settings.
We don't have any solution left to fix Bluetooth not working in iPhone. So this time we have to take hard action to bring your Bluetooth back in function. Before restoring the iPhone please take a backup of your device, because the device will be wiped out entirely.
Step #1: Go to "Settings".
Step #2: Tap "General".
Step #3: Select "Reset" and then tap "Erase All Contents & Settings".
That's it!
Now connect your iPhone and set up a new iPhone using iTunes with restoring the old latest backup.
Wrap up!
Bluetooth is not too secure like Apple ID. We can fix all the problems after the software work. Sometimes people are failed to fix it Because there is a hardware problem. Book your appointment at the apple store and get a positive solution regarding this issue. Contact via Call, Chat, or Book Appointment at Apple Genious bar.
Hope you love my tips and guide, Give us credit or reply positive feedback in the comment box. Also, follow me on Facebook and Twitter.