Apple iOS 11 has tons of new features including Customize Control Center, Screen recording, and Wi-Fi Sharing, incredible Drag and drop iOS 11 feature and much more. But each set of new iOS come up along with glitches. Same way, after update iOS 11 version and iOS 12 Beta, millions of users reporting its problem to Apple Supports that Wi-Fi is not working iOS 11 on iPhone and iPad Pro/ iPad Air. Each user has different-different iOS 12 Beta to iOS 11 Wi-Fi connection issues including message prompt iOS 11 incorrect Wi-Fi password and After Update iOS 12 Beta for 'Wi-Fi network name,' iPhone Wi-Fi connected but no internet connection or weak signal or unable join an unsecured wireless network with ios 11. The weak signal might be reasons for your Device's Wi-Fi Disconnecting automatically and re-join the device when in the strong network.
The latest the way, we cannot say directly that Wi-Fi problem due to software update but sometimes it occurs by damage hardware like iDevice wifi antenna or could be a router/modem issue. Having you Wi-Fi issue after update iOS 11, iOS 11.0.1/ iOS 11.0.2/ iOS 11.0.3, iOS 11.1, iOS 11.1.1, iOS 11.1.2, iOS 11.2.1, iOS 11.2, iOS 11.2.2, iOS 11.2.5, iOS 11.2.6, iOS 11.3, iOS 11.4 or above and iOS 12 Beta? Don't worry. Just follow our tested troubleshooting order wise. Hopefully, this will work for you.
we are happy to help you, submit this Form, if your solution is not covered in this article.
Update– before getting started the following guide, you should check your device running with the latest operating system.
Go to the Settings App– Find General– tap on Software Update
iOS 11.4 released for bug fixed, New AirPlay 2 that compatible with AirPlay 2 speaker. also, Homepod works as a ad stereo.
software update iOS 11.3 is for [Fixed Major bug fix, Improve Security and WiFi vulnerability]. Take the most recent backup to iCloud or iTunes and start to download and install. The trick useful for all iPhone X, iPhone 8/ 8 Plus, iPhone 7/ 7 Plus, iPhone 6S/ 6S Plus/ iPhone 6/ 6 Plus/ SE/5S and iPad Pro, Air and Mini users.
[New: WiFi Not Working in iOS 12, Real-Time Solution]
Wi-Fi Not Working in iOS 11 – iOS 12 Beta on iPhone, iPad: How to fix
Router Issues, I Faced and Experienced many times, WiFi suddenly stopped and Not working on All Device connected with same WiFi because of DNS conflict. You Can Flush DNS network cache to resolve WiFi issue from rid. I run this command in Command Prompt:
On Windows System: Windows + R key, Type CMD, and Open.
Type and Enter this command line: ipconfig/flushdns
On Mac Flush Internet DNS Cache
---
Fix #1. Disable and Re-enable Wi-Fi Trigger
I have personal experience on it, Enable Wi-Fi from Control center not turning on actually. Wi-Fi icon is not showing on iPhone top status bar.
Go to the Settings > Wi-Fi > Enable WiFi toggle or Choose A network name and Tap on it to connect iPhone to Wi-Fi.
This one is a primary tactic that you should try before going to take significant action for your iDevice Wi-Fi problem. Just go to the Wi-Fi Settings, turn Wi-Fi off/white then again enable it and wait a while till your device discovered decent Wi-Fi network and connected.
If you fail in this test then keep continues for other alternate workarounds will help you to get rid of iPhone Wi-Fi won't connect iOS 11/ iOS 11.0.1/ iOS 11.2.2/ iOS 12 Beta or later.
---
Fix #2. Reboot Your iDevice (iPhone, iPad, iPod Touch)
Gently restart the iOS device by pressing and holding the power button until appearing Apple logo, then start back by the power switch.
To Force reboot method for iPhone 8 Plus/8 Plus/ iPhone X users:
1: Press and Quickly Release Volume Up button,
2: Press and Quickly Release Volume Down Button,
3: Press and Hold Side Button until you see the Apple logo on Screen.
To Start iPhone, Again press Side button until startup apple logo on the screen.
To Force reboot iPhone 7/ iPhone 7 Plus: Press and hold on Sleep/Wake Button + Volume Down button.
iPhone 6S and Earlier: Press and hold on Slee/Wake button + Home button until you see the Apple logo on the screen.
The hard reboot (iPhone X) is also an active Solution to remove iOS 11 Wi-Fi a connectivity headache.
---
Fix 2.1#: Wi-Fi Won't Turn on From Control Center
Are you Switching Internet access on Mobile data or WiFi from the control center and WiFi not turning on? So Check Wi-Fi set on auto join.
Go to the Settings app > Wi-Fi > See the list of Available Wi-Fi Network > Tap on Wi-Fi Details (i) > Enable Auto-Join.
---
Fix #3. Forget Wi-Fi Network and Rejoin
If you know router Wi-Fi password then go to Wi-Fi settings – Tap (i) right to the Wi-Fi name and do forget this Wi-Fi network. Still, can't work Wi-Fi and showing incorrect Password prompt. Then fix number four will help you.
---
Fix #4. Reboot your Wired / Wireless Router/modem
Ever you are entering correct Wi-Fi password in daily use Wi-Fi network. However, you might often get a prompt incorrect password. I think your fingers been much tired by inputting password more times. Let's apply this clue, just Restart your home/ Office Wi-Fi router and then try again. Most of Wi-Fi problems could be removed using this tip.
Does device often prompt to enter the correct Wi-Fi Password?
In this case, you should reboot Router/Modem: Sometimes Messed up in broadband Internet connection router/modem due to inclement weather, rainfall, or thunderstorm. Hence, Wi-Fi device won't connect to Wi-Fi Router, but it works well on PC/ Mac or with Wi-Fi TV like Apple TV, Amazon Fire Stick, Roku, etc. So you Should Restart your broadband router then wait a while. Next, you'll have to enter Wi-Fi password. In the most case, this trick does fix the Wi-Fi connectivity issue in iOS.
The alternative, you can also do Unplug router/modem from power source for 2 minutes and plug again. Update your Router Firmware (for that you can check manufacturer's support website for the latest FW). In more, Try different bands (2.4 GHz and 5 GHz) and different bandwidths (20 MHz recommended for the 2.4 Band). Channels 1, 6, 10 or 11  recommended for the 2.4 band.
---
Fix #5. Delete VPN App and test Wi-Fi again
If you have installed VPN App, then please uninstall because of it could restrict your iDevice Wi-Fi network. After eliminating VPN, an application could be filled fresh breath into Wi-Fi internet connection between an iOS device to Wi-Fi router.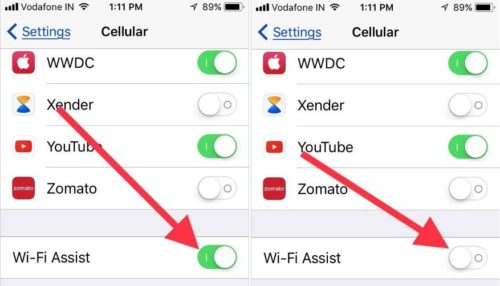 There are some of the iOS 11, or later users have experienced that after disable Wi-Fi calling toggle, Wi-Fi connects flawlessly and work as usual.
Disable Wi-Fi Calling and Wi-Fi Assist
Wi-Fi Assist, disable and re-enable Wi-Fi Assist under Cellular Settings and check out Wi-Fi network.
---
Fix #6. Reset Network Settings
Resetting Network Settings is to be password protected. This trick does work to resets all Wi-Fi networks and passwords, Cellular settings and as well as VPN and APN setup that you've used before on the Wi-Fi issues iOS device.
Go to Settings App – General –  Reset – tap Reset Network Settings.
---
Fix #7. Change Google DNS to set Custom
Launch Settings App – Tap Wi-Fi – Click on the network – Tap on Manual under DNS
Tap Add Server – Enter 8.8.8.8. Or alternative 8.8.4.4. And don't forget to save.
That's it!
---
Fix #8. Try other Wi-Fi devices on the Same Network
Make Sure that Another Wi-Fi device is working well on the same network. Other devices like PC, Mac, iPad, etc. Through this way, you can justify your iOS Wi-Fi problems due to ISP (Internet Service Provider) or issue occurs on particular iDevice.
---
Fix #9. Have you checked iOS device on another Wi-Fi network?
Please test your iDevice Wi-Fi on another Wi-Fi network. For example, public coffee house, nearby neighbors, etc. If still, your device won't work then you need to go with next clue.
---
Fix #10. Back and Restore iOS device Again
Take the latest backup and restore your iPhone, iPad using iTunes on Mac/PC. The final procedure to fix Wi-Fi dropping problem. You can use this advice when Wi-Fi turning off automatically.
Real-Time iOS 11 Wifi Issues
Premium Support is Free Now
We are happy to help you! Follow the next Step if Your Solution is not in this article, Submit this form without Sign Up, We will revert back to you via Personal Mail. In Form, Please Use the Description field to Mention our reference Webpage URL which you visited and Describe your problem in detail if possible. We covered your iPhone 11 Pro, iPhone 11 Pro Max, iPhone 11, iPhone 8(Plus), iPhone 7(Plus), iPhone 6S(Plus), iPhone 6(Plus), iPhone SE, SE 2(2020), iPhone 5S, iPhone 5, iPad All Generation, iPad Pro All Models, MacOS Catalina or Earlier MacOS for iMac, Mac Mini, MacBook Pro, WatchOS 6 & Earlier on Apple Watch 5/4/3/2/1, Apple TV. You can also mention iOS/iPadOS/MacOS. To be Continued...
---
iOS 11 Slow Wi-Fi issue download Speed for App Store and uploading Speed like DropBox
You should try following bullet points one after other.
Hard Reboot your iOS device
Reset Network Settings – you can get Settings – General – Reset – Reset Network Settings
Full Restore through iTunes on Mac or Windows
---
Fix #11. Hardware Evaluation
It could be hardware damage issue, take your iOS device to the nearby apple store and ask them. Might device Wi-Fi chips or the antenna could be defective.
---
Let's now drop your feedback in the comments. What solution becomes useful to fix iPhone Wi-Fi not working in iOS 11 and iOS 12? Like it? Share Via given social media buttons.
Jaysukh Patel is the founder of howtoisolve. Also self Professional Developer, Techno lover mainly for iPhone, iPad, iPod Touch and iOS, Jaysukh is one of responsible person in his family.
Contact On: [email protected] [OR] [email protected]