Last Updated on Dec 25, 2021
Understand the issues for YouTube app keeps crashing on iPhone or iPad. Smartphones like iPhone 13 are designed to fulfill the needs of modern users. We, modern customers always need something extra when we buy any electronic device. So in this iPhone, except for calling and texting we also want to play games, watch videos, capture amazing pictures, and much more. Since all this app works flawlessly but in the meantime due to some bugs and corrupted data you have to deal with errors like the YouTube app keeps crashing in iPhone 13 & Other iDevices.
Even so, it is a common problem we get irritated when it comes to our end and start looking to get rid of such issues. Eventually, in this article, we will see how to fix YouTube keeps crashing on any iPhone and how to get rid of this problem permanently.
1. Most of the online applications required Mobile data or WiFi networks to launch the app's welcome screen. So, the Internet keep enabled before you launch the youtube app on your Smartphone.
2. Check YouTube is down or not in your country. Test on Another Smart Device or Mac/PC system.
Troubleshooting tips to launch & Play YouTube video on iPhone, iPad successfully after Fix
---
Fix 1: Force Quit YouTube App
It might be possible that the YouTube app keeps crashing in iPhone 12 because YouTube itself is unstable. To fix such errors, we can try to force quit the app and restart it.
Step #1: From the Home Screen, swipe your finger up and stop.
Step #2: Then you will see all the applications that are running in the background and eating processor together with a battery of your iPhone, so close them all along with the YouTube app.
Force closing other apps will prevent your iPhone's system from crashing and also it will improve the performance of the device.
Once it is done, then you must give a fresh start to iPhone 12 to clear all the temporary and cache files from the iPhone's memory. To restart iPhone 12 follow the steps,
Step #1: Press and quickly release the Volume Up button.
Step #2: Press and quickly release the Volume Down button.
Step #3: Lastly, press and hold the Power button until the Apple logo appears on the screen.
Now after restarting the device check if the YouTube app is working correctly or still keeps crashing.
---
Fix 2: Update YouTube app as well as other apps
If you haven't updated the YouTube app on your iPhone 12, then you may face compatibility issues, and so you have to deal with various errors like YouTube keeps crashing iPhone 12. A small bug in the app can ruin the whole system of the iPhone, that's why we always suggest the users keep their apps and system software up to date. Hence along with the YouTube app update all the applications of your device.
Step #1: Launch "App Store" in your iPhone. Next Tap on Profile Picture at the top right corner of the screen.
Step #2: Scroll to find all pending updates on Apps installed on iPhone. We can update all apps using the link button "Update All". Otherwise, find Youtube and update.
Step #3: Find the "YouTube" app and tap "Update".
Note: YouTube app is not in a list, then search YouTube on App Store, and Check Update is pending that showing instead of an open option.
Alternatively, you can also tap on "Update All", which will update all the applications stored in the device.
After the update gets complete, one more time, you have to restart the iPhone by considering the steps of Fix 1.
---
Fix 3: Reinstall YouTube App
If still YouTube app keeps crashing on iPhone 12, then the application has some fault, or it is corrupted. To fix this, you have to reinstall the YouTube application. For that, you have to delete that app from the iPhone, and then you can download it from the App Store.
How to Delete YouTube on iPhone
Step #1: Touch and hold on the YouTube icon, when you see icons are jiggling tap on (x) on the YouTube app to uninstall it.
How to Download YouTube app on iPhone
Step #1: Go to the "App Store".
Step #2: Search for the "YouTube" app and install it.
---
Check Storage Space- if Low Storage – Please Make Free up Space to Load youtube
To make free space fast on your device, let's my video that will help you to make room on your device memory storage.
Fix 4: Reset All Settings
Now we will clear out all the incorrect settings of the iPhone that are causing conflicts on YouTube's performance.
Steps to Reset All Settings in iOS 15 and Later Version
Go to the "Settings" app > Tap "General" > Find and open tap "Transfer or Reset iPhone" > Tap "Reset" > Lastly tap on "Reset All Settings"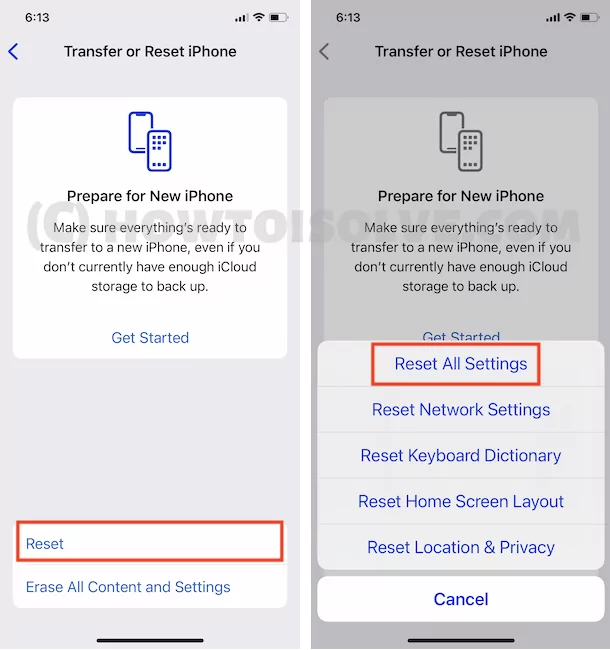 > For security reasons, you will be asked to enter the iPhone Passcode. >Tap Confirm Reset All Settings. > After that iPhone will reboot.
Steps to Reset All Settings in iOS 14 and earlier Version
Step #1: Open "General" from the "Settings" app.
Step #2: Tap "Reset".
Step #3: Select the "Reset All Settings".
Step #4: Enter the passcode.
Wait a while your iPhone will reboot. After resetting the settings, you need to enter the WiFi password again. Now connect to your Wi-Fi and launch the YouTube app and check the problem is fixed.
Fix #5. Contact An App Developer
After attempting Above All solutions, but no luck to fix the youtube App won't open your iPad or iPhone. then I suggest contacting the youtube app developer to send a bug report. Here's a Full guide on how to contact App developer.
All such troubleshoots are in our hands, and we successfully tried from our side but still, if YouTube is not working in iPhone 12, then you should contact an app developer to fix this weird issue.
we are happy to help you, submit this Form, if your solution is not covered in this article.