Your iPhone built-in health app dashboard is always showing you, your health and fitness tracking apps data at one place. As well as it also saves your Medical ID for easy to retrieval in an emergency. But now you're coming here with an issue such as Health app not counting steps on iPhone, then I understand your feelings whenever, the health app is gone stuck, and ultimately it stops to tracking your Walking +running distance and not updating steps in the dashboard.
But unfortunately, such problem ''iPhone health app steps not working '' might comes due to disabled toggle of Health app in Privacy settings of your iPhone. Once turn on it and make sure of going privacy settings app. Whether you don't know, but we're giving you a way to get the fix.
Compatible Models: iPhone 5/5S, iPhone 6/6S/ iPhone 6S/ 6 Plus, iPhone 7/ 7 Plus, iPhone 8/ iPhone 8 Plus, iPhone X, iPhone Xs Max, iPhone XS, and iPhone XR .
Recently, iOS 12.2 update released and lots of users addressed an issue relating Health app won't track data after iOS 12.2 update. We suggesting try the following guide to fix quickly.
Follow given Alternate fix if health app not counting steps on iPhone
1St Way: To start steps counting on iPhone/ iPod touch
Step 1. Launch Settings app on your iPhone/iPod Touch
Step 2. Find Privacy; you can appear it at bottom Touch ID & Passcode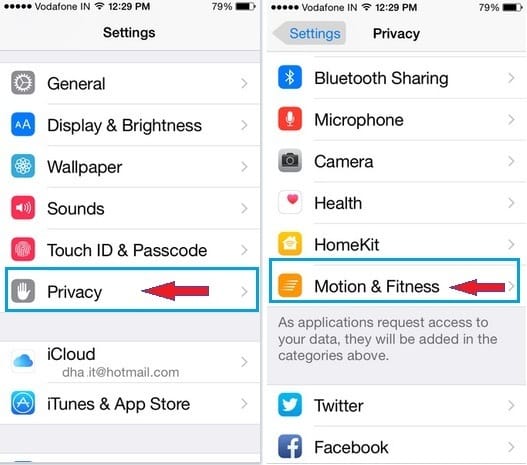 Step 3. Scroll down the screen then Choose Motion & Fitness
Step 4. Now make the turn on Health
That's it. Now let's bit walk and check out your health app dashboard. Hope, it will work now. And your Health app not counting steps on iPhone problem is solved.
2nd Way: Restart your iPhone or iPod Touch
After completed first-way, if you are facing the same issue, then reboot your iPhone/ iPod Touch.
in iOS 11, you can get here – how to Reboot iPhone without Power button
For iPhone XS Max, XS, XR, X, iPhone 8 Plus/iPhone 8 Plus users:
1: Press and Quickly Release Volume Up button, then
2: Press and Quickly Release Volume Down Button, then
3: Press and Hold Side Button until you see the Apple logo on Screen.
To Start the iPhone, Again press Side button until startup apple logo on the screen.
If
Walking+ running distance
doesn't appear on the dashboard, then follow below way.
Go to Health app > tap on Health Data > Choose Fitness > Select Walking + Running Distance > do turn on Show on Dashboard. This steps you can also following to show details (Body measurements, Nutrition, Sleep, Vitals,  Active calories and much more ) on health app dashboard.
Feel free and write us about your experience concern health app not counting steps on the iPhone.
Don't Miss- Fix Apple Watch won't Counting Steps
Even any query I'll advise you early as soon as possible. After fixing health App, you can try this best health App Compatible devices.