Health App is customizable so we can add or remove any kind of activity on our iPhone dashboard with some record of your Activities like Waking Steps, Walking + Running distance in Kilometer or mile. Now in the latest iOS update, you will get more refined App Forever. New Activites Like Flights Climbed, Cycling Distance, Body Measurements, Cycle Tracking, Hearing Audio Levels, Hart Rates, Mindful minutes, Respiratory, Sleep Analysis, Menstruation. Some Activity data came from Apple Watch automatically if it's paired.
Your iPhone built-in health app dashboard is always showing you, your health and fitness tracking apps data at one place. As well as it also saves your Medical ID for easy to retrieval in an emergency. But now you're coming here with an issue such as Health app not counting steps on iPhone, then I understand your feelings whenever, the health app is gone stuck, and ultimately it stops to tracking your Walking +running distance and not updating steps in the dashboard.
we are happy to help you, submit this Form, if your solution is not covered in this article.
But unfortunately, such problem ''iPhone health app steps not working'' might comes due to disabled toggle of Health app in Privacy settings of your iPhone. Once turn on it and make sure of going privacy settings app. Whether you don't know, but we're giving you a way to get the fix.
Compatible Models: iPhone 5/5S, iPhone 6/6S/ iPhone 6S/ 6 Plus, iPhone 7/ 7 Plus, iPhone 8/ iPhone 8 Plus, iPhone X, iPhone Xs Max, iPhone XS, and iPhone XR .
Recently, iOS 12.2 update released and lots of users addressed an issue relating Health app won't track data after iOS 12.2 update. We suggesting try the following guide to fix quickly.
Follow given Alternate fix if health app not counting steps on iPhone
Wait! Enrich your Knowledge
Does iPhone track steps on a treadmill? No, it will not track the Steps for Walking and Running Distance on a treadmill. Because iPhone uses GPS navigation that calculates total moment with your movement. We have smart solutions that do and record all types of workout that might be an indoor or outdoor activity. So the people asking me the question Does Apple watch track steps on a treadmill? Yes, it can do very accurately.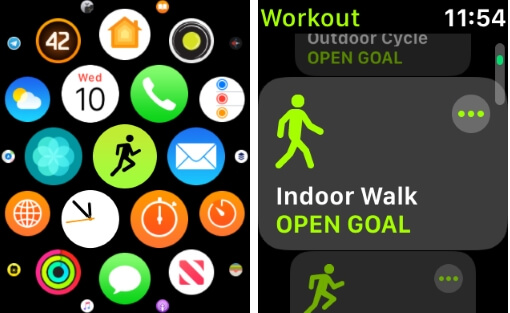 To test at yourself, Wear paired apple watch on your wrist and Go to activity app, Find out your indoor Walk or Indoor Run workout steps, That's it. Enter to correct details and start measuring.
Also, You can do Indoor Cycle, Elliptical, Power, Stair Stepper, Hiking, Yoga, Pool Swim, Open Water Swim.
1. Customize the Health App Dashboard and Add New Activity
Are You missing the Steps, Walking + Running data on your Health App Dashboard? Follow me and Get it on your Dashboard so you can find the data at a glance. Nothing problem with you! You can do easily and Record all the Activity accurately like me.
iOS 13 or later, Check the Below steps
To Add New Activity in Health App Dashboard,
1. Open Health App on iPhone.
2. Tap on Health Data Tab at the bottom of your iPhone. Here you are on the main category page, First is Activity. Tap on it.
3. Now, Here's the list of different activities like Steps, Walking + Running Distance, Flights Climbed, Stand Hours, Active Energy and more. Go to Steps or Waking + Running Whatever you want to add on your Health app dashboard.
4. Here's the Add to Favorites toggle, Just enable it individually that you see on your Health app dashboard.
5. Now Quickly jump to Today Tab, and this is the Entry tab when you launch the Health app on the iOS device.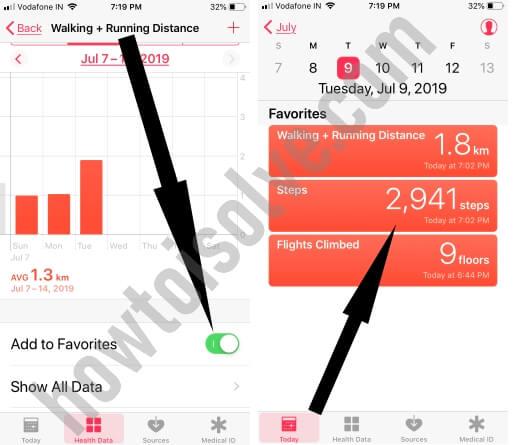 But in Later iOS 13 device, Settings are changed but way also works like the above steps.
2: To Start Steps Counting on iPhone/ iPod touch
Step 1. Launch Settings app on your iPhone/iPod Touch
Step 2. Find Privacy; you can appear it at bottom Touch ID & Passcode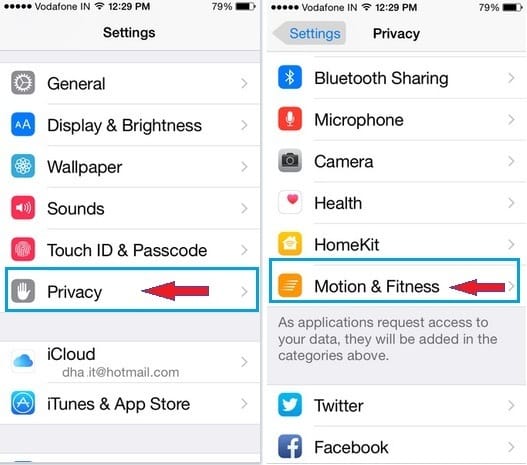 Step 3. Scroll down the screen then Choose Motion & Fitness
Step 4. Now make the turn on Health
That's it. Now let's bit walk and check out your health app dashboard. Hope, it will work now. And your Health app not counting steps on iPhone problem is solved.
3: Reset All Settings on iPhone
Reset Network settings delete all the custom settings on your iPhone and use Apple's Default settings for Each App. Health app is also on the list. Reset settings will intellectually setup back all the things after reset. This process will take time around 2 to 3 minutes while reboot the device. But this can't affect the data saved on your iPhone's local store.
Go to the Settings App > General > Reset > Reset All Settings.
4: Restart Your iPhone or iPod Touch
After completed first-way, if you are facing the same issue, then reboot your iPhone/ iPod Touch.
in iOS 11, you can get here – how to Reboot iPhone without Power button
For iPhone XS Max, XS, XR, X, iPhone 8 Plus/iPhone 8 Plus users:
1: Press and Quickly Release Volume Up button, then
2: Press and Quickly Release Volume Down Button, then
3: Press and Hold Side Button until you see the Apple logo on Screen.
To Start the iPhone, Again press Side button until startup apple logo on the screen.
If
Walking+ running distance
doesn't appear on the dashboard, then follow below way.
Go to Health app > tap on Health Data > Choose Fitness > Select Walking + Running Distance > do turn on Show on Dashboard. This steps you can also following to show details (Body measurements, Nutrition, Sleep, Vitals,  Active calories and much more ) on the health app dashboard.
Feel free and write us about your experience concern health app not counting steps on the iPhone.
Don't Miss- Fix Apple Watch won't Counting Steps
Even any query I'll advise you early as soon as possible. After fixing health App, you can try this best health App Compatible devices.
Jaysukh Patel is the founder of howtoisolve. Also self Professional Developer, Techno lover mainly for iPhone, iPad, iPod Touch and iOS, Jaysukh is one of responsible person in his family.
Contact On: [email protected] [OR] [email protected]