🗓️ November 18, 2021 By ✍️ Jaysukh patel
Delete Photos from iCloud we can free up large storage in limited iCloud space. Photos take too large space on your iPhone, iPad because new live photo effects and High-resolution camera photos will take big space on your iPhone. And the Limited 5 Gigabytes storage is not sufficient for any iDevice user, So we need to check or see how much space is used by Photos, Videos, App, and Data. That we can manage ourselves from iPhone, iPad, Mac, or PC. That's what I discussed in this guide step by step.
Now we have two options, Upgrade iCloud storage plan or delete photos from iCloud storage or Backup.
More customizations and settings also help in a future time that prevents your iCloud storage goes full.
Note: Please make sure how much iCloud storage is available in your account, Otherwise you couldn't receive new iCloud Mail or Save Other data like Messages, Contacts, and Settings.
Compatible Devices: MacBook, Pro, iMac, Mac Mini, iPhone 11 Pro Max, iPhone X, iPhone 8, iPhone 8 Plus, iPhone 7/iPhone 7 Plus, iPhone 6/6 Plus, iPhone 5S, iPad Pro, iPad Air, iPad Mini.
Tips: Forward iCloud Email to another Mail account.
iOS 15/macOS Monterey: Steps for Access and Delete Photos from iCloud Backup on iPhone, iPad, Mac
General Questions 
How Do I Delete All My Photos from iCloud?
Yes, We can delete all Photos that have been uploaded from your iPhone/iPad. Free Up iCloud Storage quickly. Follow the tips 1 in this Article.
How to Delete Multiple Photos from iCloud on PC?
On Your Mac or PC Browser Go to icloud.com and Open photos, To view all the photos uploaded in iCloud. Select All Photos or Selected at once and Delete from Top Option. Follow the tips 2 in this Article.
How do I delete photos from my Mac/iPhone/iPad without deleting them from iCloud?
To Enable Photos library under the iCloud settings on iPhone/iPad [Tips 3 in this article]. This option is available on Mac's System Preferences as well [Tips 4 in this article]. Once All the Photos are uploaded to iCloud, Delete them From your iPhone/iPad/Mac After that iCloud Photos will remain as it is.
Tip 1: Delete All iCloud Photos from iPhone/iPad
Step 1: Open the Settings app on iPhone, iPad.
Step 2: Next, Tap on the iCloud Profile name, Scroll down and Find iCloud.
Step 3: Tap on Manage Storage.
Step 4: Here you can see types of data saved in your iCloud account by Photos, Backup, Messages, Messenger apps, Notes App, iCloud Drive, Pages, Numbers, and Other Third-party apps.
Here I am discussing how to Delete Photos from iCloud on iPhone. So, Now Tap on Photos
Step 5: Finally, Tap on Disable & Delete.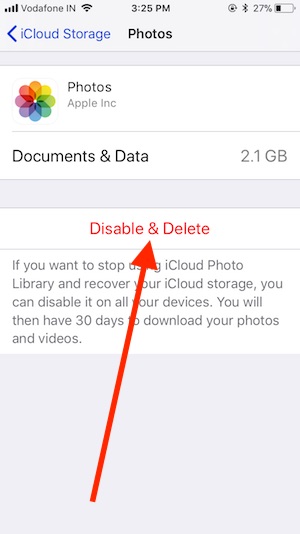 Within 30 days to can change the mind for getting back or undo deleted photos from iCloud Drive.

The message could be: "In 30 Days, the photos and videos stored in iCloud will be deleted and iCloud Photo Library will be turned off on all your devices". See the screen below,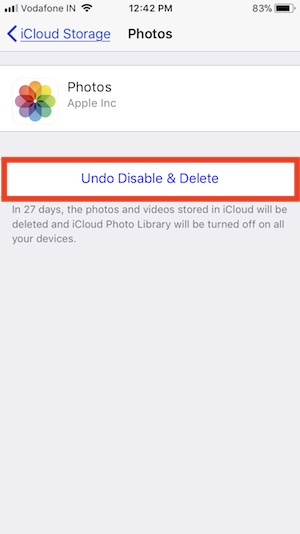 Tips 2: View & Access iCloud Photo on Mac, Pac – Delete Unwanted Photos
iCloud photos we can't access like Google Photos app on iPhone and iPad. So We must use the icloud.com web account. Then find the photos option to see all synced Photos from other devices. Here you can see my iPad Photos to https://www.icloud.com/photos/ . Also, you can manage iCloud Photos from the web interface. it doesn't matter Mac or PC. Follow the below steps,
#1: Go to the

iCloud.com

Browser running on Mac or PC
#2: Log in with Apple ID and password used for iCloud on your iOS devices.

#3: See Photos and open them in the browser, Now you can access all types of photos: Favorites, Videos, Live Photos, Panoramas, Screenshots, Hidden, Recently Deleted.

Select Photos from Browser and Tap on the Delete icon at top of the web page browser.
That's it.
Tip 3: Stop to Save Photo in iCloud Drive
This option prevents autosaving your iDevice photo to iCloud Drive. And save lots of space in iCloud Drive. This option also one of the important tips from Other helpful improve iOS 11 battery life to stop background upload to iCloud.
Go to the Settings App on iPhone, iPad or iPod touch > Tap Profile > iCloud > Photos > Disable iCloud Photo Library.

If Enable iCloud Photo toggle is Enabled, then the Photo from your iPhone/iPad automatically uploads on iCloud Account. That we can use as Backup.

That's it.
Tip 4: Enable iCloud Photo on MacBook Mac
We can also use iCloud Photo on MacBook Mac just like the iPhone and iPad. Auto Backup your Mac Photo to iCloud and Accessible on another apple device. Below is the settings on Mac for Enable iCloud Photo.
Click on Apple Logo () From Top Mac Menu.
Next to System Preferences option > Click on Apple ID.
Now, From the sidebar, click on iCloud.
Next to You will find the option for enabling iCloud photo for mac. if the checkbox is enabled then you mac automatically upload to your iCloud account.
That's it.
Using these tips we can remove, manage & save several gigabytes of iCloud storage on iPhone, iPad, iPod touch, or Mac or PC.