Auto-answer phone Calls in iOS is an incredible feature for iPhone users. It receives all incoming automatically neither touching phone screen accept button or sliding. It is most useful while you are driving a car and a place where you alone or with a close mate. But, some users reporting that it creates the problem when they get an unknown phone caller incoming call at that time if users are talking on the secret topic or business talk then the chances of any project ideas cloud be a leak. Therefore, those users wanted to go back to receive phone calls manually instead of auto-receive phone calls on iPhone and iPad.
Hopefully, today's my bottom listed steps will help you to receive phone calls manually on the iPhone and iPad.
Steps to deactivate or turn off auto-answer phone calls on iPhone
Step #1. Go to Settings App.
Step #2. Find General.
Step #3. Hit on Accessibility.
Step #4. Next Up, Scroll down the screen and tap Call Audio Routing.
Step #5. Here Tap on Auto-Answer Calls.
Step #6. In the end, Turn Auto-Answer Calls trigger Off/white.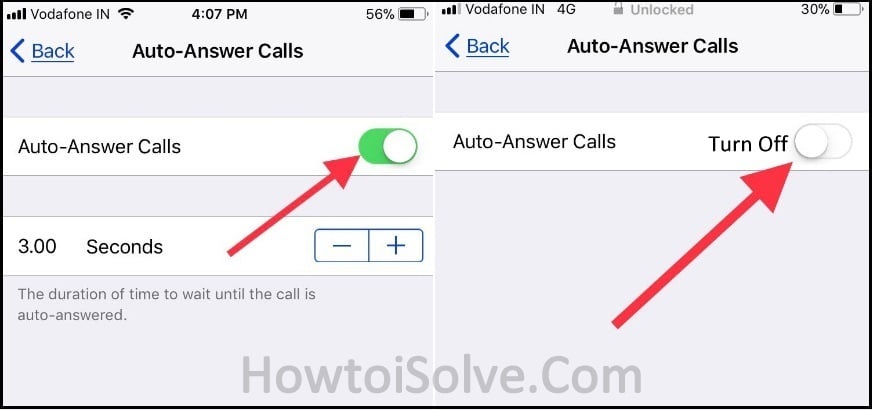 So now, deactivate Auto-receive phone calls successful.
From now, your iDevice becomes unable to receive incoming phone calls automatically.
Pro Tip in Free-
This feature is nice to use when you are wearing headphone, Air pods, driving a car and this all time you get auto receive call at personal not publicly.
Jaysukh Patel is the founder of howtoisolve. Also self Professional Developer, Techno lover mainly for iPhone, iPad, iPod Touch and iOS, Jaysukh is one of responsible person in his family.
Contact On: [email protected] [OR] [email protected]