🗓️
November 24, 2023
By ✍️
Jaysukh patel
Stop or Turn on Auto unlock macOS sierra or later remotely through Apple watch now officially from Apple, There is also an option for auto-unlock Mac using iPhone from a third-party app but not officially apple. Till then enjoy auto-unlock with your Apple Watch, with some predefined conditions you can enable, and remotely validate your identity on your Mac through apple watch. The terms of use of these features make it more secure and easy to use every time and at a time when you experience it.
In the previous tutorial I explained, what are the reasons Mac doesn't auto-unlock using apple watch? Here I again repeat a short overview then ended with Turn off or Turn on auto open MacBook Air, MacBook Pro, Mac Mini, and iMac.
Update your Mac system (Compatible macOS), and Apple Watch with Compatible WatchOS (Quite a tedious job, but you must do for try auto-unlock).
Both Devices are set up under the same Apple ID (You can check it on your Browser from icloud.com – setting menu)
Your Apple ID turns on for Two-factor authentication (Two-step is different).
Apple Watch must be on your wrist and unlocked, verify the login password by raising your hand in front of your face.
Both Apple Watch and Mac enabled system passcode.
Steps for Disable/ Enable or Turn on auto-unlock Mac Using Apple watch: macOS
Setup for Auto Unlock Mac using Apple Watch is straightforward, in case you can't set up or unlock your Mac Using Apple Watch. So now Read on at the last of this article about Troubleshooting solutions and Prerequisite conditions to Use Smoothly. if you don't know, Here's How to Check Which Version of macOS You're Using on Mac.
On MacOS Ventura
1→ Go to the Apple Logo from the top menu > System Settings.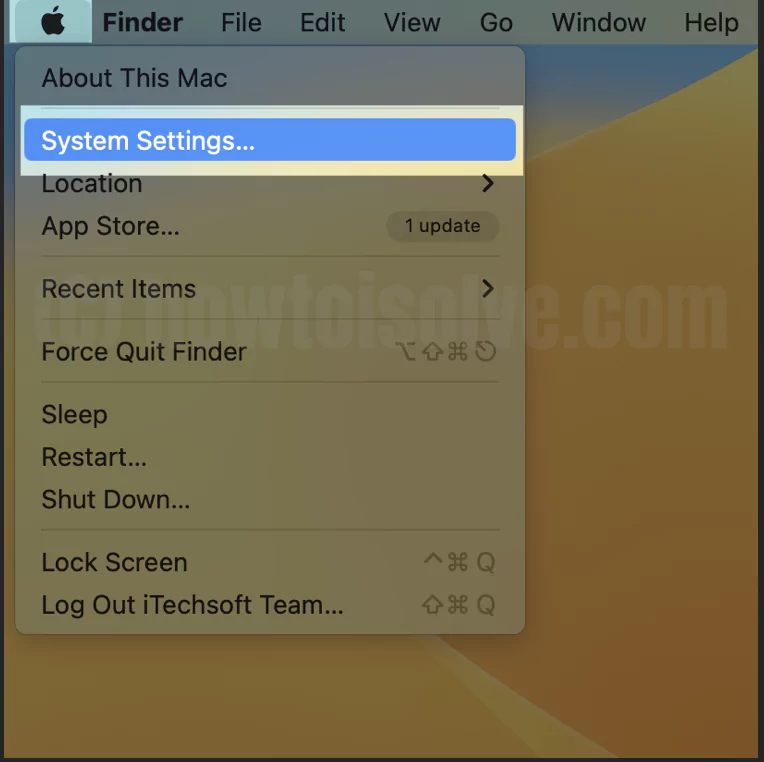 2→ Select "Touch ID & Password" > Enable toggle for your apple watch "Use Apple Watch to unlock your applications and your Mac.". your apple watch appears if that's signed in with the same apple ID.
Enter your Mac Login password to verify in the popup.
3→ That's it. if the toggle is enabled but still not working, turn off the toggle and Turn it on again. It might be the settings are stuck after macOS Update.
On MacOS Monterey & Earlier
Step 1: Go to the Apple logo [] from the top right corner of the Mac menu screen.
Step 2: Next, Click on System preference…
Step 3: Then, Security and Privacy option.
Step 4: Enable Checkbox – Allow your Apple Watch to unlock your Mac.
Disable or Turn off Auto unlock Mac using Apple watch
Repeat the same steps and above and uncheck "Allow your Apple Watch to unlock your Mac." Now every time you need to enter your Mac login password.
Apple Watch Not Unlocking Mac
To use this feature your apple watch must install WatchOS 3 or Later and Mac running macOS Sierra or Later.
Check WatchOS Version for Apple Watch: Open the Watch app on Paired apple watch iPhone > My Watch Tab from bottom > General > Software Update > Check For Update. MacOS Version on Mac: Apple Logo on Mac > About This Mac.
Keep your Apple Watch and Mac in the Bluetooth range.
Your Apple Watch is on Wrist but not unlocked. To use Apple Watch after Wear you must enter the passcode on the Apple watch screen.
Mac and Apple Watch Signed with the same iCloud account. That Means Mac and Paired iPhone with Apple Watch must have the same iCloud account. Check Apple ID under the iPhone settings app. For Mac, System Preferences > Apple ID.
Your iCloud account has must be enabled Two-Factor Authentication. we can enable Two-Factor authentication from Mac and iPhone also. Otherwise, go to iCloud dot com and Sign in with your iCloud Apple ID and Password. Next, Go to Settings and the Option to enable two-factor authentication.
Compatible Mac and Apple Watch: 2013 mac ower and later running macOS Sierra or later / Apple Watch All models
Enable Device passcode: Login passcode on Mac and Apple Watch
Keep Both Devices Up-to-date: On Mac, Go to the Apple Logo > System Settings > General > Software Update. On Apple Watch, Go Watch app on your paired iPhone > My Watch Tab > General > Software Update > Download and Install.
On Apple Watch: Settings > General > Passcode > Create a New passcode
On Mac: Apple Logo on Mac > System Preferences > users & Group > Select your Profile name > Change password.
The above guide is the primary process for all Mac owner who wants to disable/ Turn on the auto-unlock Mac using their apple watch remotely.
That's it.
More valuable tips like it always appreciate you, share it with us in the comment box.