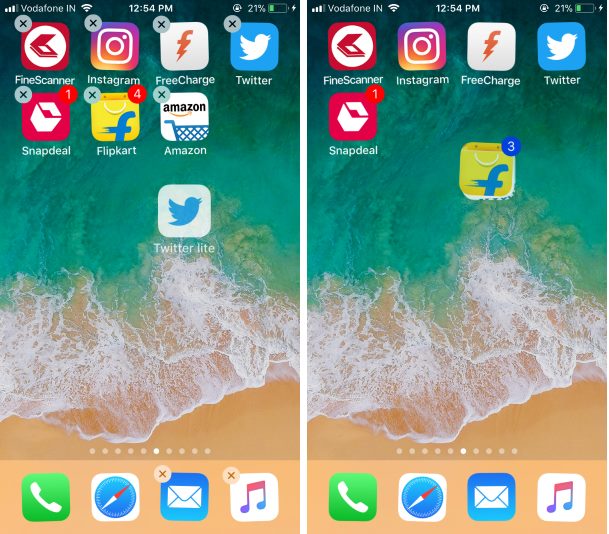 Last Updated on Feb 28, 2020
You want to move the app icon on iPhone and iPad using Touch Screen device. It's tough and adjusts touchscreen sensitivity based on your finger's pressure; it may vary for different users. So Apple gives the option for changing 3D touch sensitivity on iPhone devices.
we are happy to help you, submit this Form, if your solution is not covered in this article.
We recommend using set 3D touch Sensitivity to Firm (Light, Medium, and Firm) – Unable to move apps icon or Start Jiggle on Home Screen. If you set 3D touch sensitivity on low pressure. Whenever you tried to move the App icon or Next folder in iOS 11 using new Drage and Drop features. Pick, and a Pop popup appears on the screen in place of App icon jiggle.
A new iOS device comes with a faster processor; you need to care about touchscreen gestures.
How Move Apps on iPhone And iPad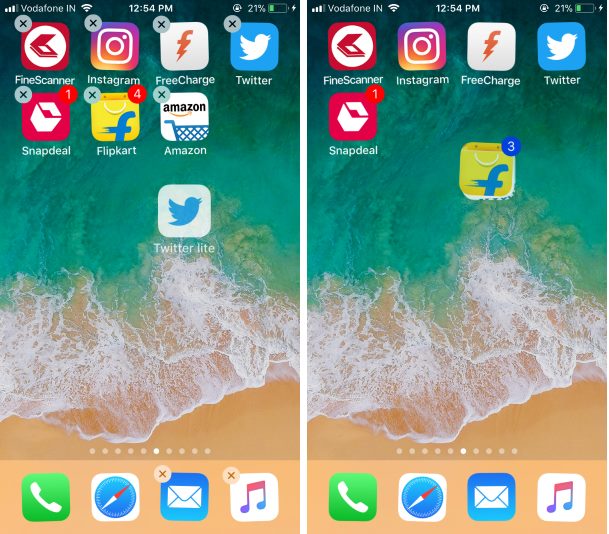 Step #1: Unlock your iPhone.
Step #2: Go to the home screen, Lightly touch and press the app instead of holding hard until apps icons jiggle on its place with Cross mark at the corner of each app. (Note removable apps should not show (X) icon on app Because it's not removable).

On Latest iOS Update, You will get a popup on longer touch and hold on the app icon, Find the Edit Home Screen Option.
That's it.

Step 3: Once Jiggle start you can move the app to Different home screen pane and create a folder by a slide and hover on other app icons.
Move Multiple apps at once,
Tap and Drage app slightly on the screen from its first position.
Now use the Secondhand to collect apps that you move in Group at once. Or add to the existing folder.
The same way we can ungroup or come out with multiple apps from Folder.
Watch Video to Get quick fix in Three solutions,
I hope this trick does work to
Move apps on iPhone
 using Multitasking Drage and Drop features. Once apps icon on mail screen jiggle or Wiggle, you can move or remove/Delete the app from the iPhone home screen.
Premium Support is Free Now
We are happy to help you! Follow the next Step if Your Solution is not in this article, Submit this form without Sign Up, We will revert back to you via Personal Mail. In Form, Please Use the Description field to Mention our reference Webpage URL which you visited and Describe your problem in detail if possible. We covered your iPhone 12, iPhone 12 Pro, iPhone 12 Mini, iPhone 12 Pro Max, iPhone 11 Pro, iPhone 11 Pro Max, iPhone 11, iPhone 8(Plus), iPhone 7(Plus), iPhone 6S(Plus), iPhone 6(Plus), iPhone SE, SE 2(2020), iPhone 5S, iPhone 5, iPad All Generation, iPad Pro All Models, MacOS Catalina or Earlier MacOS for iMac, Mac Mini, MacBook Pro, WatchOS 6 & Earlier on Apple Watch 6/5/4/3/2/1, Apple TV. You can also mention iOS/iPadOS/MacOS. To be Continued...
I hope you enjoyed and done your job by visiting and following the above steps. Share and comment on us for more help and guide. Join us on our Social page, FaceBook, Twitter and Google Plus.