Last Updated on
For the New iOS Devices users (iPhone/ iPad cellular) doesn't any idea how to reject or busy tone from the iPhone for an incoming call. This tip worked amazingly based on my personal experience When I switched from android to iOS.  As we know and our experience on Other Mobile operating systems, an incoming call on an unlocked screen may reject it. I feel different calls show different screens, But nothing I have a straight solution for both the screen and Circumstance. The main thing you learn from here is that Send busy tone from iPhone for an incoming call when you show the slide to answer screen or you can block unknown calls on iPhone.
we are happy to help you, submit this Form, if your solution is not covered in this article.
This guide is also handy who are confused, Showing two different screens (Slide to Answer a call or Tap on Accept button for receiving an incoming call or Decline button for reject) when someone calls or for all incoming calls. Now how we can dismiss a call when the screen shows only one option – "Slide to answer."
Send Busy Tone from iPhone for an Incoming Call: Alternate Ways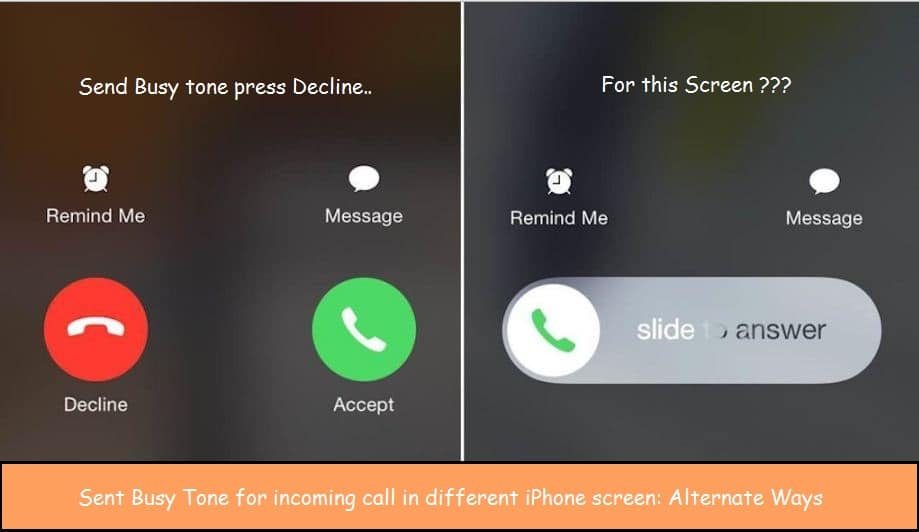 On-time when a call is coming to your iOS device, you need to press the Sleep/ Wake button once for a mute ring or Vibrate disturbance Then Second Press on Sleep/ Wake button rejects a call. At the caller, you have been sent a busy tone automatically set up by your Carrier.
---
Here's – Tip to Answer Phone Calls Automatically on iPhone
---
Double-Press Power Button
Apple iPhone 11, 11 Pro, 11 Pro Max, iPhone XS Max/ iPhone XS/ iPhone XR/ iPhone X/ iPhone 8/ iPhone 8 Plus/ iPhone 7, iPhone 7 Plus iPhone 6/ 6S/ 6 Plus, 6S Plus Button placed on side edge
iPhone SE/ 5S/ 4S placed on Top right corner edge
Block Contact
We can use block contact features for sending a busy tone when an unwanted call comes to you.
For Saved contacts on the iOS device, Open Contact App > Find contact > Tap on it > Move down on screen > Tap on Last option Block the caller.
For the unknown number, Under Recent Tab > Tap on (i) icon > Move to down > Tap on Block, this caller.
Further discussion on sending a busy tone from iPhone for an incoming call or to Caller, participate in comments.
Answer & Hang Up
This is a very basic way to avoid calls, but not smart enough to fool the caller. Because, once you pick the call and hang-up the next second without saying anything, the caller will definitely try to reach you at the same time, so there is no escape from that annoying call.
On the other side, when the iPhone is a lock, we don't actually have any other option left, as the locked state will only show the Slide to Answer and Decline button.
Decline Button
Unfortunately, most of the time the Decline button only appears when the iPhone is in a locked state. But with the newer iOS updates, all these changes are evolved and made it easier by Apple. Decline, the name itself says what does it means, so I don't need to explain further, its up to you, and the person who is calling you. Decide whether to take that call or decline in one tap.
Power Button Single Press
Think of a situation, when you're attending an important business meeting but forget to Mute the iPhone; all of sudden the phone rings, what will you do? It will be too late if you're sitting among other people discussing something very important until you take out the iPhone from the pocket and Decline the call, isn't it?
Under such circumstances, the Single Press Power button comes in picture. Whenever, your iPhone rings, but you can't pick up the calls due to some reasons, then gently press the Power button once, to silent the call. By pressing the power button, you're not rejecting the call, but silencing the ringtone. In the meantime, if the call continues to ring, you can pick it up.
Volume Button Press
It works the same as the Single Press Power button. You can quickly silent the iPhone ring when someone is calling you with any of the buttons including Volume Up, Volume Down, and Power button. Honestly, it's hard to locate the Power button when the iPhone is inside the pocket, however, if you can't find the Power button, gently press either volume button to silent the phone call. It works the same.
Use Mute Switch
You've already used the Mute Switch to put the iPhone in silent mode. Though, I want to share one trick, to avoid getting disturbed by irritating and random phone calls, like, when iPhone rings, simply use the Mute switch to mute the iPhone, it will stop the current ring as well as other alerts until you Unmute the device.
On top of that, when the iPhone is on Mute mode, it will still vibrate upon notifications alerts and phone calls.
Reject with Reminder
Apple added a good feature that lets you set the Reminder, to remind you of calling the person when you are done with work. Though, on choosing the Reminder option, the call will be declined as if you've traditionally rejected the call. The positive side of using this feature is, the iPhone will remind you to call back the person later. Other than this, there is nothing special about this.
Decline Call with Message
Next to the Remind Me option, you'll see a message too. Declining call with a message is a great way to reject the call, with the reason. Use the preset templates such as, talk to you later, can't talk right now, etc, or compose your own message. Whatever you choose, once the message is sent the call will automatically cancelled from your side. This is the safest way to decline the call, by giving a genuine reason.
Block Caller
Annoyed by Insurance Agents or Fake Calls? Block them. iPhone lets you put the calls into the block list or there is one more alternative, simply change the settings that will Silence the Calls from Unknown Caller (Settings app > Phone > Toggle ON Silence Unknown Callers), once you enable this option, all the phone calls from the unknown callers will be transferred to Voicemail and also appear in the calling list of iPhone. From the same settings screen, you can add contacts into the Block list.
Call Forwarding
There are numerous reasons, why someone wants to set up the Call Forwarding. For instance, you're the manager of the company, but it's your day off, and don't want to be disturbed by the clients, in that case, set the call forwarding. All the calls made to you will be forwarded to another number that you've added.
Enable Do Not Disturb
The Do Not Disturb is one of the best features available to avoid calls and notification alerts when you're sleeping or busy with work. Luckily, all the notifications and phone calls will stay in the Notification center, but you won't be notified by the ringtone, so later, when you're free, it's easy for you to track them, and if important callback.
Premium Support is Free Now
We are happy to help you! Follow the next Step if Your Solution is not in this article, Submit this form without Sign Up, We will revert back to you via Personal Mail. In Form, Please Use the Description field to Mention our reference Webpage URL which you visited and Describe your problem in detail if possible. We covered your iPhone 11 Pro, iPhone 11 Pro Max, iPhone 11, iPhone 8(Plus), iPhone 7(Plus), iPhone 6S(Plus), iPhone 6(Plus), iPhone SE, SE 2(2020), iPhone 5S, iPhone 5, iPad All Generation, iPad Pro All Models, MacOS Catalina or Earlier MacOS for iMac, Mac Mini, MacBook Pro, WatchOS 6 & Earlier on Apple Watch 5/4/3/2/1, Apple TV. You can also mention iOS/iPadOS/MacOS. To be Continued...
Decline Calls from Apple Watch
If iPhone and Apple Watch are paired, then the calls and alerts will reflect in the Apple Watch too. Just check the calls and notifications by raising the wrist and answer them if necessary otherwise, decline from the Apple Watch, no need to take out the iPhone from the pocket.
Get Related More –
Jaysukh Patel is the founder of howtoisolve. Also self Professional Developer, Techno lover mainly for iPhone, iPad, iPod Touch and iOS, Jaysukh is one of responsible person in his family.
Contact On: [email protected] [OR] [email protected]