🗓️ November 10, 2020 By ✍️ Jaysukh patelDocument Tagging, Manage documents on your iPhone, iPad in Files app using tag features like Mac. Check out how to tag documents in Files app, and folders as well. Based on priority and Important of documents we can search for documents in Files app instantly and easily. To use Tag features on iPad we have to learn such important ways to Add New Tag, Rename tag, Delete tags or Customize tags (Change tad order list).
Last, we have seen How to Access Third-Party Cloud app and Save the file to Files app.
Download and Save Documents to your iPhone, iPad after using different tags for easy to find and access.
How to use Tags in Files app: Guide and Problems
Step #1. Open Files app on the iPhone and iPad.
Step #2. Tap on Locations at the top left corner of the screen.
Step #3. Next, Tap on Edit link button for Re-Order Tags.
Delete Existing Tag in Files app on iPhone, iPad
Step #1. To Delete tag, Tap on Red circle button and Tap on Delete.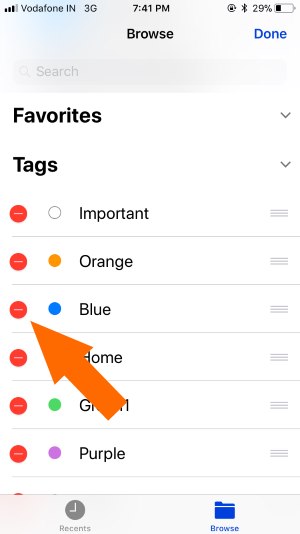 Add a New Tag in Files app on iPhone, iPad
To add a new tag, go to Document inside iCloud Drive. If you didn't enable iCloud Drive, Then Turn on iCloud Drive first. And Go to iCloud Drive documents or Folder. Tap and hold on document file.
Step #1. See Documents settings strip, Tap on Tags option.
Here you have to select existing tag (We can add multiple tags on single document/ Assign or tagging files based on color and importance), otherwise, tap on Add New Tag to create new Tag name and color.
Next, Tap on Done.
A trick to Edit Tag: Rename Tag Name in Files app
On Side Pane, Tap on Edit
Tap on the tag Name.
Erase and Write your tag name and Save.
Re-Order or Customize Tag in File app
To reorder or change the tag's position, Tap on hold on [Three Horizontal lines] icon.
Now, Move the List row vertically and save it by the tap on "done"
Unable to assign a tag to other Third-Party cloud drive files
File app couldn't do it. Because tags are only allowed for locally stored documents and Folders and iCloud Drive data.
To tag other third-party cloud data, save first it locally or move to iCloud drive and Set tag using steps above.