🗓️
July 20, 2023
By ✍️
Jaysukh patel
3 Easy ways to Sign Documents on Mac Using iPhone/Pad, Trackpad or Mac FaceTime Camera. For the Business, Professionals, and parents, Often needs to handwritten signed in the document for the ownership or accept terms and actions. So you need to go with the lengthy process like print a document, Sign in with pen and scan then send for submitting. Now in the latest macOS update, the Process is too short because we can sign the handwritten signature from iPhone to Mac Document using the Preview app on Mac. Now in the latest macOS Catalina improved from import signature from other Source to preview file.
without any app and External Hardware do Electronically Sign a PDF Using Preview on Mac From iPhone/iPad [MacOS Catalina users], Camera, Trackpad. Also, add Signature on Photo preview mac app.
Steps Add Signatures to PDFs Using Preview on a Mac
Note: To Do signature from your iPhone or iPad, Your Mac must be paired and connected with at-list one from iSight Camera or Trackpad
Open PDF file/Picture in the Preview app on Mac.
Next, As we discussed in a note, Your Mac is either connected with Camera or Trackpad, Your Mac's camera is working or Mac Mini is connected with your iSight Camera or External Camera. If you have a Trackpad then connect it and use it without camera use. Now, in the next step for import Handwritten signature to Mac.
Now Click on the Markup tool icon to edit the file.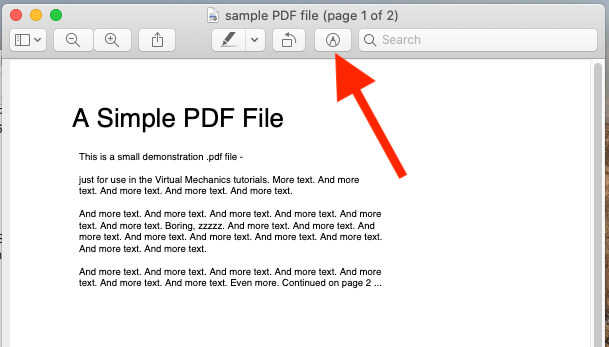 Also, see the signature icon to add a handwritten signature in three different ways. If the signature is already added and used in Preview mac than you will see the option of add another.
Click on Create Signature.
Now We can use one of these three options like Trackpad, Signature, iPhone/iPad.
macOS Catalina or later user can use iPhone/iPad to import Signature on the preview app without any Cable. To use this feature we don't need WiFi, Cellular or Bluetooth connection, Also in my test, this is working while handoff is off.
macOS Mojave and Older, Mac uses Can use trackpad or iSight Camera to import handwritten Signature on Mac's Preview PDF file.
Method 1: Use iPhone/iPad to Add Signature on Mac Preview
Click on iPhone, and Your Mac signature pad will show "Sign your Name on your iPhone". Unlock your iPhone and Go to Home screen, Wait until your iPhone see Signature pad. Once you find it, Do the Signature using your Finger on iPhone screen and Tap on done to find it on Mac Preview under the signature tool [See image below]. Click on a signature icon to use it on the document and resize or move on PDF file.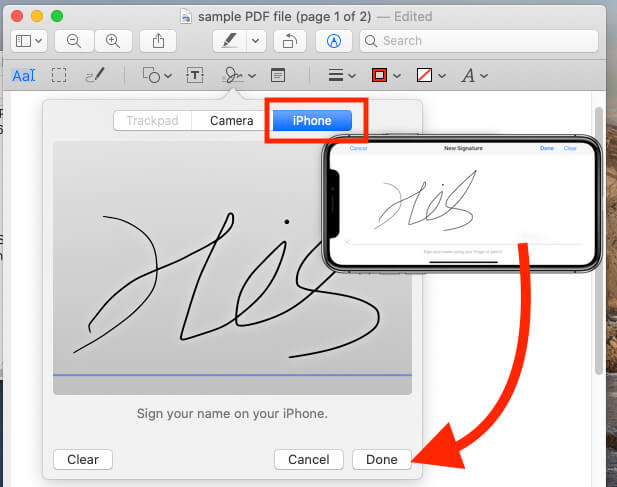 Method 2: Use Mac Camera or External iSight Camera
In this step, you will get the original quality of signature after remove a dark part from a paper photo, Sign your name on white paper. Then hold it so it's visible to the camera and also keep signature on Line that has shown on Mac Preview. So your Mac gets the signature correctly. Once you scan it, Tap on a done button from Mac Preview to save on Mac and under the Signatures list. Click on a signature icon to use it on the document and resize or move on PDF file.
Method 3: Use Trackpad to scan Signature
Do the handwritten signature on the trackpad. Once you did the signature, click on the done button. and Your Signature moved into Mac Preview.
Delete Saved Signature from Mac Preview
For privacy and security reasons, people don't keep the original electronic signature on personal Mac or Public/General mac at Office/School. Steps are very simple to delete saved signature on Mac or from iCloud if iCloud Drive is on to use on across all Apple devices.
Open the Preview app on Mac.
Click on the Markup tool icon.
Now, Click on the Signature tool. From the list of saved signature, Over it and Click on the delete icon option to remove from the list completely.
Unable to Fill out and Sign PDF forms in Preview on Mac Using iPhone/iPad: Not Working Troubleshootings
Why is your iPhone/iPad tab option is not showing Mac Preview app Under Signature pad tool?
Your iPhone/iPad must be login with the same Apple ID.
Bluetooth Must be Turned on Both Mac [Apple logo on Mac menu > System Preferences > Bluetooth > Turn on Bluetooth] and Apple iPhone/iPad [Settings app > Bluetooth > Enable Bluetooth toggle].
Hand off is Not Required to use This feature.
Your iPhone/iPad must be unlocked, When you see "Sign your name on your iPhone"
Keep your iPhone/iPad near to each other.
MacOS Update: Your Mac running on macOS Catalina or later. or Your iPhone is installed iOS 13 or later/iPadOS. Older Version of macOS has Two alternate options – Trackpad and Camera.
Delete Signature plist file.
Launch Finder, delete Preview plist file on Mac.
On Mac Menu, Go > Go To Folder.
Enter the Below path and Click on Go and Delete the com.apple.Preview w.signatures.plist plist file.
~/Library/Containers/com.apple.Preview/Data/Library/Preferences/com.apple.Preview w.signatures.plist
I hope you enjoyed the tips to sign a document or Photo using Preview on Mac.