Last Updated on Nov 10, 2020This tip will teach you how to change chat wallpaper in WhatsApp on iPhone. You can use this tip for all Apple iPhone with the latest WhatsApp version. Let's we talk about its popular features. The WhatsApp has been downloaded by millions of users on their iOS devices as well as on Android and many other Smartphone. So it's become a popular Chat App across the World. WhatsApp has been made with the number of great features likely you can send and receive the message, share multimedia content such as pictures, video messages, audio notes, Group chat, Custom notification, custom Sounds and more.
Such as you can change wallpaper on your iPhone Lock Screen, home screen same as you can also change Chat wallpaper in WhatsApp on iPhone at below you can get all Steps about it.
Know Steps to Change Chat Wallpaper in WhatsApp on iPhone
Follow given steps and get the colorful wallpaper in the background of your WhatsApp chat.
Step 1. Launch WhatsApp on your iPhone
Step 2. Tap on Settings (look like Gear icon) bottom-right side corner, then
Step 3. Select Chat Settings or tap on Chats (located between Account and Notifications)
Step 4. Now tap on Chat Wallpaper (Above the media Auto-Download)
Step 5. Now you've tow options either chose Wallpaper library, Solid Colors, and Photos,
You can get default HD wallpaper in the Wallpaper library while in Photos you get your iPhone Camera roll photo
Step 6. If you like HD wallpaper then Tap on Wallpaper library
Step 7. Tap on a Wallpaper you'll appear Wallpaper Preview
Step 8. Now swipe left or right you can view all Wallpapers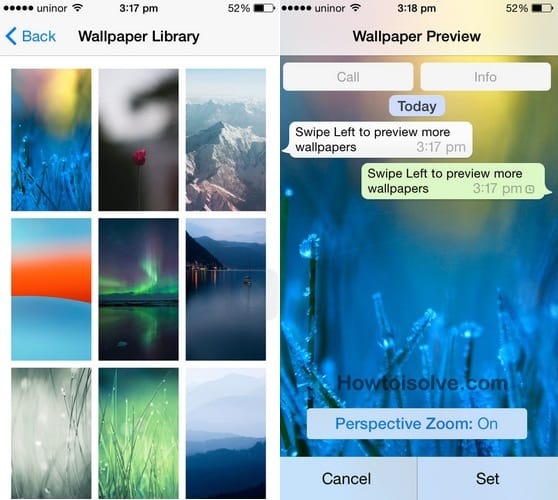 Step 9. Tap on Set button whenever you like one.
That's it!
Hope You got it. If you want to keep your photo as wallpaper then go to Photos under the Chat Wallpaper in WhatsApp. And Select a Picture and see preview then tap on the Set button.
That's it.
Video to getting Cool WhatsApp Tips & Tricks
Would you like this tip on Change Chat wallpaper in WhatsApp on iPhone? Please share with us your replay if you want to know something more related WhatsApp iOS tips.