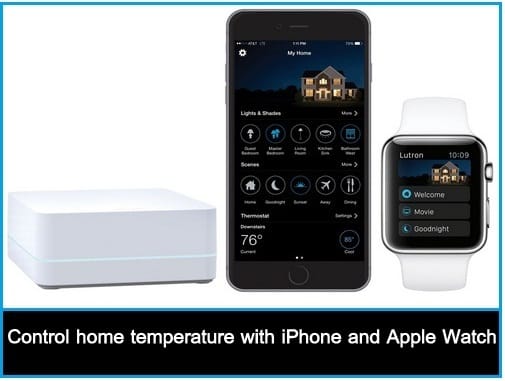 Last Updated on Jan 20, 2020
First of all, do you have any idea to Control the home temperature with iPhone? Not right. Let's here I'm going to share with you how to do that in real life. Generally, the thermostat is only a device that could measure air temperature indoor and outdoor. Whether the iPhone does not come with a temperature sensor. But nowadays, you can control the home temperature with iPhone.
we are happy to help you, submit this Form, if your solution is not covered in this article.
For that, there are many best home kit Accessories that are working with smartphones and watch App likely Apple iPhone, Apple Watch, etc. there are apps on Apple App store that just show up temperature count. So let's now what home kit accessory is perfect to check the temperature with iPhone and wearable Apple iWatch.
Note: Using Nest thermostat you can also Check your Room temperature with iPhone.
How to Control the home temperature with iPhone and Apple Watch: Best Thermostat

The Lutron Smart Bridge is a good accessory that allows you to control the home temperature with iPhone and Apple Watch. It's not only for temperate but it's controlled lights and shades too. Lutron smart bridge is best designed so it also works with Apple Homekit as Bluetooth device and more.
This bridge through you can set up, control and monitoring of caseta Wireless dimmers and Serena remote-controlled shades from a Smartphone, tablet and even Apple Watch.
Don't Miss Deals: Essential Home Accessories for iOS Device
What is amazingly on this device?
Premium Support is Free Now
We are happy to help you! Follow the next Step if Your Solution is not in this article, Submit this form without Sign Up, We will revert back to you via Personal Mail. In Form, Please Use the Description field to Mention our reference Webpage URL which you visited and Describe your problem in detail if possible. We covered your iPhone 11 Pro, iPhone 11 Pro Max, iPhone 11, iPhone 8(Plus), iPhone 7(Plus), iPhone 6S(Plus), iPhone 6(Plus), iPhone SE, SE 2(2020), iPhone 5S, iPhone 5, iPad All Generation, iPad Pro All Models, MacOS Catalina or Earlier MacOS for iMac, Mac Mini, MacBook Pro, WatchOS 6 & Earlier on Apple Watch 5/4/3/2/1, Apple TV. You can also mention iOS/iPadOS/MacOS. To be Continued...
Working with Siri so you control you lights using Siri
Just ask Siri: Turn all your lights off just before going to bed.
Scheduled lights and create scenes
Turn lights on remotely
Schedule lights to give your home a lived-in appearance and save energy
87600 hours battery life
Works with the Nest, Honeywell Wi-Fi thermostat, Logitech Harmony remote and more.
Read more to Order Lutron P from Here. And share with us how it seems to control individual room temperature with iPhone. Do you find any best Thermostat? Please share it in the comments.