Last Updated on Aug 2, 2022
An Email Signature is how you summoned up your message, it may carry a Contact Number, Office Address, Website, Work, or anything that represents who you really are. While there is no default templates are available to do it in Outlook, that's why we've prepared this detailed article to show you how to create an Email Signature and add to the message. This is all a one-time setup, thereafter, the Email Signature will be automatically added to all the emails sent by you.
we are happy to help you, submit this Form, if your solution is not covered in this article.
In addition to a simple Email Signature, Outlook allows us to add an Infographic, Logo, or Image, that'll be useful if you work for an organization and want to represent them since the pictures attract the people rather than a simple text.
How to Create and Add an Email Signature in Outlook
How to Add an Email Signature in Outlook App on iPhone and Android
Note: Using Outlook App on iPhone and Android only allows you to add plain text, there is no way to add Images or Logos from iPhone and Android app. Go with Outlook in a browser to get the Advanced Signature facility.
Navigate to the Outlook App on your iPhone or Android device; tap on the Profile icon at the top left corner of the screen.
Tap on the hamburger menu button near the Inbox label on android mobile.
Tap on the Settings cog on the bottom screen.
Select Signature, Option. Here are the important settings for making different signatures if you are using Multiple Outlook accounts in a Single app, Enable the "Per Account Signature" toggle and Create a different signature for different accounts.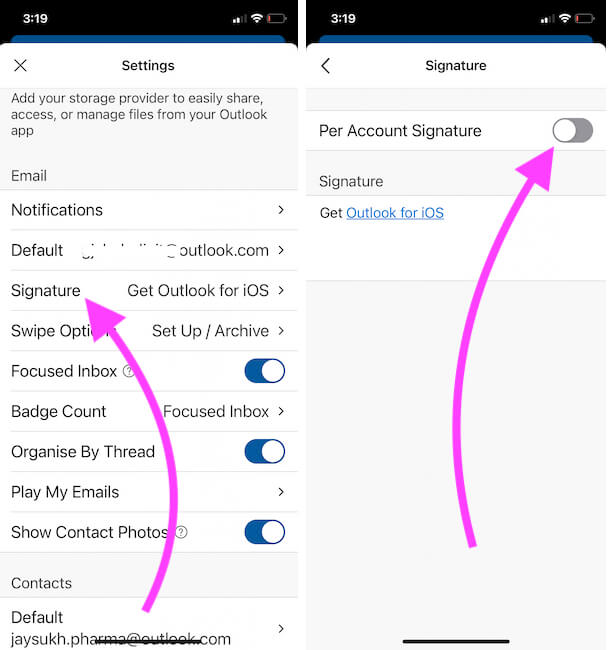 Write the text that you want to use as a Signature in Outlook.
That's it. If you don't have a mobile device and using Browser then, Add signature from browser or Windows or Mac Outlook Software.
How to Add a Signature to an Email in Outlook
Go to Outlook.com on PC browser and click Settings gear from the top ribbon bar, > View All Account Settings.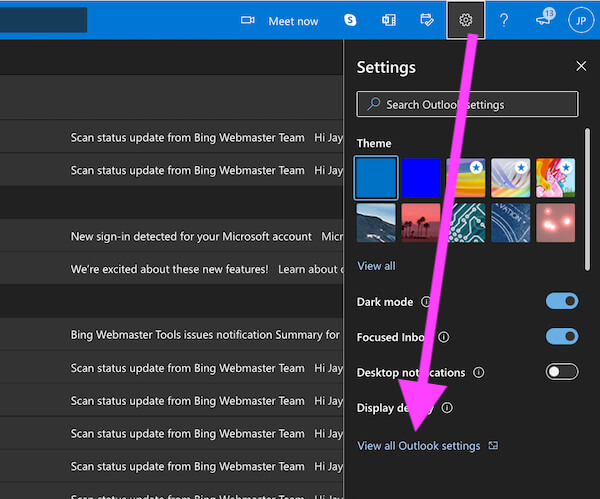 Now, Select Mail > Compose and Reply > Add a New Signature and Save.
Also, you can select the check box for "Automatically include my signature on new messages that I compose"
And select the Signature from the list.
Update: Create Email Signature on outlook Mac App
Manage Outlook Signature on PC or Mac
Launch the Outlook on your PC.
Click on the File
Select Options from the side panel.
When the Outlook Options dialog box displays, click on the Mail.
And there click Signatures next to the Create or modify signatures for messages.
Select the E-mail Signature tab, and under the Choose default signature section, click on E-mail account and select the Email account for which you wish to create and use the Email Signature.
Click New under the Select signature to edit.
Give your new signature a name and click OK.
Now you can type the necessary information that you want to appear as a Signature in mails, do it in the Edit signatures You can also use the formatting tools to make the signature attractive and eye-catchy from the rest of the text.
And select OK.
Click OK to close the dialog boxes.
From now onwards the Email Signature will automatically show up for every email you send or reply.
How to Add an Image or Logo or Animation to the Outlook Signature
Open the Outlook.
Click on the File
Select Options on the sidebar.
Select the Mail tab in the Outlook Options.
Click on Signatures in the Compose Messages
Select the Email Signature tab and from the list click on the existing signature to edit or select New to create new.
In the Text Area under Edit signature space, place the cursor where you wish to add a signature and click on Insert Picture.
Locate the image and click Insert.
In the Signatures and Stationery box, click OK.
Close the dialog boxes.
How Do You Add a Logo to your Signature in Outlook?
To add a Logo or Image to your Outlook Signature follow sections 1 and 2 of this article, we've thoroughly covered each and every step to create an Email Signature along with adding any infographic to it.
How to Make Outlook Signature with Logo?
To create Outlook Signature with Logo, first, create Outlook Signature and in the end add logo separately, if you dont know how to do that, refer to the above sections of this post.