🗓️ November 10, 2020 By ✍️ Jaysukh patelAfter Paired/Setup Apple watch with iPhone, Apple watch user can stream or play music on Apple watch or control through watch screen. In this case you can create music playlist in Apple watch. And then user can listen with Apple watch Bluetooth headphones. Here you can learn how to create music playlist in apple watch.
Note: Apple watch music app only allow music playlist, So you can't sync Audiobooks and Podcasts.
At first you need to create music playlist in your iPhone, and then you can sync playlist in apple watch music app.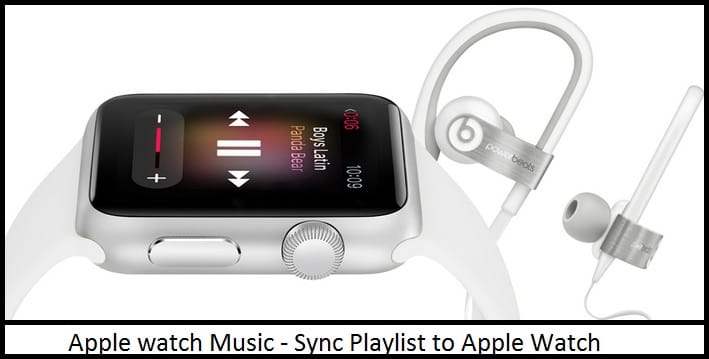 Steps for Create music playlist in Apple watch
Today, Most of the online music app for iPhone supporting Apple watch, so you can control (Push, Next and Previous) music sound and change track with Apple watch music app directly from your wrist.
1st Create playlist in iPhone music app
Step 1: Go to the iPhone, and Open Music app.
Step 2: From the music app Tap on Playlist and Create a new Playlist.
Step 3: Give name of your play list and save.
Step 4: From Album, Artist and Song you can add previously create playlist manually.
Step 5: After That, Tap on finish when done.
Note: You can also edit previously created playlist By tap on Edit, or Delete.
2nd Now Sync Created iPhone playlist in Apple watch
Before start Apple watch music sync from iPhone, Make sure your watch charged enough battery and Bluetooth is tuned on your iPhone from where you want to sync playlist.
Step 1: Launch Apple watch app from iPhone home screen.
Step 2: Next, Tap on Music > Synced Playlist
Under this, You can see all the playlist created in your iPhone previously. Tap on Playlist name what you want sync with Apple watch music app.
Don't access apple watch until sync progress complete, For check current sync status Move Apple Watch iPhone app > Music.
After successfully sync finished you can turn or do anything with apple watch.
Have you any question on Create music Playlist in Apple watch through iPhone, Comment us we will be glad to assist you.