Are you looking for an Edit button to Edit Photo in iOS 10 Photos App? Apple brings redesigned Photos App in iOS 10; it supports Raw image support & editing, too. The User interface has been changed the little bit in the new ecosystem, but at all, it looks familiar likewise iOS 9. After Download and installed iOS 10 on your iPhone/iPad or iPod. Then whenever you first time jumps into Photos app at a time, you will get a new Memories tab between Photos and Shred or Album tabs. This tab will show you same faced photos, movies like presentation and slideshow. Even though, while you want to edit on camera roll Photo, then you have to go on the edit button. But in iOS 10, Edit button has been removed, and it has been set up under the Three Horizontal lines.
Also, Photos app supports third-party Photo editing Extensions to make the picture more efficient and incredible than even before. For iPhone 6S, 6S Plus, SE and iPad Pro 9.7'' users will be able to shoot RAW. Okay, let's learn here to Edit Picture on iPhone running iOS 10 and make you an excellent Photo Editor.
For iOS 11 users,
Now you can also Edit Live Pictures in iOS 11. In the Previous operating system, edit live photos was hard. But latest iOS 11 has built-in feature. Thanks, Apple. I really impressed by brand new Live Photos effects (Loop, Bounce, Long Exposure) in iOS 11 and easy to apply on any Live Picture. Get more about Edit Live Pictures in iOS 11 on your iPhone and iPad Pro.
Stepwise Guide to Edit Photo in iOS 12 Photos App – iPhone, iPad, iPod Touch
Step 1. Hit Photos App from your iPhone Home screen.
Step 2. Head up Photos and Open a Picture to Edit.
Step 3. There isn't appear Edit button so let's tap on Three Horizontal Lines Option. It will let you enable Photo editing tools.
Step 4. Now make the complete change and Tap on Done.
That's it!
Above steps through you can only apply built-in functions such as Crop image, Rotating, Color Mode, Light, Color and B&W functions. But, if you want to add text style to your Camera Roll, Favorites, Selfie, and panoramas picture then you can do it using iOS 10 third-party Photo editors.
Steps how to Use Third-Party Photo Editors in iOS 10
For example, here we have taken Markup as Photos Editors. If you must have installed to get it inside Photo app. before following steps, go on Apple App Store and download cool Photo Editors, if you've not installed.
Go to Photos App → Open a Picture → Tap on Three Horizontal Lines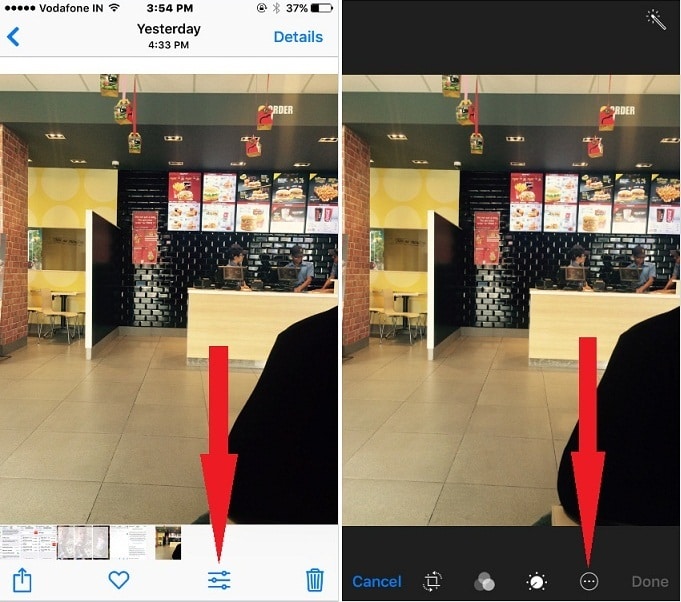 → Hit More button.
→ so you'll get here installed all Photos Editors (Note: if you don't see any Editor then tap on More button to Enable it.)
→ Tap on Markup
→ Edit your Photo and tap on Done.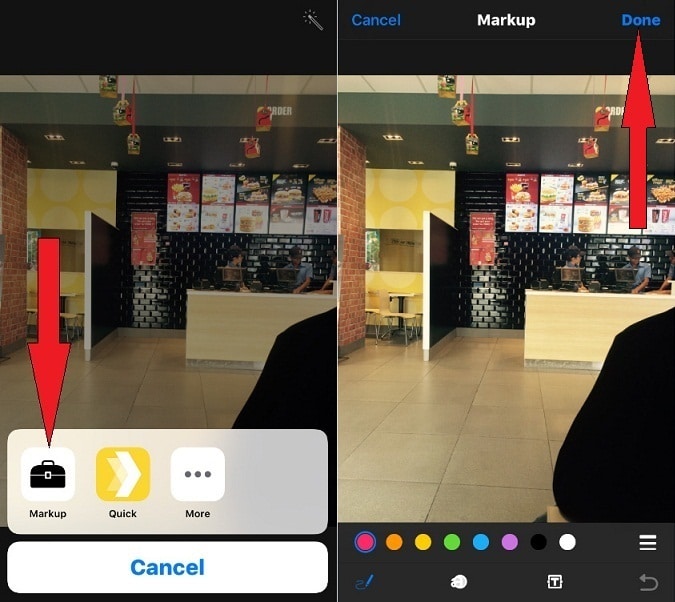 Markup gives wonder options such as different colors box, Text style, Handwriting tools, magnifier as well as undo button to get back done changes.
Furthermore, in iOS 10, you also get your original image back using Revert to Original function. It's straightforward to use. Revert to original will remove all edits made to the Photo. The action cannot be undone.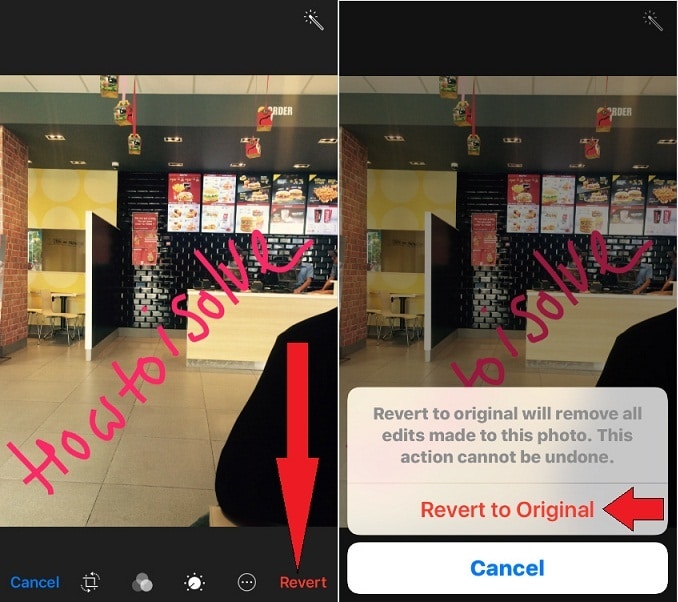 Let's share your voice and tell us how seems this trick to Edit Photo in iOS 10 Photos App on iPhone, iPad. Like it? Please Share it.