The Apple's iOS news app is a good digital Newspaper reading tool. everything about to disable or enable Story previews in News app on iPhone. The Apple has been added News app in iOS 9.3. It's a useful app to reading the latest story around the world. You might very familiar about news app for how to use news app and get started with it. News app is a good example of the Flipboard. The Apple iOS news app is currently available in the United States, the UK, and Australia. Hope, you might get all the top story and news in a single app on your iPhone/ iPad.
While you touching on the Story title, that is open in its previews mode. In addition, News app designed with customize view concept like Story previews. Through the title story preview, readers can easily understand what article wants to say actually. By default, Story Previews is comes turned on, however, Sometimes iOS news app readers addressed an issue that the, he/she cannot see Story preview and directly open link on the website. Don't worry. Follow bottom steps and do fix it.
Steps to Enable Story previews in news app on iPhone: iOS 9
Step #1. Launch Settings app
Step #2. Now tap on News app to change News Settings
Step #3. Make Turn Show Story Previews ON.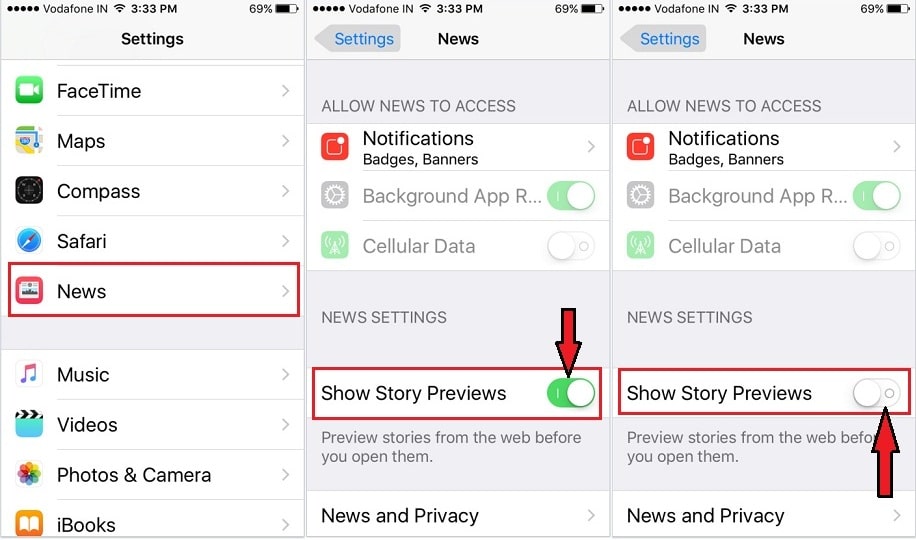 That's it.
Now launch again or refresh news to get Story previews on each article. I hope you would be like this way.
Now if you don't like Show Previews begin of the News app article then following way will let you to doing disable it.
How to turn off/ Disable Story Previews in News app on iPhone, iPad: iOS 9
Settings App → News App → Turn Show Story Previews Off.
You can see in above screen. Please share your thought about on Story Previews in News app on iPhone, iPad. It's a very much useful post for iPhone 6S/ 6 Plus users.