Let's we know first about Cydia. Cydia is most important application software; if you have jailbroken iPhone. It's a one kind of apps store for iDevice; you can get thousand of free apps like games, tweaks, wallpaper, ringtone and mods from Cydia apps store to your iPhone, iPad and iPod touch. You look also some of the apps on official apps store are price tag apps those apps you can get free on Cydia apps store. Using Cydia you can get customize look of your iOS device. That's why if you want to some new look in your iOS then should be install Cydia in iPhone; iPad and in your iPod touch.
Look Step for How to Download and install Cydia in iPhone; iPad and iPad touch
There are many kinds of way for download Cydia in iOS device you can follow any one of them. but I'm give you easy steps for doing it.
we are happy to help you, submit this Form, if your solution is not covered in this article.
Note: – if you have use iOS 6 then update it up to iOS 7 before download EvasiOn tools. As well as You have to required jailbroken iOS device.
Check it: Steps to jailbreak iOS 7.1.2 using pangu [How to]
You have to need of EvasiOn tool on your Desktop, so let's go on downloadevasion.org  and download latest version of Evasion for Mac OS. after EvasiOn download file you will get it in Zip folder so you have to must need extract it.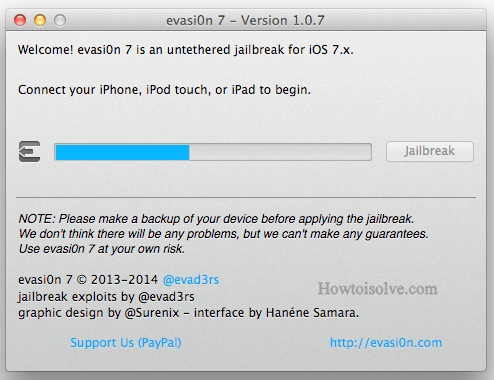 Apart from Mac device, Your installation screen should be looks like in below,

other OS installation evasiOn 7 pics,install cydia in iPhone
Compatible iDevices which is running on iOS 7+ : for install Cydia in iPhone
iPhone 5S, iPhone 5C, iPhone 5, iPhone 4S, iPhone 4,
iPod touch 5, iPad Air, iPad mini with retina, iPad mini,
iPad 4, iPad 3 (New iPad), iPad 2 and Apple TVs.
After downloading Evasion tool follow below step for download and install Cydia in your iDevice
Here you can look steps for Download & install Cydia in iPhone; iPad and iPod touch
Step1:- Start jailbreak process and before start the jailbreak process, take the backup of your iOS device
Step2:-  now you have EvasiOn tools which is maybe downloaded by you from given above link.
Step3:- Don't keep Enable passcode lock if it's Enable then follow below given path and do it disable
               Settings >> General >> Passcode Lock >>Turn off.
Step4:- Now you have to connect your iOS Device with the Desktop (Mac).
Step5:- let's now run extract EvasiOn file in Mac. And be patient until its run normal   (Windows guide the small piece different than this.)
Step6:- tap on the jailbreak button. Then it will start the jailbreak process.
Step7:- you must be patient until complete following data.
Retrieving remote package
Uploading jailbreak data
Injecting Evasi0n app (1/2)
Injecting Evasi0n app (2/2)
Configuring system (1/2)
Configuring system (2/2)
Rebooting device
Step8:- There will be a message alert as "Do not close the Evasi0n application" after reboot your iOS device.
Step9:- slip to unlock your iOS Device. Then Go and check the Home page or last page of your iOS device. It has Evasi0n 7 icon now. Launch it. Then your iOS device screen will turn to white. Finally, it will be reboot once again.
Step10:- it will take again few steps to inclusive the jailbreak process.
Reading kernel
Calculating offsets
Setting up packages
Setting up Cydia
Continuing with boot
Step11:- in last step your idevice once again reboot after complete above step successfully proceed. Now Go and check the Home page or last page of your iOS device. It has Cydia icon now. Launch it.
Here finally your jailbreak process complete; you feel free and you can get enjoy with Cydia apps store.
Must read: Features of iOS 8 which is coming in fall – 2014
All steps of download and install Cydia in iPhone; iPad and iPod touch you understand easily therefore like and share it also and yeah; don't forgate write your honest comment in below comment box.
Premium Support is Free Now
We are happy to help you! Follow the next Step if Your Solution is not in this article, Submit this form without Sign Up, We will revert back to you via Personal Mail. In Form, Please Use the Description field to Mention our reference Webpage URL which you visited and Describe your problem in detail if possible. We covered your iPhone 11 Pro, iPhone 11 Pro Max, iPhone 11, iPhone 8(Plus), iPhone 7(Plus), iPhone 6S(Plus), iPhone 6(Plus), iPhone SE, SE 2(2020), iPhone 5S, iPhone 5, iPad All Generation, iPad Pro All Models, MacOS Catalina or Earlier MacOS for iMac, Mac Mini, MacBook Pro, WatchOS 6 & Earlier on Apple Watch 5/4/3/2/1, Apple TV. You can also mention iOS/iPadOS/MacOS. To be Continued...
Jaysukh Patel is the founder of howtoisolve. Also self Professional Developer, Techno lover mainly for iPhone, iPad, iPod Touch and iOS, Jaysukh is one of responsible person in his family.
Contact On: [email protected] [OR] [email protected]