Last Updated on Nov 10, 2020
Have a question?  How to Jailbreak iOS 8.1.2 on iPhone 6, iPad on Mac – OS X Yosemite. The New tools   PP Jailbreak which has released by Chinese hacker Team, to make iOS 8 and iOS 8.1.2 device jailbreak. New Tools PP jailbreak Support with Mac OS X 10.7 or later and if you're Window users then don't worry you can use TaiG jailbreak Tools.     
Let's know first which devices supported PP jailbreak Tools – jailbreak iOS 8.1.2 on iPhone
iPod Touch 5th Generation
iPad Mini 3, iPad Mini 2, iPad Mini
iPad Air 2,iPad Air, iPad 4, iPad 3, iPad 2
iPhone 6, iPhone 6 plus, iPhone 5S, iPhone 5C, iPhone 5, iPhone 4S
For, during stating jailbreak process keep your Mac firewall or antivirus Program disables.
Don't miss– Best jailbreak tweaks for iOS 8: Most useful in 2015
Steps for how to jailbreak iOS 8.1.2 on iPhone 6 / iPad, iPod Touch – iOS 8
Step 1. Download PP jailbreak Tools
Step 2. After that connect your iOS 8 device using USB cable on your Mac
Step 3. Now,
               Settings >> Touch ID & Passcode
Disable / Turn off Find my iPhone from
               Settings >> iCloud >> Find my iPhone [Tips]
Step 4. Now you can go for do jailbreak your iPhone so, Double Click on the PP jailbreak file for launch it.
Step 5. Wait for a second because PP jailbreak takes few times to detect your iOS devices, after that must check that it's showing correct firmware version and then, unselect the check box which is you can see bottom & left side on the screen, as it seems to install the Chinese Printed app store or not.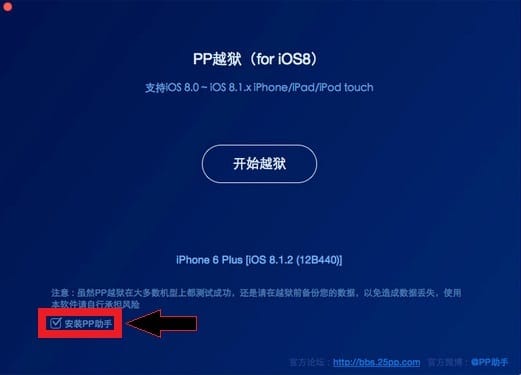 Step 6. Now for do further Process, Click on Center button.
Step 7. On next page to go ahead your process, Click on the right hand side button on screen, it tells you to Turn off the Passcode and Find my iPhone feature.
Step 8. After the successfully jailbreak is complete. Your devices will reboot automatically and you should see the Cydia icon on your iPhone/ iPad or iPod Touch home screen.
Note – Now, Turn on your disable feature Passcode and Find My iPhone after your iOS device jailbreaking  complete.
Leave your replay how to seem this post on how to jailbreak iOS 8.1.2 on iPhone 6 and other iOS 8 and later device.
Use full link for Jailbreak iOS 8 devices –