Last Updated on Aug 14, 2021
iOS 12 brings up amazing updates and one of the eyes captured featured is Group FaceTime with the capacity of 32 peoples. Believe it or not, you can group FaceTime by adding more 31 members in iPhone and iPad. Besides, it is also considered as a significant update in macOS Mojave too. This function also supports the Mac and MacBook.
Apart from video FaceTime, you can also go for the audio option with the same efficiency. So in this guide, we are explaining some major operations to take full advantage of FaceTime right from your iPhone and iPad on iOS 12. Note that you will only enjoy group FaceTime if you have updated the iPhone or iPad to the iOS 12. So let's begin with how to join group FaceTime in iPhone/iPad.
This article is mainly focusing on How to join or left in Group video call.
-: Jump Into Content:-
FaceTime Guide: Add or Join in Group FaceTime, Flip Camera, Do Chat on a Video call
Tips: Enable Wide Spectrum Mode on FaceTime
1. How to Add members in FaceTime: Add New Group Member
Step #1: Launch the "FaceTime" app on your iOS device.
Step #2: Start FaceTime with one person as usual.
iOS 15 & Later
Tap on FaceTime Recipents name, and see Add People Option, Search from your Contact and add in your FaceTime Video or Audio call during FaceTime Call or Group call.
iOS 14 & Earlier
Step #3: Now to add more members in FaceTime tap on "Three Dots" next to Red Cross button.
Step #4: At the last, you can see "Add Person" option is available.
Step #5: Type the name of the person or tap on (+) to select and add.
Note: Only Admin person can add members to group FaceTime. If you try to add members in group FaceTime, you will encounter that contacts are greyed out. So don't panic if you see contacts are greyed out or unable to add another person to join your Group FaceTime.

2. How to Flip camera on FaceTime
iOS 15 or later
First, Touch on the screen to see the FaceTime control. Now, See the Flip icon on your iPhone camera Preview that might be a small window or Big Window. See the below picture, Single Tap on Flip icon Switch Between Front and Rear camera.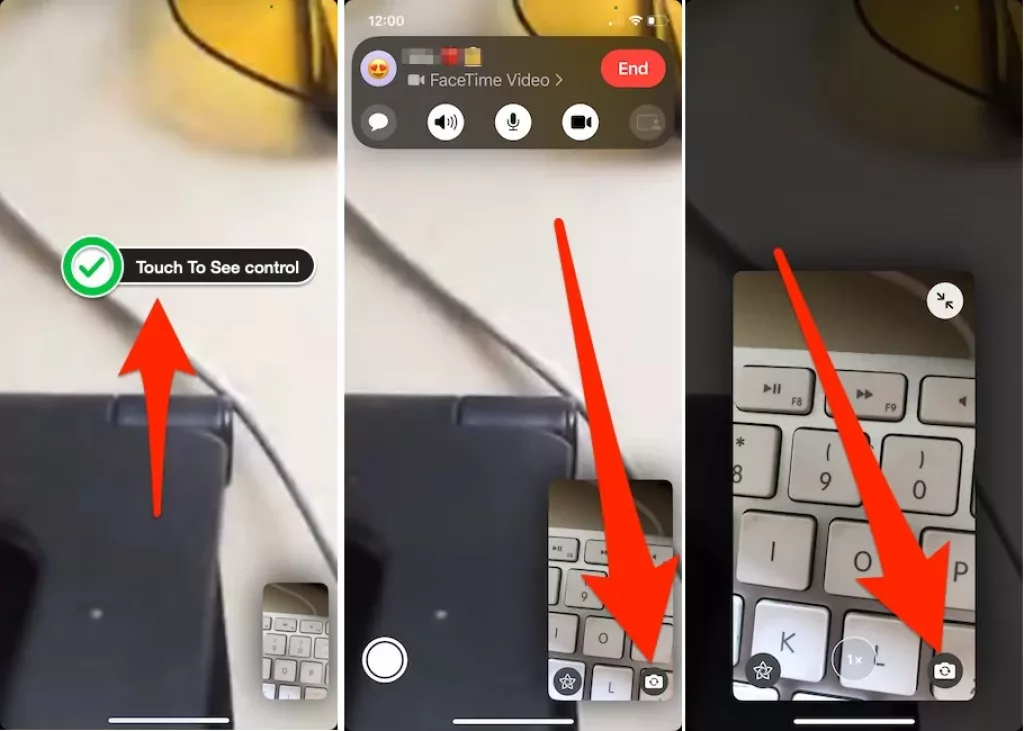 iOS 14 & Earlier
Step #1: Once you begin the FaceTime call, tap on "Three Dots" to bring up more options.
Step #2: Next to Red Cross you will find an option "Flip".
Step #3: Tap on it to the Flip camera on FaceTime in your iPhone and iPad.
Note: If you want to disable camera then below Flip there is one icon available which says camera off, tap to turn off the camera.

3. How to Send Messages during FaceTime
Step #1: On your current screen during FaceTime tap on "Three Dots".
Step #2: Then you have to tap on 5 peoples in conversation.
There are 5 because I had a group FaceTime with five people.

4. How to Mute Microphone on FaceTime
Step #1: When you will successfully join the group or start FaceTime with your friend tap on "Three Dots" and then select "mute" from the options in iPhone. However, if you have an iPad, then the "mute" option is available on the FaceTime screen only.
5. How to use effects on FaceTime
Step #1: Start "FaceTime".
Step #2: Now, tap on the "effects icon" which is near to the Red Cross.
iOS 15 & Later
iOS 14 & Earlier
Explore and get more guidance on how to use Effect on FaceTime.
Step #3: From there you will get so many variants to add effects like Animoji's, Filters, Text Messages, Shapes, and much more third-party applications which are installed on your iPhone and iPad.
Also, Read Voice isolation Mode on FaceTime.
Share this guide with your friends or anyone who's looking to use all FaceTime Features in iOS 12 or after and MacOS Mojave or Later. Subscribe to us or Like my other social page to get more updates: Facebook, Twitter or Google Plus