Last Updated on Jul 17, 2023
Magnify Object in images on Mac, a Challenging task for beginners and None technical people. But this is an impressive way of presenting any picture to the third party Through Mail, Messaging apps, and more… But you can do it without third-party software (Photoshop Alternatives, Or Photoshop). So here is the complete guide on magnifying the image on macOS. Most college or school professionals use picture magnification on Presentation slides, Enlarge body organs in science, Magnify machine parts in technology or Companies that efficiently use the Mac Preview app.
Compatible Device: MacBook, MacBook Air, MacBook Pro, Retina, iMac or Mac Mini.
More operation: Crop picture on Mac Preview.
Steps on How to Magnify The image on Mac, MacBook
Update, Some Users reported Preview app keeps crashing on Mac while using the Magnifying Glass tool. Update macOS to the latest version, On MacOS Monterey & Earlier: Go to Apple Logo from the top Menu > System Preferences > Software Update > Update. On MacOS Ventura: Apple Logo > System Settings > General > Software Update.
Step 1: Open picture in Preview, Right-click on picture > Open With (Preview) Default.
Step 2: From the Preview toolbar: Show Markup Toolbar.
Step 3: Next, From the different picture tools > Go with Shapes.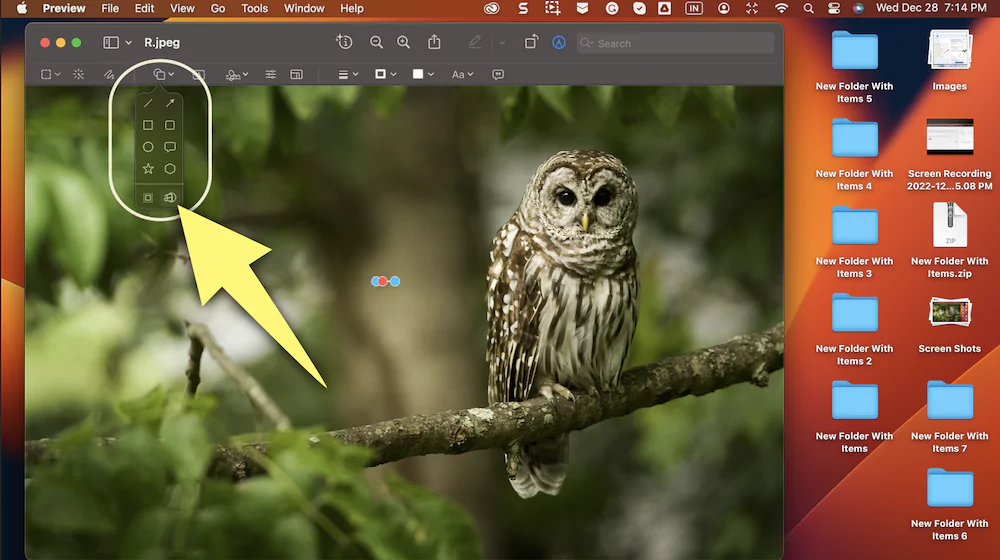 Step 4: On the Picture, you can see a glass movable circle icon, Hover with the correct place where you want magnification (Enlarge Part of the picture).
Now, how to resize the magnification area and Zoom effect,
For more zoom, Choose green dot on circle edge and move on the boundary in a clockwise direction. and for Zoom out move it anti-clockwise direction.
Now Change the size of circle > Choose Blue Dot and move or pull it outside of the circle.
Magnified image save into own format. PNG (High resolution but large file size) and JPEG (Small in size and convenient for Webmaster and sharing on web).
From the top Preview menu, File > Export > Change extension and Resolution.
That's it, The above steps are best and easy for How to magnify the image on Mac, MacBook Pro/ Air.