🗓️
November 22, 2023
By ✍️
Jaysukh patel
Apple Watch paring option only available on the latest iPhone and fresh iOS update. It's hence that you need apple watch app and this inbuilt app comes with new iOS update release on March Keynote, Apple watch apps not available in the app store, so you need to update it. In this paring procedure between Apple watch and your iPhone, Apple giving two alternate options for Pair Apple watch with iPhone without any hassle and any technical knowledge.
Apple watch to iPhone paring procedure same for all Apple watch faces (38 faces) from Aluminum to Apple watch gold model.
An alternate way for Pair Apple Watch with iPhone remotely and manually
Method 1: Using iSight Camera: Setup or Pair Apple Watch with iPhone
iSight camera pairing is the safest way to pair and access your iPhone data on Apple watch, Here are the necessary steps that you have to follow,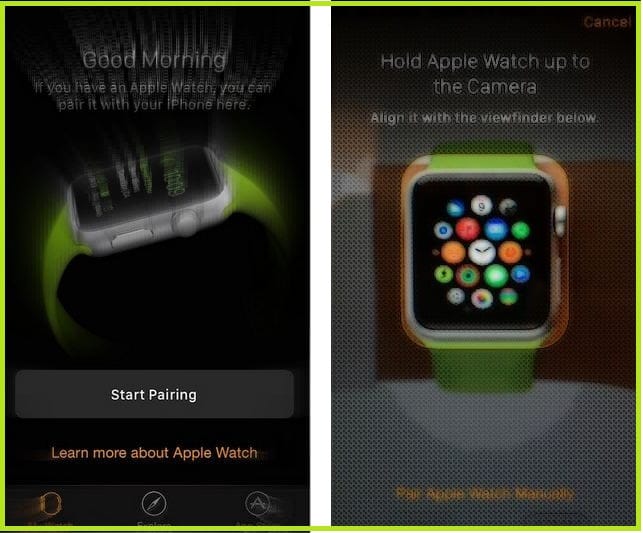 Step 1: Go to the apple watch apps from iPhone apps screen, (icon Looks like Watch side view with the black background color)
Step 2: Launch app, and Tap on start pairing button on iPhone screen
Step 3: Now next screen use your iPhone iSight camera, and Object will display insight square round corner with yellow border looks like in the below image.
Step 4: So place your Apple Watch front of an iSight camera, When Scan completed, next follow the on-screen instruction.
Method 2: Submit your Apple Watch Detail Manually on iPhone Using Passcode
Manually Pair Apple Watch: If you didn't get apple watch passcode for Pair with iPhone. Just Reset your iPhone's Network Settings and Try Again.
Open Settings app on iPhone.
Tap on General.
Tap on Reset.
Next to Reset, Choose Reset Network Settings. That's it.
Manually Apple Watch pairing process quite difficult for new folks Because in this case screen will display all the apple watch details with the name. Don't worry I think it should be easy for you.
Step 1: Open the Apple Watch App on your iPhone.
Step 2: you can see the welcome screen so Tap on Start pairing, For manually pairing Tap on "Pair Apple Watch Manually."
Step 3: All apple watch device automatically scanned and will be displayed as a list.
Step 4: For the further process, Tap on "i" icon in front of your apple watch name
Step 5: Submit onscreen instruction correctly and complete setup.
Watch Video: Apple Watch Won't Pair With iPhone [Fixed]- Pair Manually Using PIN or Passcode
Now you can enjoy all the best-known features for Apple watch on your hand any time by Pair Apple watch with iPhone (Supported Model only). Here's what we can do without paring Apple Watch to iPhone.
Most popular are Apple pay in Apple watch, Workout apps in Apple watch and more upcoming third part apps and tracking system will make your life easier, What you say about Apple Watch kindly reply us on the comment box.