Last Updated on Nov 10, 2020
Reset apple watch not to difficult for any owners but for your new apple watch pair with iPhone more compare to. Most of the case apple watch owner going for reset watch due to many reasons likes: give to other (Friends and Family member) for use, for sell, facing error and more. Here recommend necessary steps for Reset apple watch Sports, Edition 38mm and 42mm.
Useful: Make apple watch apps for Apple Watch: iPhone apps to watch apps.
Steps for Reset apple watch and setup with new iPhone
Reset apple watch
Step 1: Go the the Apple watch app home
Step 2: Next, Tap on General > Setting option.
Step 3: Then, Tap on reset option. and choose Erase all content and Settings
After complete the above steps your watch automatically reboot (restart) one time. Now you can do set up on other iPhone that's should be running on minimum iOS version 8.3.
Setup/ pair apple watch on New iPhone (iPhone 6 and iPhone 6 plus)
Note: Not only iPhone 6 and 6 plus but you can setup with all model that should be running on iOS 8.2 minimum (At the time of release apple watch and now iOS 8.3).
Step 1: Go to the apple watch app from iPhone app screen (Looks like watch icon). 
Step 2: wear apple watch on your wrist and start setup "My Watch". Press and Hold watch side button until see apple logo on apple watch screen.
fix apple watch in front of the iPhone camera. and adjust watch screen in scan window.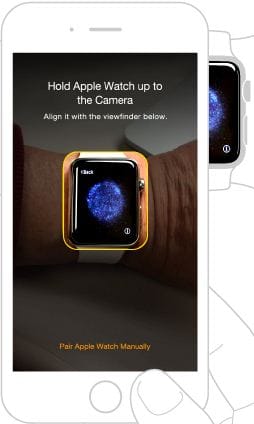 Step 3: follow the on screen instruction for set Time, Language, Orientation and Passcode.
Note: Before start apple watch pair/ setup you must charge enough battery power (Apple watch External Battery charger).
reset apple watch and pair on another iPhone more easy through the above steps. have any trouble like not restarting and trying force restart apple watch then share with us on comment.