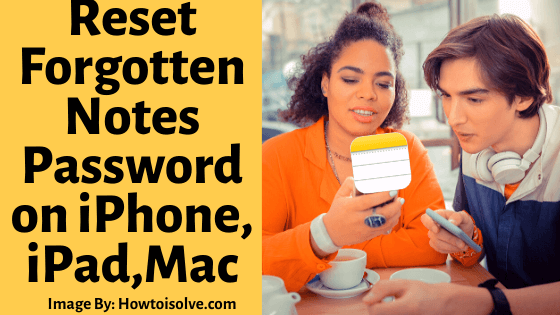 Last Updated on Nov 10, 2020
welcome guys, in this article I explain on, how do you unlock a note if you forgot the password. Not any noticeable changes or updates for iOS notes app, This time apple not added any changes for Password Security, Designs and Settings. So you can use the same for this note app like in the previous iOS. Have a look at how we can set a password in the iOS Notes app, Reset or Change existing password with a new one, Remove Password from Note saved in a notes app. Also what we can do, If you forgot old password-protected notes. Still, Reset note password in iPhone/ iPad very interesting to use.
Are you think about the set password on note app in your iPhone/ iPad, So it's a good option but you can set it on your responsibility and User Skill (Mark with Easy to understand Hint text or Enable Touch ID for open not in place of password)
---
Can I Reset Forgotten Notes Password that is Old?
No, We can't reset old Notes password, I recommend trying your password with maximum attempt. After three failed attempts you will see a hint that is useful to unlock the old notes. we can reset the Notes password for use on the new Notes only. we can not unlock Old forgotten notes with a reset password option.
---
Re-Requisition for Reset Old Note Password & Reset Notes Password
we are happy to help you, submit this Form, if your solution is not covered in this article.
Old Notes We can not Reset without the Original old password. We must required old password for unlocking old password Protected notes.
We can Reset Old Password and Use It for New Notes only.
Important! we strongly recommended that you add a hint when you create your password. Notes show the hint after three failed attempts.
We can do unlimited attempt to unlock the old not that is forgotten on any device. locked not will not disabled anytime.
Free Trick on How to Reset old Notes Password on iPhone, iPad: That's Forgotten
Once you set a password for any note, you can't reset or remove it from Apple's help. This password is only Save on your device for security reasons. That's we can't recover using forgot option. So let's follow the step by step way to reset your locked note password if you can't remember the password for locked Notes.
1: Go to the Settings app on Your iPhone/ iPad home screen.
2: Scroll Down screen, Tap Notes.
3: Next, Tap on Password.
→ there are two options: iCloud and On My iPhone – if you forgot iCloud Notes password then go with iCloud, otherwise tap On my iPhone.
→Here, For reset Tap on "Reset Password".
→ Your phone asks Enter iPhone passcode for "Settings" [Hit: this password is your Phone unlocked screen passcode]
Are you sure you want to reset your password? This will change the password you use for Notes in your "On My iPhone" account from now on.
Tap Reset Password.
→Enter the Apple ID password for making changes. Follow the on-screen instruction,
→Enter New password, Verify password and Import the Hint field. Or Enable Touch ID if you agree
Update or Change Password in Notes App on the iOS device
Change Password on notes app option under setting helpful to update the old password. A new password is only applicable to new notes. That will not reflect on existing notes saved with old Password. But you can apply a new password after the open the first time, Popup will ask for an apply new password on the note. luckily this way is same answer of How do I remove the password from iPhone notes?
Now, Enable password on note, Open note in notes app > Tap on the Share icon at top right > Lock Note from Sharing popup
Have you any questions on how do I recover notes that have a Password? Comment me on the comment section.
Apple iPhone Notes Password Reset Not Working
Note: If you use multiple accounts on Notes App, click the account that has the password you want to change before you change the password.
in case your iPhone notes password won't reset, then try on Apple Mac. With the Macbook Pro, MacBook Air, iMac, and Mac Mini you can also reset Notes Password.
Premium Support is Free Now
We are happy to help you! Follow the next Step if Your Solution is not in this article, Submit this form without Sign Up, We will revert back to you via Personal Mail. In Form, Please Use the Description field to Mention our reference Webpage URL which you visited and Describe your problem in detail if possible. We covered your iPhone 12, iPhone 12 Pro, iPhone 12 Mini, iPhone 12 Pro Max, iPhone 11 Pro, iPhone 11 Pro Max, iPhone 11, iPhone 8(Plus), iPhone 7(Plus), iPhone 6S(Plus), iPhone 6(Plus), iPhone SE, SE 2(2020), iPhone 5S, iPhone 5, iPad All Generation, iPad Pro All Models, MacOS Catalina or Earlier MacOS for iMac, Mac Mini, MacBook Pro, WatchOS 6 & Earlier on Apple Watch 6/5/4/3/2/1, Apple TV. You can also mention iOS/iPadOS/MacOS. To be Continued...
How to Unlock Notes forgot password on Mac
We can reset Old Password for use lock on new Notes only. We can't use password after reset on old notes. that means we need old passwords for unlocking old notes. Follow the below steps for Change Password for lock note in the Notes app on MacBook Mac. and Use New password on new notes.
#1: Launch Notes App on your Mac.
#2: Once, Notes app is open on your Mac, Follow the below steps,
#3: Now In the menu bar, click Notes > Preferences.
#3: Under the Preferences video, Click on the Reset Password button.
#4: Click on OK.
#6: Click Reset Password.
#7: Now Enter your new password and follow the password hint. (Password Hint will not show easily After Three failed attempt Password hint will show), I Strongly Recommend entering a password hint incorrect way.
#8: That's it.
That's it.