Set panoramic Photo as wallpaper in iPhone gives awesome look of your iPhone, more over beautiful picture with wide area look awesome, but you can't set it in your iOS device home screen as live wallpaper. Here I give steps to set your panoramic Photo as wallpaper in your iOS device, that might be iOS 7, iOS 7.1.1 or iOS 7.1.2. You are capturing Panoramic photos through iOS apps, Might be this inbuilt functionality include in iPhone 6 that will come with iOS 8(Coming in fall).
Useful: Steps to jailbreak iOS 7.1.2 using pangu [How to]
Before iOS 7 OS Apple cant gives option to set panoramic photo as a live wallpaper. But now it possible till iOS 7 updates. But in iOS 8 added this awesome feature, you can check you for your iOS device will compatible in nominated devices for iOS 8 or Not!
How to Set panoramic Photo as wallpaper in iPhone, iPad and iPod Touch
To set panoramic snap as wallpaper in iPhone, iPad you have to capture panoramic photo copy in your iOS device. You have panoramic photos in your iPhone or iPad than you can set it directly as live wallpaper.
Step 1:
Move on option from Setting > Brightness and Wallpaper > Select Choose wallpaper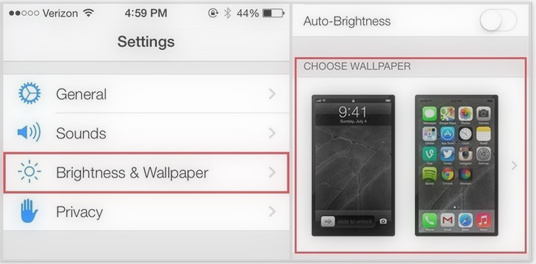 Step 2:
Now, you have to select panoramic folder under the image option,
Note: if you are choosing wallpaper from Camera roll option to test image on your screen, than it can't work for you. Panoramic image under this folder (Camera role) also not working for to set as a live wallpaper.
Step 3:
After selecting image as a guide given in step 2,
After that you can see the preview of your panoramic photos. If you want to set it finally,
Tap set button otherwise Tap cancel button.
Useful: How to short and manage iPhone notification in Notification bar.
Now you are done, Set panoramic image as a live wallpaper in your iPhone, iPad home screen. You can enjoy beautiful photos as a all screen, because background picture move with swap mobile screen automatically.
You have any trouble in Set panoramic Photo as wallpaper in iPhone comment in below with your speech. We will glad to assist you.
images: [Source]
You want to get more awesome tips and tricks in your mail box, subscribe our daily updates mail in inbox. Or like our Facebook, Google plus community pages.