Typically, after getting a new iPhone in your hand this tip would be your first priority. So we hope now you've a new iPhone model with intelligent pack of iOS 9. And want set Passcode on iPhone 6S or 6S Plus model. Might you would be familiar almost about iOS 9. Even though, So far you were setups 4-Digit Security Passcode to unlock home screen of iOS device.
But from now in iOS 9, you've an option to boost your iPhone Screen unlocking method. Ultimately you can be setup six Digit Passcode on your iPhone 6S or iPhone 6S Plus models and compatible iOS 9 device. In Addition, you can also read here setup Touch ID on iPhone 6S, 6S Plus. follow outlined steps to Set Passcode on iPhone 6S and iPhone 6S.
Buy Now: iPhone 6S for your loved once.
Complete footprints to set Passcode on iPhone 6S and iPhone 6S Plus
Step 1. Go to Settings on your iPhone
Step 2. Tap on Touch ID & Passcode
Step 3. Scroll the Screen and Tap on turn Passcode on
Step 4. Now you can appear a Screen there enter six digits Passcode and verify your Passcode again.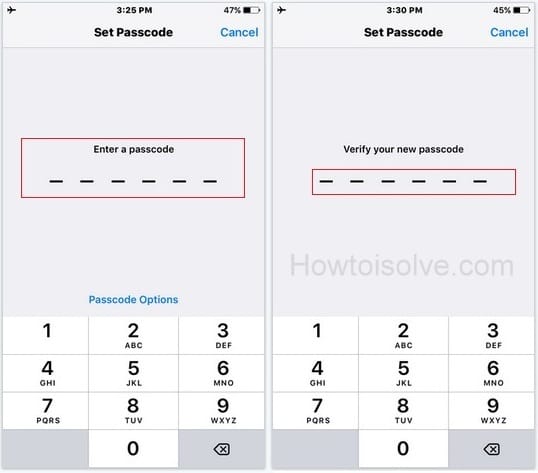 That's it.
You can be also setup 4-Digit Passcode instead of 6-digits. To set 4-digit Passcode follow above instructions unstill Step 4 and tap on Passcode options, now select 4-Digit numeric code and enter it.
There are more two options to set Passcode in iOS 9 devices, and that's Custom numeric code and Custom alphanumeric code.
Custom numeric code: Using this option you can be turn on more than six numeric numbers password.
Custom alphanumeric code: you can be enable alphabet, Symbol and numeric digits blended Passcode.
Indubitably, these both type of Passcode will be give maximum security to your iPhone 6S, iPhone 6S Plus and all running iOS 9 devices.
Don't Miss: – Best iPhone 6S and iPhone 6S plus car mount – safe stand
How to Change Passcode on iPhone 6S, 6S plus: iOS 9
Go to Settings > Touch ID & Passcode > enter your old Passcode > Tap on Change Passcode> now Enter new Passcode.
Please share your entire procedure experience with us, and tell us how seems this page on to set Passcode on iPhone 6S and iPhone 6S Plus. In Addition, write a comment on which option to set Passcode you would like most?