Setup Family Sharing in iOS and macOS, and get started to share your purchased music, TV programs, books, films, and purchased apps. Also, you can do share family membership Apple Music, photos and videos in a family photos stream, schedule events on the family sharing, track missing device and more. But this to getting all things under a roof you've to need set up family sharing on your iPhone, iPad, and Mac first.
Albeit, everything about to set up family sharing in iOS and OS X you can get at below. A to Z procedure of setup is same as we are done in iOS. But hope this tip will become more useful for iOS beginners and new iPhone owners.
Steps on how do I set up Family Sharing on my iPhone and Apple iPad
For iOS 11 or new: Go to the Settings app on iPhone > Tap on Profile name.
See option for "Set up Family Sharing…".
For iOS 10, iOS 9 or Earlier…
Step 1. Go to the Settings app
Step 2. Scroll down the Screen Tap on iCloud then
Step 3. Tap on Set up Family Sharing…
Step 4. Now hit Get Started then tap on continue
Step 5. Tap on Continue on Share Purchases screen
Step 6. Hit continue on Payment method Screen
Step 7. Now choose an option out of tow 1. Share your location or 2. Not now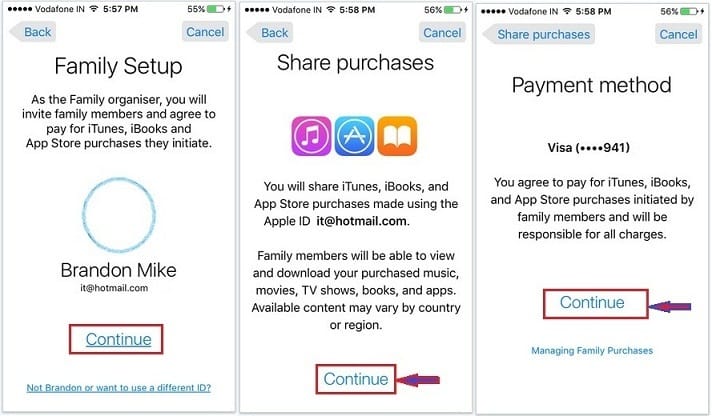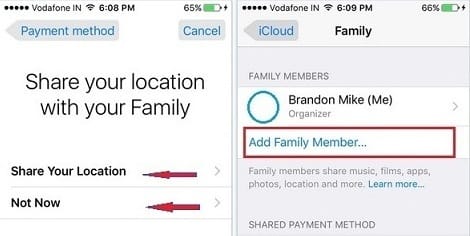 You're done.
Please Note: Family sharing feature makes it easy for up to six people in your life.
Now as a family sharing organizer you can add a family member. You can add member either enter a family member's name or email address. Moreover, If you want to add a child as a member but who don't have an account? Then read this Post.
How to set up family sharing on Mac
New Way to Set up Family Sharing on macOS Catalina (macOS 10.15) –
Go to the Apple Logo on top menubar > Click System preferences… > Choose Family Sharing close to the Apple ID settings to appear top-right sidebar.
macOS Mojave & Earlier follow the bottom Steps:
Click on Apple logo > System preferences… > Click on iCloud (first sign-in if you're already then ignored) > Now Set up Family…
Click on the Details button to get knowledge > then click on continue
It'll ask you; do you want to be the organizer for this Family? If yeas then click on Continue > if want to use the same account then go continue > now click on confirm button
That's it.
Now you can be Add Family member from your MacBook Air, MacBook Pro or iMac. You also but the condition is a must required the same Apple ID.
Let's now give your answer on how felt after setup family Sharing in iOS and macOS.