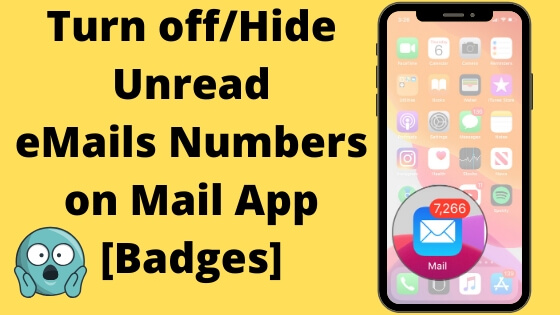 Last Updated on Feb 6, 2020
Emails flood in mail inbox is tolerable for business and professional persons. here is a complete guide on how to hide or remove number badge on the mail app icon. Awesome Apple's mail app is very useful for your all mail account. So you can add more than one Email account on the Mail app and receive emails from all accounts within a single mail app. Like iCloud, Gmail, Yahoo, and Private hosted account. here In my iPhone, thousands of total mail unread from Gmail, iCloud and Howtoisolve account. Follow the below steps for hiding unread mail count badge for all or selected accounts.
we are happy to help you, submit this Form, if your solution is not covered in this article.
Note: if you added more that one mail account then you can manage it, like from which account you want show unread mail number as badge icon.
How Do I Get Rid of the Mail Badge on My iPhone, iPad?
Follow the bottom steps to Hide the Unread eMail Number on Mail Icons for iPhone & iPad for running the latest iOS and iPadOS Apple devices.
Step #1. Open the Settings App
Step #2. scroll down the screen Tap Notifications
Step #3. Navigate Mail to tap on it.
Step #4. on the mail Notification setting screen, you can see Allow Notification with turned ON/green the toggle.
→ The same page you can see Apple iCloud and (other email accounts (for example, Google Gmail, Microsoft Exchange Account, Yahoo, AOL, outlook.com, and other (custom Emails), VIP account, etc) if you have added)
Now, for example, here explain you turn off iCloud mail unread email number on iPhone mail App icon.
That's it!
I hope that you get here the answer to the How do I get rid of the red number on my settings app icon? if after iCloud mail badge turned off, even red number count shows on a mail App icon that means there are other email accounts you have added, so please check out and turn off badge for all email account separately. This is the solution of red number count that won't go away on mail app iOS and iPadOS.

---
Below steps are applicable for iOS 11 and Earlier iDevice turn off mail badge on iPhone, iPad
Step 1: Go to the Setting app on iPhone, iPad.
Step 2: Next, Slide below and Tap on Mail, Contacts, and Calendars.
Step 3: Now, you see all connect mail account in a single list.
if you want only for a selected account that's have more and unwanted unread mail.
For Gmail, Yahoo, AOL, Outlook, Microsoft, Other hosted mail account
Tap on it, here for Gmail,
Disable Mail toggle.
For iCloud mail
Tap on iCloud, Below the storage section, You will see the Mail option.
Disable toggle. 
By disabled above settings, you will get new mail in your mailbox as it is. but you can't see unread mail count on your iPhone's home screen (Mail App icon, See in below image).
Premium Support is Free Now
We are happy to help you! Follow the next Step if Your Solution is not in this article, Submit this form without Sign Up, We will revert back to you via Personal Mail. In Form, Please Use the Description field to Mention our reference Webpage URL which you visited and Describe your problem in detail if possible. We covered your iPhone 12, iPhone 12 Pro, iPhone 12 Mini, iPhone 12 Pro Max, iPhone 11 Pro, iPhone 11 Pro Max, iPhone 11, iPhone 8(Plus), iPhone 7(Plus), iPhone 6S(Plus), iPhone 6(Plus), iPhone SE, SE 2(2020), iPhone 5S, iPhone 5, iPad All Generation, iPad Pro All Models, MacOS Catalina or Earlier MacOS for iMac, Mac Mini, MacBook Pro, WatchOS 6 & Earlier on Apple Watch 6/5/4/3/2/1, Apple TV. You can also mention iOS/iPadOS/MacOS. To be Continued...
want more help about hiding unread mail count or number/ remove unread mail account on the app icon or pending mail count? Share with us on the comment box or like on Facebook, Twitter.