🗓️
November 22, 2023
By ✍️
Jaysukh patel
Helpful article lets you understand how to start or turn on the Instagram notification on iPhone, iPad, and iPod Touch. Typically, the Instagram iOS app through which you can shoot and share the world's great moments. This sleek social media app has many features like uploading pictures, following people, places, and sharing your moments on insta, from Instagram to Facebook, Twitter, Tumbler, and Flicker. Moreover, you can do Email and copy links, download Videos from Instagram also. Luckily, another security layer by Instagram two-factor Authentication. But sometimes, terrible minor glitches can be making frustrate its users.
For example, many Instagram iOS app users encountered that they haven't gotten notification alerts on their iPhones. Neither with an unlocked iPhone screen nor with a lock screen iPhone. Even if you're one of them, here's a primary way to fix that.
Follow these steps to turn on Instagram Notification on iPhone, iPad, iPod Touch
You guys read carefully to turn on the Instagram notification on iPhone, iPad. Then, get subsequent arriving insta messages to update in the notifications bar.
Watch the video to Enable Instagram Notifications on your iPhone
Steps for Turn on Instagram Notifications Using Settings App on iPhone Mobile
Step #1. Launch the Settings app.
Step #2. Tapping Notifications.
Step #3. Now scroll down the screen to tap on Instagram.[Fix Can't Find Instagram in notifications settings]
Step #4. Turn the toggle green next to Allow Notifications.
Now on the same screen, you can adjust Instagram notification alert Style, likely See Preview in Lock screen, Notification Center, banners, etc.
Never miss the latest Instagram Features- Use Geostickers on Instagram, Share Multiple Photos- Videos on Instagram.
If you don't want to get Instagram notifications on a locked-screen iPhone, you must do the Show on Lock Screen option disabled.
How To See Old Notifications On Instagram
Follow the steps below to learn How to view Instagram notifications on iPhone, it is because of sometimes Instagram notifications that disappeared on iPhone.
Step #1. Launch Instagram App.
Step #2. Tapping on the Home icon.
Step #3. Click on the Love symbol.
Step #4. Wow, here you can see your old Notifications on the Instagram app. Scroll the screen to Week wise, month-wise, and earlier notifications.
Steps to Turn on Instagram Push Notifications on iPhone Using Instagram App
Follow the following steps carefully to get push notifications for the Instagram App. You can also see pictures for a better understanding,
Step #1. Open up the latest Instagram app on your iPhone, iPad.
Step #2. Now Tap on the Profile icon located lower-right sidebar,
Step #3. Tap on the More option (three horizontal lines) top-right side (right side of your insta username)
Step #4. Now Tap Settings & Privacy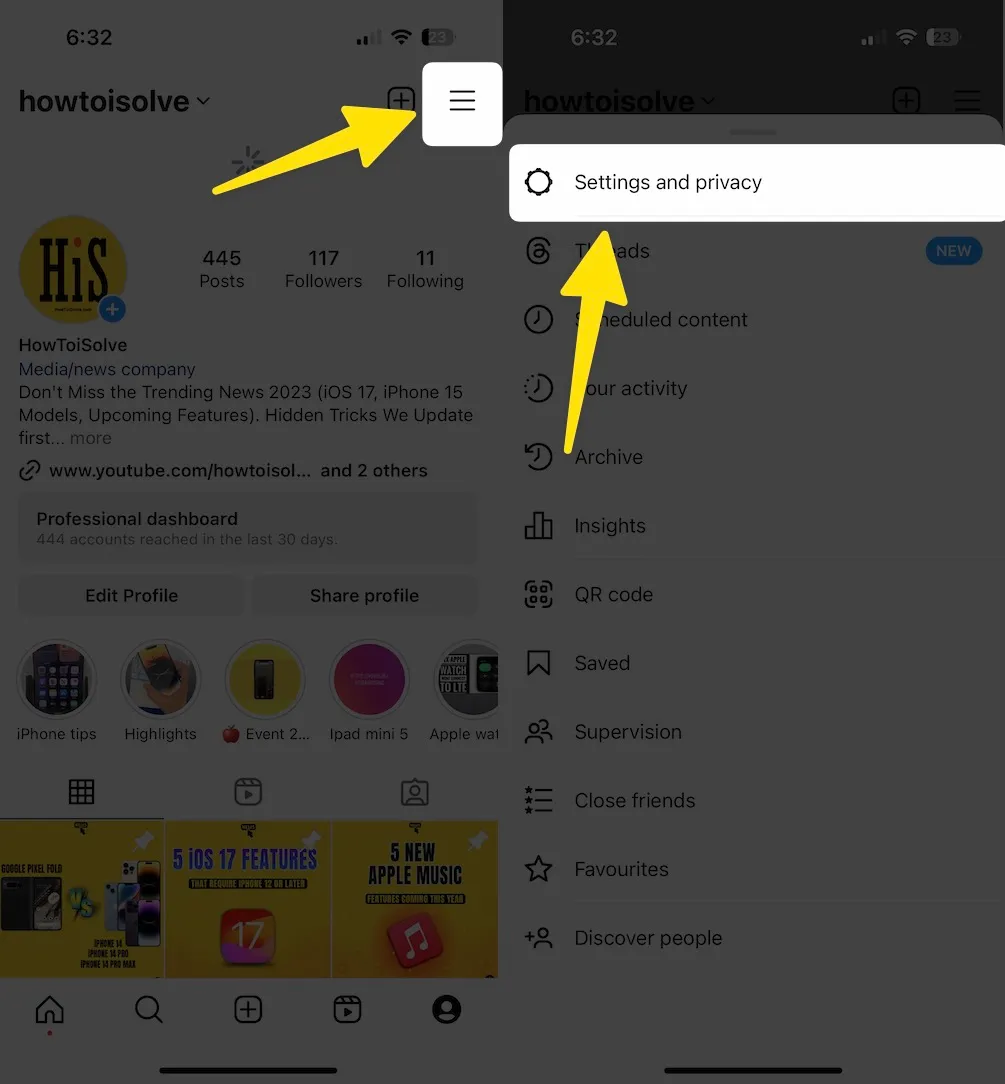 Step #4. Now Tap Notifications.
Step #5. Please make sure Pasue All toggle Off/white. For instance, please check my given illustration below.
In more, there are several settings. You can set Instagram notifications for Likes, Comments, Follower Requests, Accepted Follow requests, Friends on Instagram, Instagram direct requests, Instagram direct Activity, Photos of You, Reminders and First photo.
Bottom All settings have three options Off, From People I Follow, and From Everyone. Please make sure you have selected an accurate setting for specific Instagram notifications.
Instagram notifications for Posts, Stories, and comments
Likes, Likes, and comments on Photos, Photos of you, Comments, Comment Likes, First Posts, and Stories.
How to Access Instagram notifications settings for Following and Followers
New Followers, Accepted Follow Requests, Friends on Instagram, Mentions in Bio, Recommendations for Others, Recommendations from Others
how to turn on Dm or Direct Messages notifications on Instagram
Off, From Everyone, and From People I Follow, these Push Notifications options are customizable, so you can pick and keep as you wish.
Message Requests, Messages, Group Requests, Video Chats
How to access calls notifications in Instagram App
on the calls notifications settings, there are options to turn off and turn on video chats notifications, from everyone, from profiles I follow, and you can turn it off for all users, whether you follow or not. Please check the below screenshot. In my case, video chat notifications on Instagram are enabled for everyone.
How to Access birthday notifications on Instagram
Do you like birthday notifications in the Instagram app? If you or not, the bottom screen explains how to turn on or off birthday notifications. You only get notified when users who choose to tell others about their born date on Instagram. If you use the ON option, you will be alert for other users' birthdays.
Share your expressions as a comment in this way, on how to turn on the Instagram notification on iPhone, or iPad.
We are glad to publish this post for you. You also find us on Facebook and follow us on Twitter.