The Apple has rolled out the bug fixed version of iOS 9 called ''iOS 9.2''. This seeded released as the public version on December 8, 2015. If we're talking about the new edition software iOS 9.2, many features have been revamped and some features newly added. Such as Apple Music improvement, import photos/videos from camera card, Mail Drop in mail for sending large attachments (up to 5GB), Siri supports two more languages (Saudi Arabia, United Arab Emirates). Moreover, many more features have been included.
So what you want to take more leverage of your Apple iOS 9 device without any error, then you've to needed upgrade your running iOS 9.1 or earlier iOS device. If you've no idea, let we're helping you to upgrade iOS 9.1 to iOS 9.2 on iPhone, iPad with stepwise + pictures. You check here iOS 9.2 compatibles devices.
Note: Please upgrade only under good signal Wi-Fi connectivity.
Instructions to upgrade iOS 9.1 to iOS 9.2 on iPhone, iPad, iPod touch
Step 1. Launch Settings app (looks like gear icon) on your iPhone, iPad or iPod Touch
Step 2. Navigate General
Hint: you can also use search box to get Software Update option
Step 3. Tap on Software Update
Step 4. Wait until your iOS device checking for Update
Follow: if you see a message Unable to Check for Update iOS on iPhone, iPad, iPod Touch
Step 5. Press on Download and install
Step 6. You'll be asking you enter your iOS device Passcode
Step 7. You can see a Terms and Conations screen read it then tap on Agree (bottom-right side on the screen)
Step 8. Make confirm terms and conditions and tap again on Agree
Step 9. Wait until Download firmware iOS 9.2 (it will take time depends on your Wi-Fi internet speed and on iDevice storage space)
Step 10. Tap on Download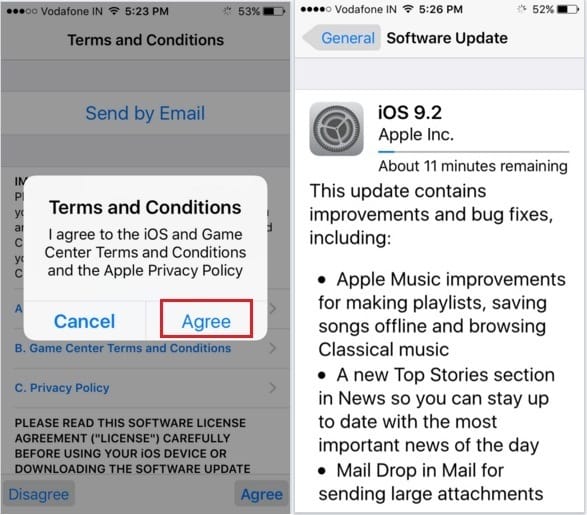 That's it.
After upgrade iOS 9.1 to iOS 9.2 on iPhone your iPhone, iPad Air, iPad mini or iPod touch will restart. After that first time, Touch ID requires your Passcode when iPhone restart. So enter that and Check out your software is up to date. If yes then get enjoy.
Settings→ General → Software Update
Please share your feedback on how seems method to upgrade iOS 9.1 to iOS 9.2 on iPhone, iPad and iPod Touch.