Last Updated on Mar 24, 2018
Facebook enlist common rules users on upload Video or Photo from iPhone/ iPad. Here I discussed the all thinks what's that and how we can use or change it. Also important for those who experienced low video quality on HD screen or Streaming to other platform from iOS device, Due to bandwidth Optimization and Low Data usages on upload Video or Photo in your Facebook account, By Default HD video and Photo disable, That user can enable in alternate ways. Also mind the Upload HD video on Facebook settings is device specific, Not applicable at all (Other Device or Web).
we are happy to help you, submit this Form, if your solution is not covered in this article.
Keep enable both setting on your iPhone/ iPad, before you start uploading high quality media captured or recorded on HD camera.
Also check your camera settings, set it on high camera resolution. Save it and Upload HD video on Facebook. Otherwise Stream live recording or Upload video using Facebook Camera.
Steps for Enable Upload HD Video on Facebook iOS app: HD Photos also
All Settings should be enabled on your iOS device, alternatively you can use it but I recommended enable at both options.
1: Go to the Settings app on iPhone/ iPad.
2: Scroll Screen, Find Social app section in list.
3: Tap on Facebook,
4: See my iPhone screen, Facebook app installed so it's showing Installed.
5: Next Tap on Settings > Scroll Down and Enable Upload HD toggle under Video section.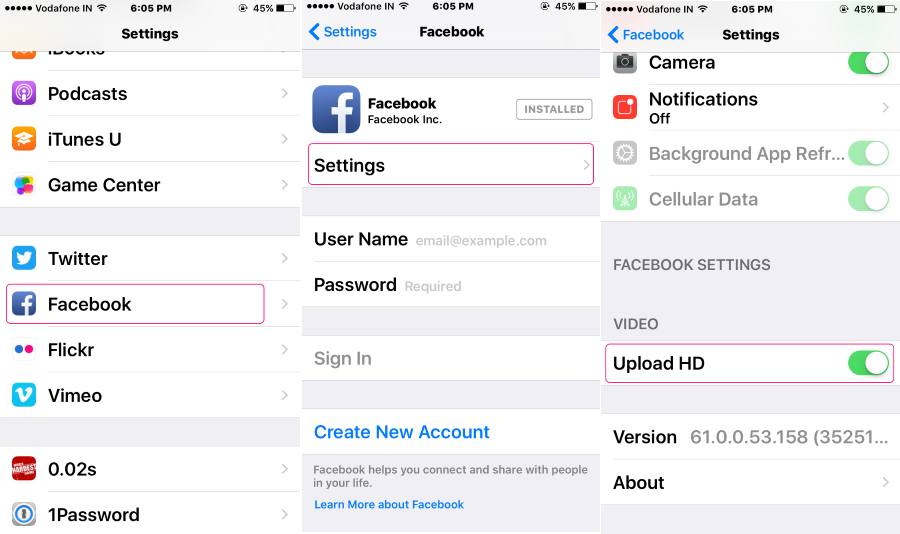 That's it. Also you should go for another app settings display in below.
Enable Upload HD Photos and Video from Facebook app
1: Launch Facebook App on iPhone/ iPad.
2: From beneath tabs strip tap on more setting icon.
3: Next, Tap on Settings > Account Settings from Popup.
4: Then, Tap on Videos and Photos.
Enable Upload HD Toggle under both Video and Photos section.
More Very useful Facebook app settings there, Stop auto play FB video. Go for that and Change that you want.
Premium Support is Free Now
We are happy to help you! Follow the next Step if Your Solution is not in this article, Submit this form without Sign Up, We will revert back to you via Personal Mail. In Form, Please Use the Description field to Mention our reference Webpage URL which you visited and Describe your problem in detail if possible. We covered your iPhone 11 Pro, iPhone 11 Pro Max, iPhone 11, iPhone 8(Plus), iPhone 7(Plus), iPhone 6S(Plus), iPhone 6(Plus), iPhone SE, SE 2(2020), iPhone 5S, iPhone 5, iPad All Generation, iPad Pro All Models, MacOS Catalina or Earlier MacOS for iMac, Mac Mini, MacBook Pro, WatchOS 6 & Earlier on Apple Watch 5/4/3/2/1, Apple TV. You can also mention iOS/iPadOS/MacOS. To be Continued...
List of all supported Facebook Video Format is here.
After enabled HD Video or Photo you will feel experience, by taking more time to upload it on your account. To make faster upload process, Repeat above steps and Disable Upload HD video on Facebook and HD Photo as well.