Last Updated on Dec 1, 2020Get rid of Error iMessage "Waiting for Activation" on iPhone X, iPhone 8, 8 Plus. Some text message, Apple pay case and iMessage app store required and showing error iMessage must be enabled. So now what to do, here I explained how to activate iMessage and Fix the most common issues on turn on/ enable iMessage on iPhone X, iPhone 8 and iPhone 8 Plus. Not more different from usual away that we used to old iOS devices.
In last tutorial I explained how we could use Message app on iPhone 8, iPhone 8 Plus and iPhone X. (Send new iMessage, Delete or Forward iMessage, Create a Group and user iMessage app store, Apple Pay cash, App Drawer and Stop or turn Send iMessage as a Text)
Some Important Fixes, How to overcome?
iMessage error already in use
iMessage error occurred during activation
Asking to re-activating iMessage after SIM came out or after upgrade iOS or iPhone/ iPad.
iMessage not delivered error blocked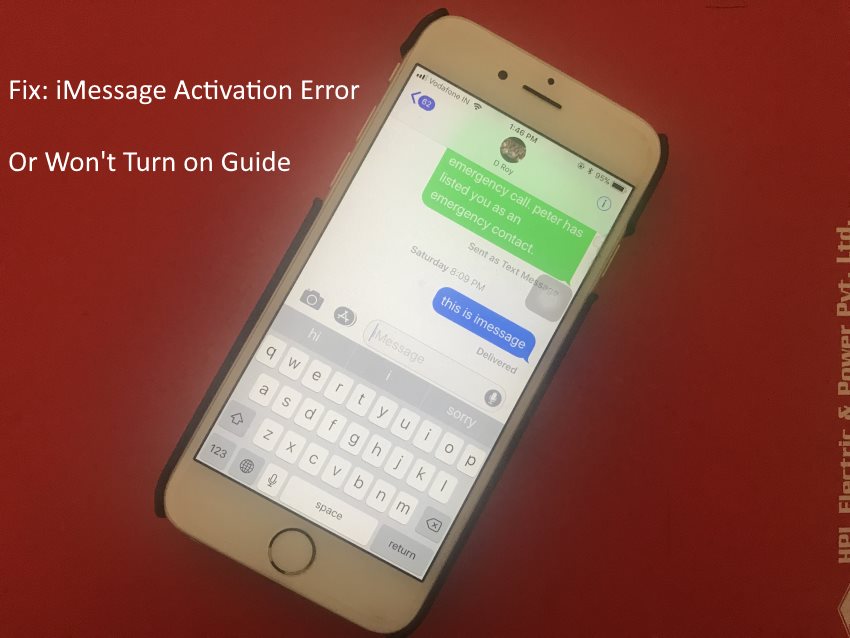 Troubleshooting steps for iMessage Waiting for Activation on iPhone X, iPhone 8, 8 Plus
iMessage Won't turn on or "iMessage Waiting for Activation" error iPhone 8, 8 Plus or iPhone X
Disable and Enable iMessage
If iMessage enabled already, might be stuck so disabled or Enable iMessage from your Device settings.
Go to the Settings > Messages > Enable iMessage toggle.
Beginners are always asking, How to know Message app use iMessage service: on Conversation screen if send button showing color in Blue that means your Message will send on iMessage, and Green will send on the Text message (That will charge from your carrier).
Update your iOS device to latest Version
Go to the Settings > General > Software Update > Check for Update.
Reset Carrier Settings
Wrong internet settings and Carrier Details Won't turn on iMessage on apple server. Please reset network settings only.
Go to the Settings > General > Reset > Reset Network Settings.
Re-Enter WiFi password if required or try to activate again.
Restart or Reboot before Activate iMessage
Restart iPhone 8/8 Plus: Press Sleep/Wake until you see the slide to power off icon on the screen.
Restart iPhone X: Press and hold side button, until you see the slide to power off.
To Force Restart:
Press and Hold Below buttons until you see apple logo on Screen,
iPhone 8 Plus/8 Plus:
1: Press and Quickly Release Volume Up button,
2: Press and Quickly Release Volume Down Button,
3: Press and Hold Side Button until you see the Apple logo on Screen.
To Start iPhone, Again press Side button until startup apple logo on the screen.
Useful: Restart/Force Restart iPhone 8, 8 Plus and iPhone X.
Sometimes Apple Service down casing this issue
Check Apple server status in your region, Check System Status
iMessage not Delivered, Reset it or Check above steps for enable
Quickly send iMessage as a Text or Reset instantly
Sign Out iMessage and Sign in
Check for iMessage enabled
Know apple server status
…….Get Detailed guide on iMessage Nor Delivered on iPhone.
Unblock contact by sending or knowing blocked contact unintentionally. Go to the Settings > Messages > Scroll down and find Blocked option > Slide to the left and See Delete option. Quick ways to block iMessage, FaceTime and Call.
Re-Activate iMessage popup on Screen after SIM Change
For the Verification purpose, the device will ask for activate iMessage after remove or insert new SIM on iPhone. Sometimes, user forgot to activate iMessage on a new carrier. So it's reminder popup, Noting else.
Turn on WiFi or Cellular
There might be issues with network connectivity, you connected on WiFi router, but internet stopped. Disable WiFi and Test on Cellular data (Carrier Will charger your Cellular data usage).
General Q & A,
Does activating iMessage cost money: No it's free all Time by apple, But your carrier will charge for send text message to apple with your all device details. You have free SMS that It's free or Charge for a single message in your account.
Other expenses, using Cellular data on Activate iMessage – Cellular data charge will apply.
Above all are troubleshooting steps and fixes for iMessage won't turn on or iMessage "Waiting for Activation" on iPhone X, iPhone 8, 8 Plus.