Last Updated on Nov 12, 2020
Hey, Dear, friends hear I'm going to give you tips on How to install iOS 13, Apple releases new iOS 13 beta every time before going to release public iOS 13. Get new and updated features on Beta iOS 13 before the trial in iOS 13 public Update version. Which include some new features like, notification center, Customized Control center, Face ID with iPhone X, and support for One-handed keyboard, hide the image from photo apps, and update Safari Browser.
we are happy to help you, submit this Form, if your solution is not covered in this article.
Get New OTA iOS 13 Beta update without Developer account or Mac/ PC. Hello, this is my humble request if you want to update your iOS. Before that, you've taken a backup of your iOS device to your iTunes or in iCloud before update iOS 13 Beta and whenever update your iOS from lower version to higher version.
iOS 13 Beta versions are ordinarily buggy, Therefore please proceeds at your own attempt or risk. – Backup before upgrade is smart way            
iOS 13 compatible with the below-listed devices.
Apple iPhone 11 Pro Max, XR, iPhone XS, iPhone XS Max, iPhone X, iPhone 8, 8 Plus, iPhone 7, 7 Plus, iPhone 6S/6S Plus iPod touch 7th gen.
iPad Air, Retina iPad mini, iPad  Pro with Retina Display.
Source- iOS 13 Compatible devices
For Install iOS 13 follow this below Step one By One.
Without any third-party software, iTunes and Over-the-air install iOS 13 beta 1 on iPhone.
Step #1. Open the Safari Browser on your iPhone, iPad, or iPod Touch.
Step #2. Go to beta.apple.com/profile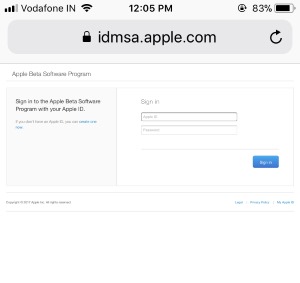 Step #3. Log in with your Apple ID and Passcode, after successfully logged into your account,
On the same page see the iOS tab and Scroll down to download updated iOS 13 profile to your device.
Step #4. Tap on Download Profile
Step #5. Allow permission to "Trying to open settings to show you a configuration profile". Tap on Allow.
Tap on install from the top corner of the screen. Once the profile successfully installed, Restart required. Tap on "Restart" from the confirmation popup.
Restart or Reboot your iPhone: Press Sleep/Wake button until you see the slide to logoff slider on the screen.
Logoff your iPhone and Press/Hold the power button to wake up the screen.
---
Go to the Settings > General > Software Update > See the available iOS 13 Beta software, Download and install on your iPhone.
Enjoy all-new upcoming iOS 13 Beta versions on Compatible iPhone, iPad, and iPod Touch.
Changed your mind: unenroll iOS Beta and install Public iOS 13
I Hope you can use handily install iOS on your iOS 13 Beta on any compatible device using developer account and in free.