Last Updated on Apr 8, 2021
Yes, Mac users can boot or use External Drive on Mac to access data with the Different MacOS Version that they installed. But the Mac users have to follow the below procedure to install MacOS On External Hard Drive and use it from the Startup disk screen on Mac [M1 Silicon Mac/MacBook or Intel Mac/MacBook].
Why This option is really helpful? for the users who don't want to experiments on the Primary Mac computer and don't need to move the whole computer to access a Specific macOS version with the GBs of Data.
Steps to Install Bootable External Drive Connected With Mac
Create a Bootable installer for MacOS
Pre-requisite:-
Download the macOS Setup file from the app store. Don't start installation after the download complete. here's a direct link to download macOS Big Sur, macOS Catalina, macOS Mojave, or macOS High Sierra.
Use USB Flash Drive, More than 16 Gigabytes of storage.
Follow the Bootable USB drive process using Terminal on Mac once the download complete. Follow the below video guide on "Make Bootable Drive on Mac Video". Open Terminal on Mac, Find the Terminal Command for the Specific macOS Version from the Apple Knowledge page, to Run the copying process on USB Flash Drive using Terminal.
Once your drive is ready, Start your Mac in Recovery mode and select the External Connected Hard Drive and install a new copy of Mac using Bootable drive.
Use the Bootable Installer Drive and Install on Externally connected Drive
Detect the USB Bootable drive in recovery mode, depends on Which Apple Mac you have? Intel Mac or M1 Silicon Mac, Follow the appropriate steps.
For Apple Silicone M1 Mac/MacBook
Plug-In Bootable USB Drive on Mac.
Turn off your Mac and Turn it on by Press and Hold the power key until you see the Startup window with All Mac Bootable Volumes and Gear icon with label settings.
Select the Bootable USB Volume drive, In the Next Steps, Start the installation process on Connected External HDD or SSD. That you want to install into.
So, Your External SSD Drive will erase first and Deploy the new MacOS that you wish. wait for the complete process.
To Use Boot and Detect Externally connected HDD or SDD, Select Drive from Startup Screen, > Hold the power key until you see the External HDD Or SSD and Click on it to use Externally connected Hard Drive or SSD.
For Intel Mac/MacBook
Plug-In Bootable Installer USB Drive on Mac.
Restart your Mac and then quickly Press and Hold on the Option Key immediately,
Then, Release the Option key, while you see the dark screen with all Bootable Volume including Plugged Bootable Installer USB.
Click on the Up arrow and Start the installation process and in the next step, Select Connected External HDD or SSD where you are installing New MacOS.
Follow the on-screen setup instructions, Access Externally Connected Hard Drive on any Mac or MacBook.
How to Select Externally Connected Hard Drive as a Startup Disk on Mac
The trick to Open Startup Disk on Mac is different for M1 Mac [New Apple Silicon] and Intel Mac. Follow the below,
For M1 Mac: When we want the Startup screen on Mac, Press and Hold down the power key until you see the below screen and select External Hard Drive to Boot and Open it.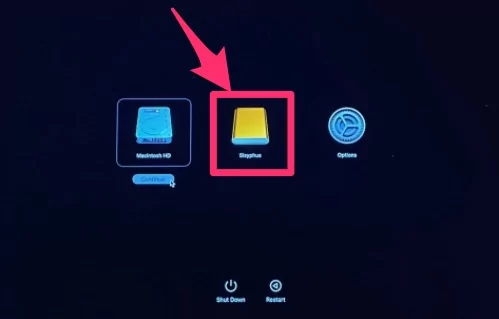 For Intel Mac: Restart your Mac, Press and Hold on Option[Alt] Key from the keyboard until you see the All Volumes on the screen. and select External Hard Drive to Boot and Open it.
That's it.
Apple Help!
Hope you get the solution on how we can Install Any macOS on an Externally Connected Hard Drive. Still have you any confusion then comment to me or Contact Apple or Book an appointment on Apple Genious bar support.