🗓️
November 24, 2023
By ✍️
Jaysukh patel
Many iPhone and iPad users report their low sound quality problems after upgrading to iPadOS package. Several iPad fans said the iPad Audio is not working on FaceTime Calls. So get here a workaround for no sound or can't hear during FaceTime or audio call on iPad. I think you checked and are okay with the normal cellular audio call but the problem with FaceTime WiFi Audio or Video Call. Also, too many sensitive and useful settings control your privacy and Functionality to use FaceTime on iPad either WiFi or WiFi+ Cellular iPad Model installed with the latest iPadOS 17 and iOS 17.
You should check that there are no obstacles around your iPad microphone or speaker. If any debris or your finger is on it, please remove it and try again. Everything ready to make FaceTime calls, but your problem is as it is. Go with the beneath given guide to fix it.
Take Given Actions to Fix iPad Audio Not Working on FaceTime, No Sound
Are you feeling iPad Unclear sound? We offer here workarounds steps by steps though follow it and get good sound quality back on your iPad. The best solution for iPad Air, iPad mini, iPad Pro, and iPad.
Solution #1. Remove Headphones Plug into the iPad headset port
Please press your finger Volume Up button, then again press to get a loud volume on FaceTime Audio or FaceTime Video Calls. That means you can increase Call volume not a System volume or music volume. According to Volume type, Apple Gave different actions depending on the situation with iOS/iPadOS.
You can also volume up on Control Center. Simply, swipe down the control panel from the top-right side corner, not finger up the volume bar to increase the iPad's spacker volume.
Any accessory plugged into the iPad headphone jack though, please remove it to hear sound loudly. Might be your iPad is connected to Bluetooth audio system during a FaceTime calls. So, First of all, disable bluetooth from the iPad's control center, or
Under the settings app > Bluetooth > Toggle off to grey to turn off Bluetooth from the iPad.
Let's see an example, while headphones are connected to the headphone jack, then you can't receive volume on the iPad speaker.
Solution #2. Restart your iPad, iPad Pro
To Restart the iPad, gently Press and hold the Sleep/Wake button until you see the red slider. Drag the slider to do an iPad reboot. After that, to start the iPad again press and hold the sleep/wake button until appearing Apple Logo.
No Home Button iPad Pro:-
Quickly Press and Release Volume Up and Volume Down button one by one, After that only Press and Hold the Power button until you see the Apple logo on iPad Pro Screen. Wait for 5 to 10 seconds after the screen goes black. Now, Press and Hold side/Power button to turn on again.
Enter the passcode and launch the audio app to check the volume level. Hope this will fix your issue. Even if you persist with the same problem; please go to the next step.
Solution #3. Check out your iPad Firmware – it must be the latest version.
Open Settings – Tap General – Hit on Software Update.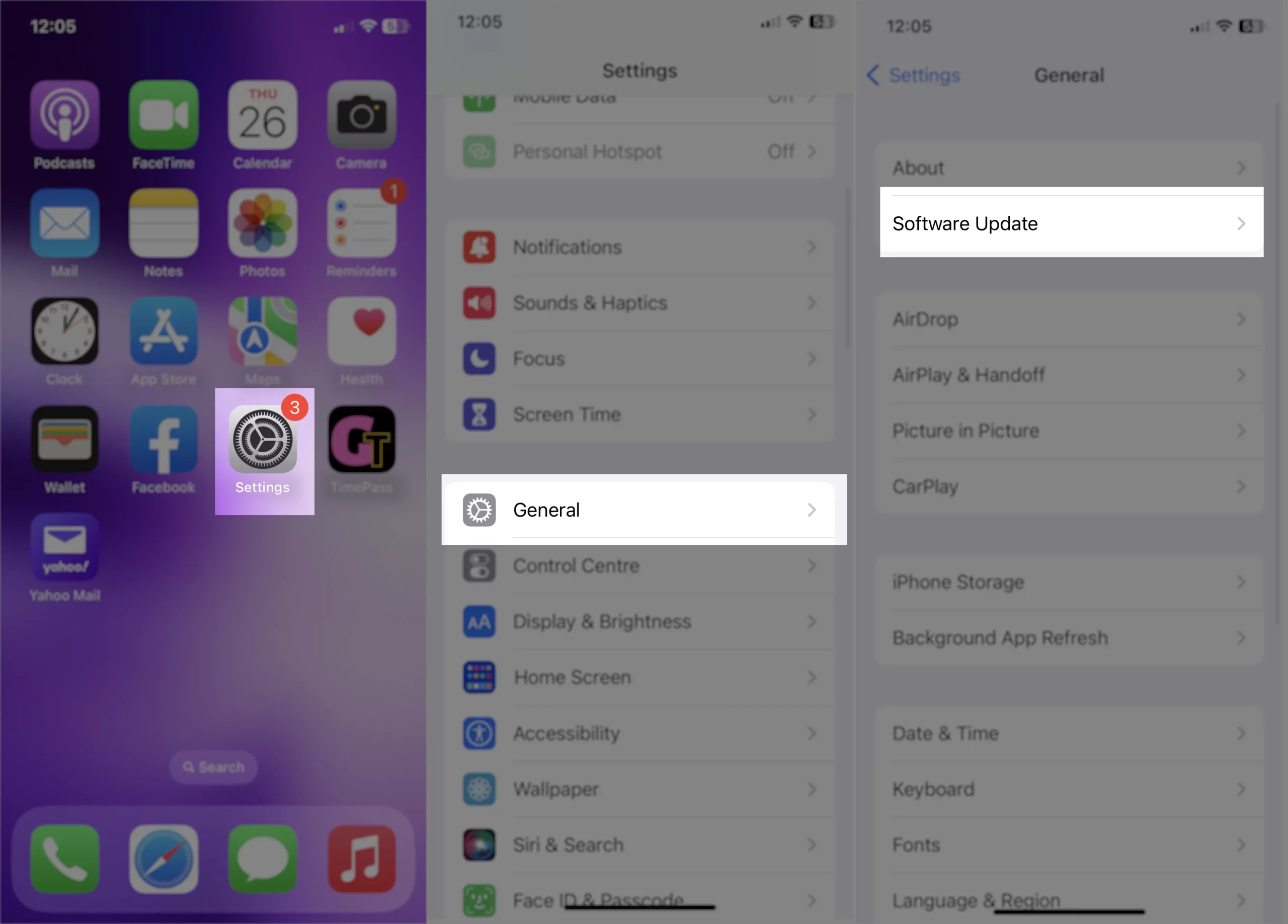 If available, is there any update on update it on Wi-Fi?
Get Trick – How to Switch/Flip Facetime camera on iPhone
Solution #4. Remove screen protectors or cases/ covers that cover the microphone, iSight mic, or iPad receiver
Tried above all fixes but none of the ways worked in your case (iPad Audio not working on FaceTime Call) during FaceTime or Siri doesn't hear you. Contact Apple Support.
Solution #5: iPad says iPhone Calls not Available: iPhone must be Signed in Same Apple ID
If your iPad says that iPhone Calls not Available popup when a call from iPad FaceTime app. iMessage and FaceTime connected with Apple ID, we can change from settings app on iPhone and iPad iPadOS. Follow this Settings app > FaceTime > Check Apple ID field and check it in which Apple ID is signed for FaceTime.
Now Move to iCloud Apple ID, Go to the Settings app > Profile Name > [Under the Profile name, Check Which Apple ID used for iCloud] Scroll to Down, and the last option is Sign out. And Make sure both Apple IDs are the same.
Now Follow the next instruction if Both Apple ID are the same and Unable to make a FaceTime call from iPad.
Solution #6: Unable to Receive FaceTime Calls on iPad
To use FaceTime between Two Apple Devices, Both Devices must have turned on FaceTime under the settings. Also, Both Devices should be signed in with Apple ID.Go to the Settings app > Scroll to Face Time > Enable Toggle to green [if the toggle is enabled, then Disable and Enable again] Wait if you are getting a message like FaceTime Waiting for Activation. Sometimes you see that FaceTime is enabled on iOS and iPadOS but actually not, in between might be you changed carrier company or software stuck.
Solution #7: Reset Network Settings
Distorted or Dropping call volume during FaceTime Audio/Video Call is happening because of poor network connectivity or Network issues. I recommend resetting it and making a fresh new connection. Before resetting network settings you must know the WiFi password that you are using on your iPhone/iPad.
Go to the Settings app
Tap General
Scroll the screen till the end Transfer or Reset iPhone or iPad
Tap Reset Network Settings. and then follow the on-screen instructions.
That's it!
Solution #8: Sign Out Apple ID and Sign In Apple ID
Most of the after long time use of apple device, sometimes apple ask to authenticate the device with Apple IDs. Some iPad/iPhone users are ignoring this message and verification stay pending under the settings app. Due to this kind of situation, We unable to use some Apple services like FaceTime, iMessage, Backup Device, and more. Sign In Face Time on iPad,
Go to the Settings app
Scroll screen tap Face Time
Now Tap Apple ID and Tap on Sign out.
after that Sign in with the Same Apple ID again.
Solution #9: Turn off Do Not Disturb on iPad
Do not disturb is professional ways to manage all kinds of disturbing when you are busy or Driving. Accidentally or automatically Do not disturb might be enabled when you drive. Make sure DND is disabled on the iPad.
To check this DND,
Go to the Settings app
Tap Do Not Disturb
Turn off Do Not Disturb toggle.
also check Any Contacts are blocked for all kinds of calling, Messaging facilities. if contacts are added, Then first remove contacts and try again.
Solution #10: Set High Volume Ringtone
you didn't hear incoming FaceTime Audio or Video call because the Ringer volume is too low. now we can change it or Increase volume under the sound settings on the iPad/iPhone.
For that go to the Settings app Sound > Find the ringtone option and play & test your ringtone and set for FaceTime and other calls.
Also, Increase Ringer and Alerts volume limit slider that is given under the Sounds option. Also, Enable Change With Buttons toggle so we can adjust using the side Volume up and Down button any time.
Solution #11: Turn off FaceTime Restrictions under the Screen Time
FaceTime is also under the restrictions that we can control as a parent or on our iPhone/iPad as well. Go to the Settings app > Screen Time > Content & Privacy Restrictions > Allowed Apps > Enable FaceTime.
Solution #12: Backup and Restore iPad on Mac/PC
The problem is big and serious, After waiting for a long time and implementing all the efforts on your iPad. This Backup and Restoring process is quite a useful and most powerful way to fix all kinds of software issues like this. On macOS Big Sur, macOS Catalina or later, No iTunes installed on Mac.
Use Finder to Backup iPad first and Restore new iPadOS and Data as well. Watch the Below Video tutorial to follow it yourself.
Above all are the most common solutions for the popular problems that all the iPad users are facing while they are using the iPad for Make a Free FaceTime video or FaceTime audio call.
FaceTime Audio Not Working but Video Works
FaceTime Audio is not working, but video works is a weird issue, but many users have already reported this issue to Apple and different forums. Stable internet connections play a prominent role in delivering clear FaceTime Audio and Video; therefore, the first thing you should be checking is the internet connection. If the internet connectivity is robust, then troubleshoot the iPhone, iPad microphone.
Is the iPhone/iPad microphone working with WhatsApp, Messenger, Voice Memos, or other apps? Have you checked? If not, then open the Voice Memos and try recording anything, and play the recording. If the microphone is working correctly, then you need to work on fixing the FaceTime.
For starters, you can restart the device, update FaceTime, sign out and sign in to FaceTime; these are a few essential but potential solutions to fix any FaceTime issue right away.
If none of the above workaround results in fixing the FaceTime and microphone, contact Apple Support to get their assistance.
Why does FaceTime Audio Cut Out when I talk?
Why does FaceTime audio keep cutting out? So whenever you make a FaceTime Call on iPhone, the audio keeps cut and lags? While sometimes, the audio stops at all. If you're experiencing the issue, then here's what you should do right now.
Remove the case from the Apple device; if the cover blocks the microphone or speaker, FaceTime audio cuts out or won't come at all. Secondly, are you using Headphone or Speaker with iPhone/iPad while FaceTime call? First, disconnect the accessories totally and then try to use FaceTime. Furthermore, check the internet connection. It needs to be strong and stable.
Still, FaceTime Audio Cut Out, then restart the iPhone/iPad, and contact Apple Support.
FaceTime Audio Unavailable
For your information, FaceTime Audio is unavailable in China. And if you don't belong to china, but still FaceTime Audio is unavailable, then make sure the other person(s) you're calling are signed in with FaceTime and using an Apple device. When you don't see any function on FaceTime, always ask the other person to check their FaceTime account; it must be enabled and signed in. Besides, open any further FaceTime contact and see if the FaceTime Audio is available there or not.
Other common workarounds to fix FaceTime Audio Unavailable are restarting the device, signing out and signing in to FaceTime, Disable and Re-enable FaceTime, and updating iPhone/iPad.
FaceTime Unavailable Blocked?
Earlier, when FaceTime Unavailable, Blocked, we used to check that is the carrier we are on supports FaceTime? Nowadays, all the carriers support FaceTime; as for Apple folks, FaceTime is all in one platform to make calls.
To use FaceTime, the device must be connected to Wi-Fi or Cellular Data, and FaceTime needs to be enabled on your and the other person's device. Later, you can confirm from Carrier, is your carrier plan has to supports FaceTime or not? If these conditions are fulfilled, then FaceTime Unavailable issue should not happen.
Other Person Can't hear me on FaceTime Mac
Well, when another person can't hear you on FaceTime Mac, it seems to be a microphone issue at your end. Have you unmuted and muted the FaceTime Calls several times? If not, then do it to refresh FaceTime. The next thing you should be checking is the microphone of Mac, to do so, open the Voice Memos and record anything; if the voice memos are playing, then consider the microphone is up and working.
Why can't anyone hear me on FaceTime with AirPods?
You might have already forgotten the AirPods and repaired them? Try cleaning the AirPods gently to remove any microphone blockage, stopping your voice from transmitting to the other end. After cleaning, repairing the AirPods, still, another person can't hear you on FaceTime with AirPods, contact Apple Support for any hardware fault.