For your iPhone 6S and iPhone 6S Plus, here is the top best iPhone waterproof case review for easy to find and garb the best buying experience. Deep water protection, waterproof case best for swimmer's Different stroke positions. From the top reviewed and popularity in iPhone accessories gadgets you can try any of the in your price range and best features suits to you.
Also reviewed: Best iPod Touch waterproof case
we are happy to help you, submit this Form, if your solution is not covered in this article.
Best iPhone waterproof case review: 2015 – 2016 (iPhone 6/ 6S/ and iPhone 6S Plus)
here I recommended those all cases/ Covers for most case protect your iPhone 6, iPhone 6S in water or underwater.
Merit iPhone 6S waterproof case 2015: Reviewed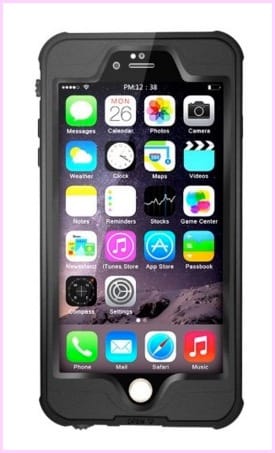 Full features from any damages like Water, Shock, Bump, Dust and Flexible. Easy to access all input controls, Easy to install and Remove case. Improved design and Media quality when wear on iPhone. Crystal clear camera cover help to capture HD pictures and videos in foggy atmosphere.
USA: Buy now on Amazon ($35.99)
UK: Buy Now on Amazon (£19.99)
Hitcase iPhone 6S Waterproof case
This case improve camera stability and performance under water when you shoot underwater action moment. very stable under deep water tested and care your iPhone to 10 meter and 33 inch. Great audio recording and best sound quality play video with this case.
Order Here on Amazon ($109.05)
In UK: Order here (£121.34)
Universal Waterproof case for all generation models
You have more mobile gadgets then this one case is compatible with all size handset. Here is for best compatible with iPhone 6S, 6, iPhone 5S/5, iPhone 4S/4. Transparent windows for access screen when underwater. impressive technology for lock pouch and make your iPhone crazy underwater.
FULL SUBMERSIBLE: 100ft or 30m. Under $10 or near too
For USA: Order Now on Amazon ($10.97)
For UK: Order Now on Amazon (£8.99)
Dog & Bone waterproof iPhone case
Dog & Bone totally stunning performance in water (Touch ID featured), Also great in the list of best iPhone waterproof case review 2015 – 2016. Drop proof and Waterproof/ Snow proof featured. read more about brand pro feature case.
For USA: Buy Now ($46.49)
For UK: Buy Now (£74.99)
Seidio iPhone 6S waterproof case
All types of protection covered with this case, Mostly trusted by millions of people. Maintain high security when your iPhone inside it, Waterproof, Drop proof, Compressed, Easy to use all feature in any conditions.
For USA: Buy Now ($63.98)
In UK: Buy Now (£48.95)
Also share your review on above useful list as a best iPhone waterproof case review in 2015 – 2016. Above cases best fit to your iPhone 6, iPhone 6S and iPhone 6S Plus.
Premium Support is Free Now
We are happy to help you! Follow the next Step if Your Solution is not in this article, Submit this form without Sign Up, We will revert back to you via Personal Mail. In Form, Please Use the Description field to Mention our reference Webpage URL which you visited and Describe your problem in detail if possible. We covered your iPhone 11 Pro, iPhone 11 Pro Max, iPhone 11, iPhone 8(Plus), iPhone 7(Plus), iPhone 6S(Plus), iPhone 6(Plus), iPhone SE, iPhone 5S, iPhone 5, iPad All Generation, iPad Pro All Models, MacOS Catalina or Earlier MacOS for iMac, Mac Mini, MacBook Pro, WatchOS 6 & Earlier on Apple Watch 5/4/3/2/1, Apple TV. You can also mention iOS/iPadOS/MacOS. To be Continued...
Jaysukh Patel is the founder of howtoisolve. Also self Professional Developer, Techno lover mainly for iPhone, iPad, iPod Touch and iOS, Jaysukh is one of responsible person in his family.
Contact On: [email protected] [OR] [email protected]