🗓️ September 14, 2023 By ✍️ Jaysukh patelApple iPhone 7 launched event time; the company said the new iPhone family member iPhone 7 and iPhone 7 Plus both are Splash, water, and Dust resistance and the phone is Rated IP67 under IEC (International Electrotechnical Standards) standard 60529.
IP67 indicates tow numbers first IP6X is dust resistance and the second IPX7 denotes water resistance. But it's second-highest rating for water resistance (the water resistance rating, means the iPhone 7 can withstand immersion in water to one meter (3.3 feet) for 30 minutes, tested in laboratory conditions.)
While the first rating is IP68 Besides, the other side Apple says water damage not covered under warranty. Hence, are you looking for another option to keep secure your phone for long periods of immersion underwater? Lets a look at given seven best iPhone 7 waterproof cases that makes your iPhone watertight.
These all cases are specially designed for Apple newly launched iPhone 7. All have fashion shield intended, IP68 Certified and laboratory tested, easy to use, so let's pick a one for your brand new iPhone 7. Also here big size Waterproof cases for iPhone 7 Plus.
The Top Reviews 7 Best iPhone 7 Waterproof Cases: IP68 Certified & Tested
#1. ORDTBY Waterford Case for iPhone 7 all-time Good for outdoor
This case is preventing iPhone 7 underwater with a fully sealed condition. It's an Amazing IP68 standard iPhone 7 Waterproof case with a transparent/ clear look. Ideally made for iPhone 7 but Non-apple charging cable doesn't work with this fully waterproof case.
ORDTBY case is open the door for the users who want to take a photograph of all beautiful creatures underwater, record stunning mountains while you are skiing, excellent for boating, swimming, and diving. Advanced featured including good touch-screen sensitivity, clear back shell, high-quality & ultra-slim, multifunctional.
ORDTBY iPhone 7 Waterproof case Clear: Price Check Price on Amazon
#2. OUNNE Top iPhone 7 Waterproof Case 2020
This kind of Case comes with PCT made screen protector and backside heavy-duty and extended-lasting protected cover. You have an iPhone 7 or iPhone 8 and looking for a suitable color combination waterproof case then choose one and try out.
You can carry your Phone under 6.6ft water level without worry because of its efficient power to save the phone up to 2 hours without water leak. Pack your Phone in OUNNE waterproof case and take your next photo with colorful fishes.
OUNNE iPhone 7 & iPhone 8 Waterproof case: Price Check Price on Amazon
#3. iPhone 7 Waterproof case offered by lifeproof
Very sturdy and durable long-lasting protective brand lifeproof provides a high-quality waterproof case for iPhone 7. Entirely submersible underwater and snow.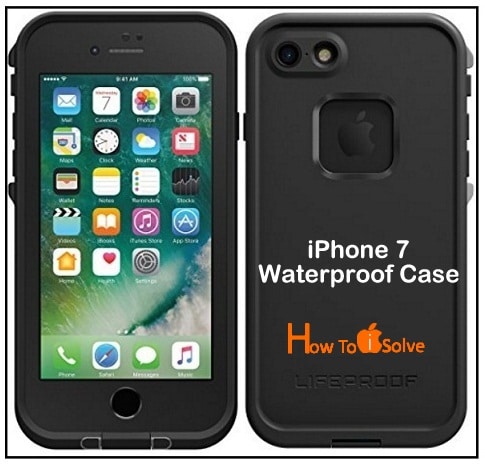 December and January almost snowfall season in North America, hence to make secure your high-value iPhone while you're going on the street and suddenly snowfall start but your phone would stay good. Stay tension free and if your iPhone wraps waterproof case.
iPhone 7 Waterproof case lifeproof
#4. Beautiful reviews iPhone 7 Waterproof Case
The Case is not coming with the only goal to prevent user iPhone against water and snow. Even though it has multifunctional and more extensive features like rough side edges provides a secure grip while you catch on hand, headache-free installation, dustproof, snow/ water, and drop-proof accessory of the iPhone 7.
Moreover, touch sensitivity and sound quality work the same as without screen guard/ case. Hardware body is the same, but there are four colors available. Without removing Case, you can charge your phone.
BuySShow Waterproof iPhone 7 case
#5. Sparin Waterproof Case iPhone 7
Sparin brings a waterproof case similar look like a lifeproof brand. The Case is very affordable and impressive for long time use than the lifeproof case. It has properties that included access to all buttons, volume keys, and camera protection underwater for maximum level.
Clear sound, good touch sensitivity, straightforward to use the home button. The brand appreciated by customer's money.
Sparin Snug fit Waterproof Case iPhone 7
#6. Nexgadget best iPhone 7 IP68 Certified Case
Are you looking for ultra-thin, light in weight waterproof case for iPhone 7? You should buy this Nexgadget case that optimizes sound, provides extra protection from all sides corners, IP68 certified laboratory tested. Black, white, blue, and Pro-black colors available. Don't miss the deal, yet MRP is 35USD, but you save 39%.
Do you have any top iPhone 7 Waterproof Case 2020? Let's share it in the comment box and complete this list of 7 best iPhone 7 waterproof cases.
Get here: Waterproof Cases for other iPhones