🗓️
September 20, 2021
By ✍️
Jaysukh patel
We have found and analyze the problem that's happening with iPhone 12 users right now and also for past iPhone models. iPhone 12 keeps restarting is not a good experience for all, in that situation, users can't use iPhone or access the necessary data anyhow. Follow this article in detail and get fixed your trouble.
After buying an iPhone, everyone is excited to use it just like you and me, since it is an electronic device and so some or other way will create a problem for you. Generally when you update iPhone to new iOS or when you connect the lightning cable to iPhone it may happen to you, but no need to worry it can sort out quickly. Here are some tricks have given which may help you to overcome this issue.
iPhone goes black screen and Appearing Spinning wheel while we are accessing the app on iPhone. Or Last time due to control center issue, iOS Screen Time issues [Screen Time running on an iOS device or Your Kid's device, Are you accessing app the restricted in screen time or many other cases] iPhone keeps restarting itself.
In this process, your iPhone is unable to get up from the auto-restart loop or unexpectedly restart.
Quick Guide: iPhone 12 Keeps Restarting in iOS Itself
Identify And keep an eye on Update
Install New iOS that Apple is recommending to you for install from the settings app. Or Also you have noticed that these issues are because of incompatible iOS applications. We also update it regularly.
For iOS update: Go to the Settings App on iPhone, iPad > General > Software Update.
For Apps Update: you have no worry about the new app automatically update in the background, For that we can turn on the auto-update app from App Store.
Go to the Settings > Tap App Store.
Enable Updates and Apps toggle gree,
Be Safe, Save Data: Backup & Restore
All iPhone owners have Gigabytes of useful data in the iPhone's local storage. That we care by taking backup iPhone. Because we need to hand it over to the apple store, Reset all the Settings and App Data (Erase iPhone), Restore iPhone from the latest backup in the future.
Force Restart iPhone
Sometimes this remedy contributes to sort out the common problem. Because when you force restart the device, it shuts the processor in the device and frees CPU and RAM from the load. So the device will run smoothly without any interruption.
To perform Force Restart, you have to press and hold power (Also Called Sleep/Wake Button) and the Volume Down button for around 20 seconds until you see the black screen with the apple logo on the screen.
Press and Hold buttons until you see the Apple logo on Screen,
iPhone 8 Plus/8 Plus/ iPhone X:
1: Press and Quickly Release Volume Up button,
2: Press and Quickly Release Volume Down Button,
3: Press and Hold Side Button until you see the Apple logo on Screen.
To Start iPhone, Again press the Side button until the startup apple logo is on the screen.
More Guide: Restart/Hard Reset iPhone 8/8 Plus or iPhone X.
Now turn on iPhone, Press Sleep/Wake or Side button once until screen Wakeup with the Apple logo.
iPhone 8 Has no Home button: Restart iPhone without the home button.
Change Date & Time: Auto to Manually
Change Auto-update Data & Time on iPhone from settings, Go to the Settings app > General > Date & Time > Tap on Green toggle and set it to turn off.
Use Date Slide for set manual Date: Month – Date – AM/PM.
Get fixed.
Plug in Charger: Insufficient or low power
Sometimes a battery has not more enough power to run iPhone and see the startup welcome screen. That's the reason iPhone 12 rebooting after the apple logo. The Same trick also applies to iPhone.
Reset All Settings
Resetting all the settings will not erase any of your device data, but it will clear all the settings that you have made in different applications and iOS settings.
Steps for Reset All Settings in iOS 15 & later Version
Go to the "Settings" app > Tap "General" > Find and open tap "Transfer or Reset iPhone" > Tap "Reset" > Lastly tap on "Reset All Settings"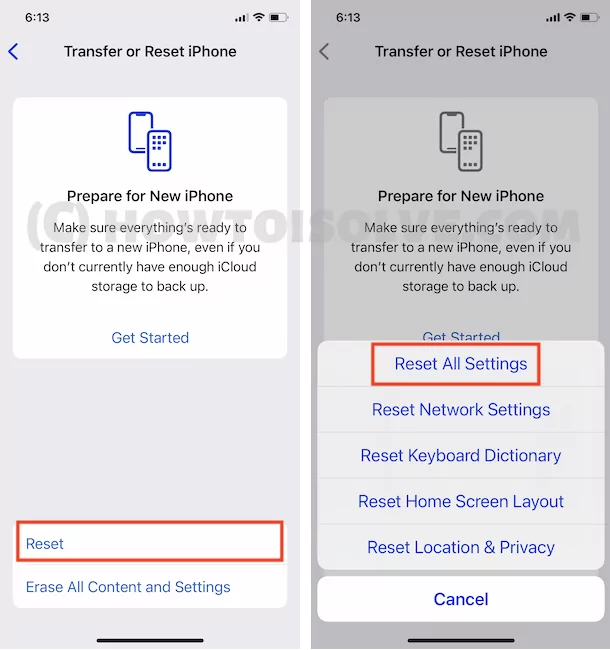 > For security reasons, you will be asked to enter the iPhone Passcode. >Tap Confirm Reset All Settings. > After that iPhone will reboot.
Steps for Reset All Settings in iOS 14 & earlier Version
Step 1: Go to Settings
Step 2: open General
Step 3: select Reset and tap on "Reset All Settings."
Delete Some Apps or Update Them
Insufficient Space: Leaded with lots of Photos, Video, or Unused app (Used iOS Offload apps)
Some faulty apps can misbehave with iPhone or create a load on the processor, and it will lead to shutting down or restarting the device again and again. To fix this abnormal behavior of the app, upgrade that app to the latest version or delete and reinstall the app.
To see the list of incompatible Apps or Removed from the App Store app: Go to the Settings > General > Applications
App Compatibility,
Reset Device
Before performing this action, you must take a backup because every data will be removed from iPhone. It will also erase cookies and caches from the browser and also every single element of the iPhone will be deleted.
Step 1: Head to Settings
Step 2: General
Step 3: SCroll the scren Tap Transfer or Reset iPhone [

new option in iOS 15 and later device

]
Step 4: tap "Erase All Content And Settings." and Follow on-Screen instructions.
If this problem is occurring when you connect iPhone with a lightning cable
Change The Cable
Trying to start with a very low battery, if you are doing this then first charge your iOS device with Apple's charging cable.
Frequently when you connect the cable to the iPhone it restarts the device and a corrupted cable or adapter may be the reason for this. It is advisable to change the charger as soon as possible; they will fix this issue by diagnosing the device.
Clean Port of iPhone
If iPhone's charging port contains dirt or small particles, it will keep your device restarting again and again. Cleaning the port may help you out, Clean using the toothpick, small needle, or any small pointed thing, and take care while cleaning the lightning port, don't damage the port.
Get Help from Apple!
Doesn't work any of the solutions from above, get the final solution from apple. Because Apple has the authority to replace your iPhone with the new one if any big hardware problem is found. Otherwise, they will repair the device or the System's own way by Genius bar.
Hope you fixed and enjoyed my guide on iPhone 12 Keeps Restarting with Apple Logo. Keep sharing this article with friends on the social page or warm comment.